How To Make More Money: 7 Ways for 2023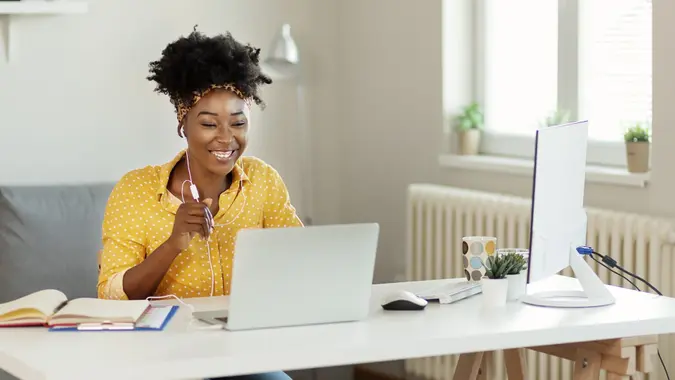 PixelsEffect / Getty Images
Whether you need to boost your cash flow to pay bills, save more or simply improve your lifestyle, there are plenty of ways to earn extra money. Some methods of saving are easy, while others require serious effort. But all the methods have the potential of paying off if you want to boost your bottom line.
How To Make More Money: 7 Best Ways
There is no shortage of creative ways to make some additional income. From mystery shopping to renting out your car, depending on your skill set, the options are endless. So get ready to create a website and spread some word of mouth as here are seven ways to make more money.
1. Ask Your Boss for a Raise
If you want to make more money in 2023, start by asking for it. While the pandemic has led to staffing shortages in various industries, employers are more likely to give raises to entice reliable employees to stay.
To get a general idea of what you're worth, check the going rate for your position on sites such as PayScale, Salary and Glassdoor. Then build your case for why you deserve higher pay based on your accomplishments and the value you've added to the company.
2. Earn Cash Back
You can turn everyday purchases into money-making opportunities if you pay with a cash-back rewards credit card. If you're responsible with credit and pay off your balance each month, consider taking advantage of a card that offers you a percentage of the amount you spend. The standard amount you can earn is 1% to 2%, but some cards offer up to 6% in certain spending categories, such as at supermarkets.
Make Your Money Work Better for You
You also can earn cash back on online purchases by shopping at sites such as BeFrugal and Rakuten. These sites partner with retailers to offer consumers a percentage of their purchases back in cash.
3. Help Your Investments Make More
If you're working hard to contribute to a retirement account, it's important to limit the impact investment fees are having on your account balance. For example, if you're paying 1% in annual fees, a $100,000 portfolio can be reduced by about $30,000 over 20 years.
So, check your retirement plan statement to see how much fees are eating into your returns. If the investments offered in your 401(k) have varying fees, consider switching to lower-fee investments to have more money when you retire.
4. Participate In Focus Groups or Online Surveys
You can pick up extra cash in your spare time by participating in focus groups run by companies that do market research. How much a focus group will pay you for your time varies widely so it's important to do your research before picking one.If focus groups aren't available where you live, you can still make money by offering your opinion online.
You can get paid to take surveys on sites such as Swagbucks, InboxDollars, Pinecone Research and Opinion Outpost. Be aware that some sites offer gift cards rather than cash, but you can still use the cards to make everyday purchases.
5. Do Market Research or Affiliate Marketing
You likely can make more money gathering market research than participating in it. If you have time to take on a part-time job, you should consider being a market research interviewer.
Make Your Money Work Better for You
Brie Reynolds, program coordinator at The Nature Conservancy said, "This typically freelance role is an entry-level position helping to gather market research and data for a variety of clients and companies." Brie also said, "Great phone skills are a must, and these jobs offer part-time schedules and the ability to work remotely."
Affiliate marketing can be even easier and you can work from home while doing it. You would start by finding an affiliate program you like. From there, follow the prompts to sign up and then you can post their affiliate links on your social media platforms or blog posts. If one of your followers clicks through on the link and it leads to a sale or some other action item, you earn a commission. 
6. Resell Thrift Store Finds Online
A simple way to make some cash is to buy items at thrift stores and flip them for a profit through online marketplaces. Sites like eBay, Etsy or Facebook Marketplace are easy to use and offer a large audience of shoppers. Before signing up for a site, make sure you read all the documentation about the fees you might have to pay for listing items or shipping.
Items that are gently used are the easiest to flip. When you find items that need paint touch-ups or cleaning, remember to factor in your time to the final price.
7. Get a Weekend Job or Side Hustle
If getting a raise at your current position is unlikely, you might want to consider picking up a weekend or side gig to supplement your income. Some of the top-paying side jobs include:
Dog walking
Online tutoring
Make Your Money Work Better for You
With most of these jobs, you can consistently make $100 a day. For best results, choose something you enjoy so your second job doesn't seem like one more unpleasant item on your to-do list.
Final Take To GO 
Learning how to make more money is simple. Having even $1,000 more a month in additional income can go a long way. This amount could help keep the bills at bay and your head comfortably above water. A side job here or a hustle there may seem like small dollars and change, but it can add up quickly.
FAQ
Here are the answers to some of the most frequently asked questions about how to make more money.
How can I make an extra $1,000 a month?

Here are a few ways you can make an extra $1,000 a month:

Ask your boss for a raise

Participate in focus groups or online surveys

Resell thrift store finds online
Get a weekend job or side hustle

How can you make $100 every day?

Some of the more flexible side hustles can average out to $100 a day. Though pay will vary and this estimate doesn't factor in tax or tips, side gigs to consider would be:

Rideshare or delivery driving
Online tutoring
Mystery shopping
Dog walking

How can I increase my income?

Here are a few ways you can increase your income:

Ask your boss for a raise
Earn cash back
Help your investments make more
Participate in focus groups or online surveys
Do market research or affiliate marketing
Resell thrift store finds online
Get a weekend job or side hustle

How can you make $2,000 a month?

You can make $2,000 a month by picking a few side gigs and working them at different times. Walking dogs one day, ridesharing the next and mystery shopping on the weekend can add up to big bucks if you remain determined and focused on your goal.
Jami Farkas and Caitlyn Moorhead contributed to the reporting for this article.