15 Free Games That Pay Real Money in 2023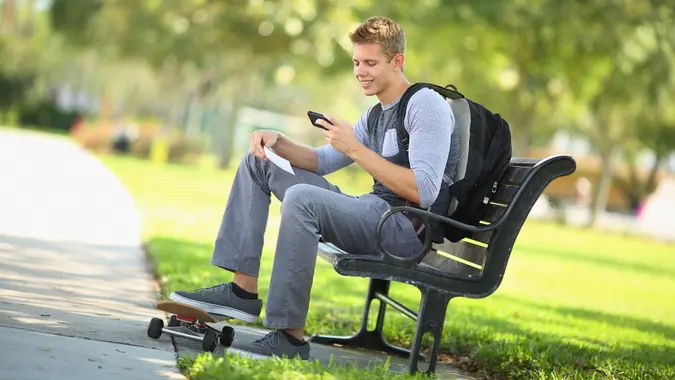 PhotoInc / iStock.com
If you're already going to be spending time playing games on apps on your phone, you may as well make some free money on the side. While many games advertise that they will pay you to play or that you can win money, not all of them are legitimate. Keep reading to learn more about the best free games that pay real money.
Read: What To Do if You Owe Back Taxes to the IRS
15 Free Games That Pay Real Money
Get ready to pad your bank account with some passive income as you can earn extra money just by playing the fun and classic games you already do. These puzzle, board and card games are free to download and all you have to do for a chance to win free money is start playing. Here's a look at 15 of the best free games that pay real money.
Fruit Frenzy
Bubble Cash
8 Ball Strike
Bubble Buzz
Dominoes Gold
Pool Payday
Word Search
Blockolot
Bubble Flow
Strike! By Bowlero
Solitaire Cash
Mistplay
Blackout Bingo
Bingo Clash
Cash'em All
1. Fruit Frenzy
Method of Payment: PayPal, Venmo, Apple Pay, Credit Card or Debit Card
Fruit Frenzy is a popular game offered by Pocket7Games. Players must match various fruit icons, and as the game progresses, the speed increases. To earn money, you'll need to accumulate a high score by clearing the board efficiently. The game also offers a tournament-based system where players compete against others. It's worth noting that while playing is free, tournaments with cash rewards may have entry fees.
2. Bubble Cash
Method of Payment: PayPal Account
Bubble Cash, developed by Papaya Gaming, is a classic bubble shooter game with a competitive twist. In Bubble Cash, players clear the board by shooting bubbles to create groups of three or more matching colors. In tournaments, players can win cash based on high scores. The game rewards not just speed but also strategic planning, as higher points are granted for more substantial bubble clusters.
Make Your Money Work Better for You
3. 8 Ball Strike
Method of Payment: PayPal Account
8 Ball Strike boasts a realistic pool-playing experience on mobile devices. It utilizes physics-based mechanics to emulate a real-life game of pool. In 8 Ball Strike, players earn points by potting balls into pockets, with different multipliers for each ball. The accumulated points can be redeemed for in-game currency, which can further be used to enter cash matches.
4. Bubble Buzz
Method of Payment: Cash, PayPal, Venmo, Visa or Apple Pay
Bubble Buzz, similar in concept to Bubble Cash, offers players an alternative platform for bubble shooting. The game emphasizes timing and precision. Additionally, Bubble Buzz hosts special events where players can compete against others. Winning these events can lead to cash prizes. However, it's important to be aware of any entry fees and to read the terms and conditions.
5. Dominoes Gold
Method of Payment: Amazon Gift Cards
Dominoes Gold modernizes the traditional game of dominoes by enabling players to compete with opponents from around the globe. The game is integrated with the Skillz platform, and matches are time-limited, promoting fast thinking and strategy. Players accumulate points by creating chains of dominoes, and high scores can lead to cash rewards in certain tournaments.
6. Pool Payday
Method of Payment: PayPal or Apple Pay
Pool Payday offers an authentic pool gaming experience on mobile platforms. In this game, players engage in one-on-one matches or take part in tournaments and events. The control scheme is intuitive, allowing for easy cue ball control and shot planning. Players can earn in-game currency through victories, and this currency can either be utilized for entering tournaments with higher stakes or redeemed for prizes. However, it's important to note that while playing is free, certain tournaments may have entry fees.
Make Your Money Work Better for You
7. Word Search
Method of Payment: PayPal or Bank Account
Word Search caters to those who enjoy word puzzles. In this game, offered by Pocket7Games, players are presented with a grid of letters and must find words within a set time limit. Word Search tests both vocabulary and speed. Players earn points for each word found and can compete in tournaments for cash prizes. 
8. Blockolot
Method of Payment: Apple Pay, Visa or Venmo
Blockolot combines elements of block puzzle games with the brain-teasing aspect of sudoku. Players must clear rows, columns or squares by strategically placing blocks. Players earn gems through gameplay, which can be used to enter tournaments with cash rewards.
9. Bubble Flow
Method of Payment: PayPal Account
Bubble Flow provides a relaxing and engaging gaming experience. The game features tranquil backgrounds and soothing music that adds an element of calm. Players shoot bubbles at strings of colored bubbles to match and clear them. The highest scorers in tournaments can win cash prizes. 
10. Strike! By Bowlero
Method of Payment: Redeemable in-person at Bowlero, AMF or Bowlmor locations near you
For bowling aficionados, Strike! By Bowlero offers an engaging and rewarding bowling experience right on your mobile device. The game allows players to choose between blacklight or classic bowling, which adds variety and keeps the gameplay fresh. Since the game operates on the Skillz platform, players can compete against others globally.
One unique aspect of Strike! By Bowlero is that it provides incentives that extend beyond the digital realm. Avid players stand a chance to earn up to $250 off a private event at a physical Bowlero, AMF or Bowlmor bowling alleys by playing the game frequently over the course of a month.
Make Your Money Work Better for You
11. Solitaire Cash 
Method of Payment: Apple Pay or PayPal Account
Classic for a reason, Solitaire is still around as it is still stimulating. Though this card game is far from the only option on your computer or phone anymore, it's still a great way to pass the time, especially if you are earning some free cash. Papaya Gaming's Solitaire Cash is free to download and offers multiple options for play.
12. Mistplay 
Method of Payment: Visa or Amazon Gift Cards
With a variety of games to choose from Mistplay is an app that is free to download and play. To redeem gift cards worth real money from major retailers such as PlayStation, Amazon or other Visa gift card options you start collecting units. Essentially, the longer you play your favorite game and accumulate points, the more units you earn, therefore the more money you have the potential to earn. 
13. Blackout Bingo 
Method of Payment: Cash or PayPal Account
Not only can you earn extra cash when playing Blackout Bingo, you also get a chance to win fun prizes such as merch. If you are a fan of regular bingo games, this might be the app for you. Though it is free to play, there are bonuses available and you can also pay to enter tournaments for bigger payouts in prizes of $3,000 or more. 
14. Bingo Clash 
Method of Payment: PayPal, Visa, Venmo or Apple Pay Account
Bingo Clash, brought to you by AviaGames, is packed with free and fun games that come with the added bonus of potentially winning some real money. Once you win enough games you can compete against other online players to start earning cash or other prizes. Don't worry about fairness of play as the app matches you with competitors of a similar skill level no matter the game mode or style. 
Make Your Money Work Better for You
15. Cash'em All
Method of Payment: Cash, Gift Cards or PayPal Account
Be aware the Cash'em All free game is an Android app only. If you are an Android user and like the idea of a wide selection of games, each with a different coin payout that can be redeemed for rewards, this may be the gaming app for you. Don't forget to refer your other Android-using friends as you'll earn extra rewards for the referrals.
Can You Really Earn Money Playing Games on Your Phone?
It's important to set realistic expectations. While playing these games can indeed earn you some cash or rewards, it's crucial not to perceive them as a substantial source of income.
First and foremost, these games are primarily designed for entertainment. The chance to earn money or rewards is an added bonus. For the majority of players, the amounts earned will be modest. Some might score a few dollars here and there, or gather enough points for a gift card after weeks of playing. The earnings are not consistent and rely heavily on how often you play, your skill level and sometimes an element of luck.
Be cautious of entry fees and in-app purchases. Many games require an entry fee to participate in the higher-stakes competitions that offer cash prizes. In the quest to earn money, you might actually end up spending more on entry fees than you earn. Similarly, some games entice you to make in-app purchases to unlock special abilities or features, which can also deplete any earnings you might have accrued.
Make Your Money Work Better for You
Final Take To GO
While there's potential to earn money from these games, keep your expectations in check. Consider any earnings as a pleasant bonus and ensure that gaming remains a fun and balanced part of your life. Don't rely on games for significant income, and be cautious of the costs associated with entry fees and in-app purchases. Enjoy the games for their entertainment value first and foremost.
Caitlyn Moorhead contributed to the reporting for this article.