10 Most Valuable American Dimes in Circulation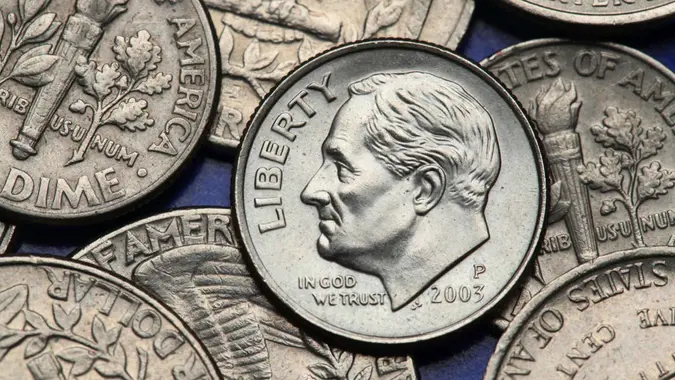 wrangel / Getty Images/iStockphoto
Dimes make dollars, they say. But some dimes are worth more than a few dollars. As Gainesville Coins detailed, there are U.S. dimes that have sold for more than seven figures in the past.
Most collectors will tell you that older coins are typically worth more than their newer counterparts, but there are still coins in circulation that are worth your time and effort to dig up. Make sure to temper your enthusiasm though — only a few dimes in circulation are worth life-changing money, and they are usually errors known to exist in seriously low numbers.
Most U.S. coins are minted for circulation or as collector coins at three production facilities: Denver, Philadelphia and San Francisco (the West Point mint ceased making coins in 2021). When rifling through change or found coins, always make sure to put aside all pre-1965 Roosevelt dimes, which contain a 90% silver composition and are worth significantly more than their face value.
While antique dimes can sell for hundreds of thousands of dollars, keep in mind that the value of dimes, especially those in circulation, may not be significantly higher than their face value unless they are in exceptional condition (serious collectors always seek quality).
However, while most dimes in circulation aren't typically valuable in the same way as rare and collectible coins, there are some key dates and varieties to look out for. Here are 10 U.S. dimes that may have some additional value due to their rarity or uniqueness, listed from oldest to newest:
10 Valuable U.S. Dimes Still in Circulation
1. 1965 Roosevelt Dime, No Mint Mark
The only variety of a dime from 1965 was the one without a mint mark produced by the Philadelphia Mint — but a lot were minted. Some 1965 Roosevelt Dimes, in excellent condition, can go for over $1,000, but most are worth 20 cents to $2.50, per the experts at Ned Ludd Coins. Those made of silver have sold for thousands of dollars.
Make Your Money Work Better for You
2. 1968-S No-S Roosevelt Proof Dime
The 1968-S Roosevelt Dime without the mintmark ("No-S") is a proof error coin that can be highly valuable. Since its inception in 1986, the Professional Coin Grading Service (PCGS) has certified only 18 1968 No S Proof Dimes. Heritage Auctions sold one specimen for over $40K in 2008.
3. 1970-S Roosevelt Dime, No Mint Mark
A few 1970-S Roosevelt Dimes were mistakenly struck without the mint mark, making them valuable to collectors. Coin Appraiser has this coin valued at approximately $250.
4. 1972-S Roosevelt Dime
Here is a good example of a regular coin worth regular money. CoinTrackers.com estimates the value of a 1972 Roosevelt dimes in average condition to be worth 10 cents, while one in mint state could be valued around $36. Not exactly chump change, but not much more than pocket change either, unfortunately. However, a proof dime of the highest quality (a MS 70 grade) from this year made from copper and nickel sold for $8,400 in 2008.
5. 1975 No-S Roosevelt Dime
The 1975 No-S proof Roosevelt dime is one of the most valuable of all modern coins. Just two known specimens exist. The most recent sale raised nearly a half-million dollars ($456,000) due to its scarcity, per CoinValueChecker.
6. 1982 and 1983 Roosevelt Dimes, No Mint Mark
Some dimes from 1982 and 1983 were minted without a mint mark, and these varieties can be of interest to collectors. In particular, some 1982 dimes struck at the Philadelphia Mint dated 1982 were struck by an obverse die that didn't receive a "P" mint mark. Expect to buy or sell these for around $65, per Greysheet. Uncirculated examples can reach $175. 1983-S Roosevelt dimes were struck only as proof coins (finished to showcase), making them rarer than regular dimes from the time.
Make Your Money Work Better for You
7. 1996-W Roosevelt Dime
The 1996-W Roosevelt Dime was a special issue to mark the 50th anniversary of the Roosevelt dime design. Its limited mintage (1.457 million) makes it relatively scarce. They were included in 1996 uncirculated sets specially for collectors. This is still the only non-bullion coin ever issued at the West Point facility, according to Gainesville Coins.
8. 1998-P Bonded Group of Roosevelt Dimes
A true oddity. The Philadelphia mint made over a billion dimes in 1998, so even an uncirculated coin from this year can be yours for a couple of bucks. According to Stack's Bowers Galleries (where this stack of coins paperweight was sold for $9,200), a minting error resulted in this, "a hefty group of approximately 32 distorted dimes bonded together as a result of a malfunction of a coinage press."
9. 1999-D Roosevelt Dime
While one of these "Type 2 Clad Regular Strike" error strike dimes sold in "brilliant uncirculated condition" for $14,375 in 2009, per coin collector site RobPaulsenLive.com, one in average condition will only net you only a few dollars.
10. 2020-D Roosevelt Dime
One of these went for $338 on eBay in 2021, per PCGS. Why? The 2020-D Roosevelt Dime has a lower mintage compared to other years, potentially making it more collectible. But these are normally sold for less than $15 when in impeccable shape and for next to nothing in circulated condition.
More From GOBankingRates
Make Your Money Work Better for You