The 9 Best Stocks for Beginners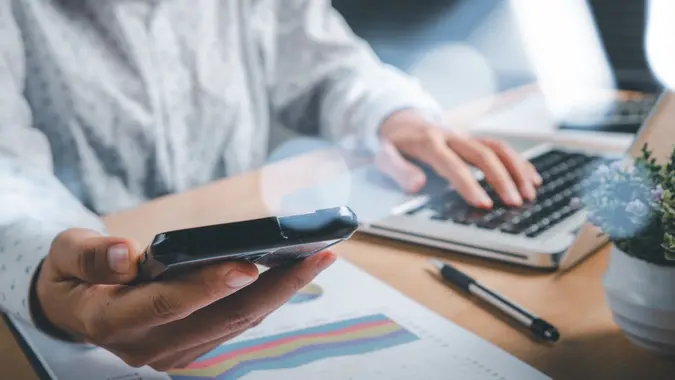 Maxxa_Satori / iStock.com
Learning how to invest in stocks as a beginner can be a daunting task. There are thousands of securities to consider, and no particular strategy or approach guarantees success. However, if you retreat from the swirling chaos surrounding stock markets on a day-to-day basis, you could miss out on opportunities to grow your money over the long term.
Fortunately, with so many different options out there, you can find a few strategies that are safer than the rest. While even "safe" stocks — long considered to be the best stocks for beginners — come with at least some chance of losing money, you can focus on buying ones that will minimize risk while also providing you with the introduction to the stock market you need.
Best Stocks for Beginner Investors
All investing involves risk, so there's no guarantee that these stocks are going to perform in the coming years. However, they all have characteristics that qualify them for consideration as the best stocks for new investors. Each one offers a regular cash payment to shareholders — aka a dividend — represents a company worth at least $10 billion, comes from a "defensive" sector and is currently showing high profits based on the assets that it holds.
Apple Inc. (AAPL)
Share price as of Jan. 31: $143.65
Market cap: $2.23 trillion
Year-to-date change: 10.56%
2022 revenue: $394.33 billion
2022 net income: $99.8 billion
Dividend yield: 0.64%
Apple is a consumer products darling, producing everything from iMac computers and iPhones to the Apple Watch. Its loyal fan base and continuous innovation have made Apple the largest company in the world in terms of market cap.
The Coca-Cola Co. (KO)
Share price as of Jan. 31: $60.95
Market cap: $263.59 billion
Year-to-date change: -4.16%
2021 revenue: $38.66 billion
2021 net income: $9.77 billion
Dividend yield: 2.90%
Famously one of Berkshire Hathaway CEO Warren Buffett's favorite investments, Coca-Cola is a good example of a consumer staple that performs well even during economic downturns.
Costco Wholesale Corp. (COST)
Share price as of Jan. 31: $508.26
Market cap: $225.62 billion
Year-to-date change: 11.33%
2022 revenue: $226.95 billion
2022 net income: $5.84 billion
Dividend yield: 0.72%
Costco is one of the most successful retailers in the world, with a reputation for great prices and a "treasure hunt" aspect to shopping in its stores. Consumers pay a membership fee just to shop there, and their renewal rate in the U.S. and Canada was an astonishing 92.5% in fiscal year 2022.
Home Depot Inc. (HD)
Share price as of Jan. 31: $321.95
Market cap: $296.92 billion
Year-to-date change: -12.06%
2022 revenue (FY): $151.16 billion
2022 net income (FY): $16.43 billion
Dividend yield: 2.42%
Home Depot has had a great run since the early months of the pandemic, as homeowners have spent money to improve their living spaces. But the truth is that Home Depot has always been a great performer, as there always has been — and likely always will be — a need for home improvement items.
McDonald's Corp. (MCD)
Share price as of Jan. 31: $266.38
Market cap: $195.12 billion
Year-to-date change: 1.28%
2022 revenue: $23.18 billion
2022 net income: $6.18 billion
Dividend yield: 2.23%
McDonald's is one of a handful of stocks known as "dividend aristocrats," as are some others on this list. To be a dividend aristocrat, a company must raise its dividend every year for at least 20 consecutive years. McDonald's has actually raised its dividend 46 years in a row, every single year since it became a public company.
American Express (AXP)
Share price as of Jan. 31: $174.25
Market cap: $129.5 billion
Year-to-date change: 18.16%
2022 revenue: $12.15 billion
2022 net income: $1.72 billion
Dividend yield: 1.21%
American Express is a payment network and premiere provider of credit and charge cards and global travel services. Not only is the 170-year-old company a blue-chip dividend aristocrat, but it also has the Warren Buffett seal of approval. Buffett's Berkshire Hathaway owns a 20.29% stake in the company, according to Yahoo Finance.
Microsoft Corp. (MSFT)
Share price as of Jan. 31: $246.71
Market cap: $1.84 trillion
Year-to-date change: 2.91%
2022 revenue: $198.27 billion
2022 net income: $72.74 billion
Dividend yield: 1.12%
Microsoft is one of the largest companies in the world, and its ubiquitous Windows software is installed on personal computers around the globe. The company has kicked into a new gear recently, however, with booming cloud services revenues and partnerships with autonomous vehicle makers.
PepsiCo Inc. (PEP)
Share price as of Jan. 31: $170.36
Market cap: $234.76 billion
Year-to-date change: -5.72%
2021 revenue: $79.474 billion
2021 net income: $7.618 billion
Dividend yield: 2.71%
PepsiCo, the primary competitor of Coca-Cola, is another consumer staple that pays a strong dividend and has a very stable balance sheet.
Sysco Corp. (SYY)
Share price as of Jan. 31: $77.06
Market cap: $39.05 billion
Year-to-date change: 0.44%
2022 revenue: $68.64 billion
2022 net income: $1.36 billion
Dividend yield: 2.52%
Houston-based Sysco makes and sells food-based products to the food service industry.
Getting Started
Investing in stocks is important, but it's also not a good idea until the rest of your financial house is in order. To score some long-term gains, you'll need a sum of money — one that you're confident you won't need to tap into in the foreseeable future.
Pay Off High-Interest Debt
As good as returns from the stock market can be, they're never going to top the interest rates of your credit cards over the long run. Before you consider investing, make sure you've paid down any and all high-interest debt. It's just a better investment in the end.
Build an Emergency Fund
Anything from having a car break down to losing your job can leave you in unexpectedly dire financial straits. If your only remedy is to sell your stock investments, you might end up taking a loss or pulling out right before the stock makes a big gain, depending on the timing of the stock markets and your emergency.
A general rule of thumb: You should have six months' income stashed away in an emergency fund so that you can respond to short-term financial needs without having to sell off your stocks.
Choose a Stock Brokerage Account
To purchase stocks, you'll need to set yourself up with a broker. There are dozens of options these days, including many online brokerages that charge very low fees. What's more, some apps, like Robinhood, allow you to buy stocks without paying any sort of commission. So, shop around and compare the different brokerages based on the tools they have available and what sort of fees and commissions they charge.
Determine Your Risk Tolerance
Investing can be very personal. Stock A may provide better returns over time, but if it's also prone to wild swings, you'll need to have patience and discipline so that you won't be tempted to sell the stock prematurely. If Stock B offers lower returns but fewer price gyrations, it could be a better selection for your portfolio.
In the end, the right stocks for one person aren't necessarily the right ones for you. Take some time to learn more about yourself as an investor before settling on a specific batch of stocks.
What Makes a Stock Good for Beginners?
What beginners want from their stock investments is pretty much the same as what everyone else wants: the best returns possible for as long as possible. However, where beginners tend to differ from veteran market watchers is in their ability to ride out the ups and downs inherent to owning a stock.
Investors will often refer to the "dumb money" that tends to overreact to market swings by either selling early or buying late. Meanwhile, major institutional owners know to wait out those hiccups to continue reaping the much larger, long-term rewards.
Investing In Stocks for Beginners: What To Avoid
The sort of companies capable of posting huge gains are also ones capable of posting enormous losses. So, while you might eventually start branching out, beginners should likely avoid stocks with characteristics that can make them prone to big swings.
Small Companies
Firms with a total market value of less than $2 billion are known as "small-cap stocks" or "micro-cap stocks." In each case, these tend to be volatile companies in the early stages of growth. They could provide huge returns if you pick the right one, but many will fail or prove to be bad investments.
Sticking to a market capitalization — i.e., the total value of all the company's stock combined — of at least $10 billion is one way to avoid unstable companies. Clearly, there's no guarantee — see Enron circa 2001 — but it's one rule that can prove invaluable to beginners.
Cyclical Stocks
Certain industries can be notoriously fickle and are typically the first to take a plunge when the economy turns south. Things like consumer goods or cars seem like great stocks when times are good, but they tend to crater in bad markets.
Staying away from sectors like retail, consumer goods and tech could save you from potentially devastating losses.
Short Interest
Veteran traders and investors can bet against a company's success by "shorting" the stock. These "shorts" represent people who see issues with a company's business model and anticipate the stock plunging. They aren't always right — in fact, sometimes they're very, very wrong. However, a company with a high "short float" has a large percentage of its shares held by people who expect the stock to fall.
When you're first starting out, there's no reason to risk your money — stick to stocks with low short floats until you're more comfortable with the process.
What To Consider Before Investing In Stocks
While taking more risks to earn greater rewards is part of what investing in stocks is all about, easing yourself into the field may be essential to making your experience a positive one. To familiarize yourself with the process, consider sticking to conservative, relatively safe stocks and creating a portfolio of defensive stocks at the beginning.
You can always build out your portfolio to include bigger, riskier investments later on. If you decide to start branching out, a solid base can make it easier for you to experiment and take on a bit more risk.
FAQ: Investing as a Beginner
Financial markets can be confusing, so here are some quick answers to some common investing questions.
What kind of stocks should I invest in as a beginner?

There's never a surefire path to picking the right stock, but sticking to defensive stocks that have low volatility and pay a dividend is a good strategy while you're still learning about investing.

How much should beginners invest in stocks?

Try to make sure that you never have more money invested in stocks than you can afford to lose.
You should only start investing in stocks after you've paid off your high-interest debt and built up an emergency fund with about six months' income. Even then, move slowly so you don't overcommit.

How do I start investing in the stock market as a beginner?

You'll need to find a broker that can take your orders and buy stocks. Begin by looking at several brokers to get a better sense of what types of services are available and the sort of costs you should expect.

Which are the best safe stocks to invest in for beginners?

The best safe stocks for beginners are generally large companies in defensive sectors like utilities, consumer staples

–

e.g., food, beverages or toiletries

–

or healthcare. These stocks have a good chance of protecting you from excessive risk.
However, there's no real answer to that question, because you won't have guarantees in the stock market.

Do I need a financial advisor to start investing?

Definitely not. While a financial advisor can play a crucial role in building the sort of investment portfolio you'll need to retire comfortably or send your kid to college, much of the information they provide can be found on your own. If you're investing limited sums of money, the downside of doing your own research and starting without an advisor is pretty small.

Which is the best app for a beginning stock investor?

Robinhood allows you to buy specific stocks without charging a per-trade commission, making it a great option for beginning investors. That said, there are many different investing apps, each of which offers its own unique set of features and costs. You should take the time to explore your options before settling on one.
Daria Uhlig and John Csiszar contributed to the reporting for this article.
Data is accurate as of Jan. 31, 2023, unless otherwise noted, and is subject to change.
Our in-house research team and on-site financial experts work together to create content that's accurate, impartial, and up to date. We fact-check every single statistic, quote and fact using trusted primary resources to make sure the information we provide is correct. You can learn more about GOBankingRates' processes and standards in our editorial policy.