How To Buy Stocks in 4 Easy Steps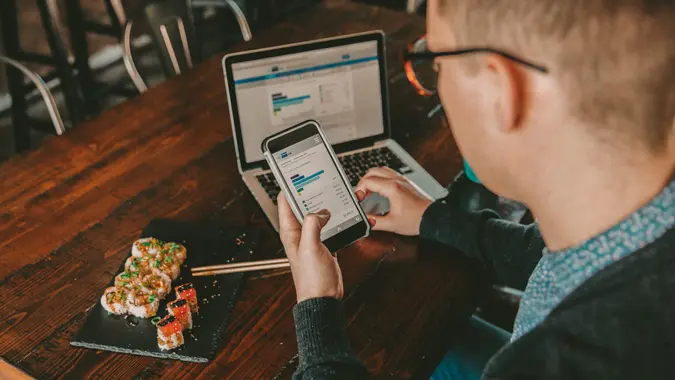 RichVintage / Getty Images
Buying stocks might seem intimidating if you've never done it before. But with the right online stockbroker or investment app, and a willingness to put in some research to learn the fundamentals, it can be as easy as ordering a new pair of shoes from Amazon. The hardest part comes in doing your research so you understand some basic principles of stock trading.
Understand that stock trading is inherently risky and you should know your risk tolerance before you start. Never invest more than you are willing to lose. Focus on building a diversified portfolio that also includes low-risk investments, such as your 401(k) retirement account.
If you're ready to take the plunge, you can start buying stocks online in virtually no time at all. But first, you'll need a brokerage account. Keep reading to learn how to set one up, and what else you need to do to start buying stocks online.
1. Choose an Online Stockbroker
The steps to opening an account with an online stockbroker are pretty much the same as with a full-service brokerage firm. You'll need to provide personal and financial information, including your name and address, date of birth and Social Security number. You'll also need to provide funding information, such as your bank routing number and account number or debit card number.
Here's a look at five established online brokers, some of which are included in GOBankingRates' 10 Best Online Brokerages.
Fidelity
Fidelity offers low fees compared to many other brokers and offers commission-free stock trading. The company also offers a cash-back rewards card. For many people, the ability to trade in fractional shares of stocks is important, and Fidelity allows this with a minimum purchase as low as $1. There is no minimum required to open an account. You can open a Fidelity account online or by calling customer service at 800-343-3548.
Charles Schwab
Like Fidelity, Charles Schwab charges $0 per online stock or trades on exchange-traded funds. There are no account minimums or trading minimums, but to invest in fractionals you'll need to be willing to invest at least $5. The company's robo-advising platform, known as Schwab Intelligent Portfolios, has no advisory fees, commissions or service fees, though there is a $5,000 minimum for this type of investment account. You can get started at the Charles Schwab website or by calling 866-855-9102.
TD Ameritade
TD Ameritrade also has commission-free trading with no account or trade minimums. However, you cannot purchase fractional shares. TD also offers automated investing to simplify your investment strategy, but there is a minimum account opening of $5,000. You can start the process of opening an account on the TD Ameritrade site or by calling 800-454-9272. 
E-Trade
E-Trade, one of the pioneers of internet banking, charges $0 per online trade. The firm, which is owned by Morgan Stanley, requires $500 to open a Core Portfolios automated investing account, but there's no minimum for brokerage accounts, and equity trades are free. If you open an account with $600 or more, you can earn a cash bonus now through Oct. 31, 2022. E-Trade also has a referral program, so you can receive $50 for each friend who uses your unique link to sign up. You can either call 800-387-2331 or visit the E-Trade website to open an account.
Merrill Edge
Merrill Edge is the online brokerage side of venerable Merrill Lynch, which is now a Bank of America company. The firm offers $0 online trades and a highly regarded robo-advisor. Like E-Trade, the company is offering a sign-up bonus — but you'll need some start-up funds to claim the reward. If you open your account with $20,000-$49,999, you'll earn $100. The cash reward increases up to $600 cash back for accounts with $200,000 or more, net new asset balance. To open an account, visit the Merrill Edge website or call 888-637-3343. 
2. Decide Which Type of Stock You Want To Buy
There's no shortage of choices when it comes to buying stocks. The number of options can be downright overwhelming. That's why it's important to understand your risk tolerance, investment objectives and available funds before you begin buying stocks online.
For example, if you want to invest in a few different stocks for diversification purposes but don't have a lot of money to spend, you can consider buying fractional shares of your favorite companies or the ones you feel have the most promise. We are in a bear market, right now, which means investors consider many of the best stocks to be "on sale." After its split in summer 2022, Amazon stock is down to $113.78 per share. Tesla is trading at just $275.33 after its split in August. From lower cost stocks to S&P 500 picks that are selling for relatively low prices right now, there are many ways for beginning investors to get started.
So-called meme stocks like GameStop and AMC may be tempting in the short term, but consider the long-term future of these companies, their earnings reports and their fundamentals before you make investments you may regret.
Warren Buffett's Investment Style
Warren Buffett, the billionaire investor known as the "Oracle of Omaha," uses the concept of moats to describe his investment style. According to Buffett, the type of company he wants to own is one with an established competitive advantage over others that is difficult to overcome, just like a wide and deep moat makes it hard for attackers — in this case, business competitors — to cross. For example, Buffett has long maintained a position in Coca-Cola because while there are certainly plenty of competitors in the beverage industry, Coca-Cola itself is hard to duplicate or surpass. He has also invested in Visa, the world's largest payment network.
It is also important to remember Buffett's advice to invest in companies you believe in and "If you aren't willing to own a stock for 10 years, don't even think about owning it for 10 minutes."
Understanding P/E Ratio and Debt-To-EBITDA Ratio
An important step in the process is researching stocks you might be interested in and educating yourself on important metrics such as price-to-earnings ratio and debt-to-EBITDA ratio.
Pay particular attention to finding information about a company's competitive landscape and management team, as well as how industry trends might impact its stock price.
Doing Your Due Diligence
If you're researching stocks on your own, consult analyst reports, industry trend bulletins, company prospectuses and company annual reports and conference call transcripts. All of this data can help you get a handle on how a company is performing and where it might be headed next.
Analyst reports in particular can help teach you if a company's current share price is fair, overvalued or undervalued. These determinations are made by comparing a company's stock price to items like its earnings, future revenue forecasts and competitor valuations.
As a general rule, your best chance at making money in the stock market is by owning companies with consistent earnings and revenue growth. If a company can outperform the expectations of Wall Street analysts, its stock will typically go up.
3. Think About How Many Shares To Buy
Again, much of this depends on how much money you have to invest. If you want to start with $2,000, you'll want to research the best affordable stocks out there to create a diversified portfolio.
Some of the best value stocks, for instance, might include established brands like CVS Health and Tyson Foods, which produce steady profits and rank as leaders in their respective industries. CVS stock is priced at about $98 as of Sept. 24, 2022, while Tyson is priced just under $70. With $2,000, you could afford to purchase 10 to 12 shares of each stock.
Keep in mind, though, since names like Alphabet — parent company of Google, Amazon and Tesla have recently split, you can get previously pricey stocks at a great bargain.
Of course, you can also invest in fractional shares, depending on the online brokerage you choose. That can allow you to invest with less money or create a more diversified portfolio.
Advice

If you're a beginner, it's advisable to start small when it comes to buying your first stocks. If you rush in too quickly, you might end up losing money before you even know what you're doing.
Next, be sure to diversify your investment portfolio. There are no "sure things" in stock investing, so a diversified portfolio is the best way to reduce your risk. Diversifying your portfolio with different stocks in different industries makes it easier to ride the ups and downs should one industry get hurt by an unexpected event. This makes it especially important to find affordable stocks so you can buy shares in a few different companies.
4. Make Your Order
When you buy your first stock, you're likely to put in a market order, which is the most common type. With a market order, you'll buy the stock at whatever the current price is.
Another option is a limit order, which designates a price you're not willing to exceed. For example, if you want to buy Apple stock at $150 per share but it's currently trading at $155, you can put in a limit order at $150. Your order won't be executed unless the share price trades down to $160.
Whether you're entering a market order or a limit order, be sure to do the math so that you can afford to pay for your purchase. For example, if you want to buy 100 shares of Apple at $160 per share, you'll have to pay at least $16,000. If your broker charges commissions or other fees, you'll need to incorporate those into your total purchase price.
Remember

If you place a market order, you can't guarantee what price you'll receive. If the market is running red hot, those Apple shares might hit $165 by the time your order is executed, meaning you'll have to pony up at least $16,500 for your 100-share order.
Another thing to keep in mind is that buying stock online is not the type of investment where you can just set it and forget it. Although stocks are best used as long-term holdings, you should still check in regularly to find out if any market or financial events might make you consider selling them. Take the time to fully understand both how to place a stock trade and how the stock market as a whole operates.
Glossary of Terms for Buying and Selling Stocks
As you get familiar with how to buy and sell stocks online, here are a few basic investment terms you should understand:
| Buying and Selling Stocks: A Glossary of Terms | |
| --- | --- |
| Annual Report | A yearly summary of a company's economic performance. |
| Ask | The lowest price at which you are willing to buy a stock. |
| Bid | The highest price at which you are willing to sell a stock. |
| Close | The last trading price of a stock at the end of the market day. |
| Dividend | A payout to shareholders, usually in cash and typically made quarterly. |
| Spread | The difference between the bid and the asking price. |
| Stop Order | An order to buy or sell once an indicated stop price is reached. |
| Limit Order | A stock order that isn't executed until the limit price is reached. |
| Stock Chart | A graphical representation of the movements of a stock price. |
| Trading Volume | The number of shares that a stock trades on a particular day. |
| Commission | The fee or charge that a broker assesses for executing a trade. |
How Can a Beginner Start Buying Stocks?
Buying stocks used to be a complicated process that mainly catered to wealthy investors. With the rise in online brokers, stock trading is open to everyone. Even with only $1,000 or less to invest, you can open an account with a broker in about five minutes online, and you can buy or sell stocks for commission free.
At the same time, just because the door to investing is wide open doesn't mean you should dive in without doing your homework first. Take the time to research how stocks work, what it will cost you to buy and sell them, and which online brokers are best suited for your trading needs before you put your money into the stock market.
Buying Stocks FAQ
How much money do you need to buy stocks?

You can start buying stocks with as little as $10. Before investing, take the time to research how stocks work, what it will cost you to buy and sell them, and which online brokers are best suited for your trading needs before you put your money into the stock market.

How do you make money in stocks?

You can make money in stocks by selling them at a higher price than what you paid for them.

As a general rule, your best chance at making money in the 

stock market

 is by owning companies with consistent earnings and revenue growth.

Can I buy one share of stock?

Yes, you absolutely can buy a single share of stock. Buying just one share could help diversify your portfolio by having shares from different industries.
Vance Cariaga and Dawn Allcot contributed to the reporting for this article.
Information is accurate as of Sept. 28, 2022.
Editorial Note: This content is not provided by any entity covered in this article. Any opinions, analyses, reviews, ratings or recommendations expressed in this article are those of the author alone and have not been reviewed, approved or otherwise endorsed by any entity named in this article.
Our in-house research team and on-site financial experts work together to create content that's accurate, impartial, and up to date. We fact-check every single statistic, quote and fact using trusted primary resources to make sure the information we provide is correct. You can learn more about GOBankingRates' processes and standards in our editorial policy.