What Makes Stock Prices Go Up or Down? Here Are the Reasons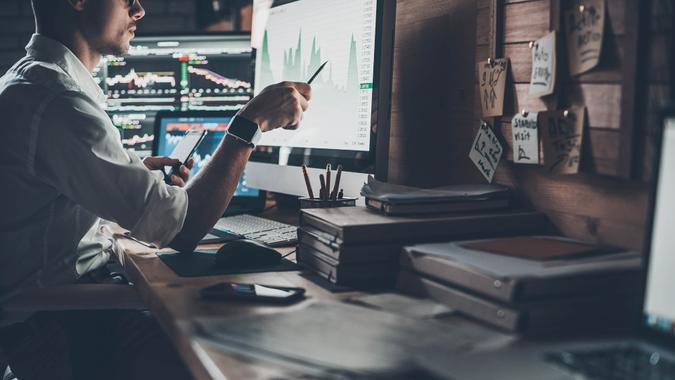 g-stockstudio / Shutterstock.com
Stock prices go up and down based on supply and demand. When people want to buy a stock versus selling it, the price goes up. If people want to sell a stock versus buying it, the price goes down.
Forecasting whether there will be more buyers or sellers in a stock requires additional research, however. Buyers are attracted to stocks for any number of reasons, from low valuation to new product lines to market hype.
Learning how the stock exchange works is the first step in understanding the factors that make a stock go up and down; knowing what makes stocks valuable can help you predict which ones are more likely to rise.
What Makes a Stock Price Go Up?
A stock is simply an ownership share in a physical company. Stock shares allow investors to buy or sell an interest in a company on an exchange through a bidding process. Sellers indicate prices at which they are asking to give up their shares, and buyers similarly post prices at which they're bidding to buy shares. This is known as the bid-ask spread.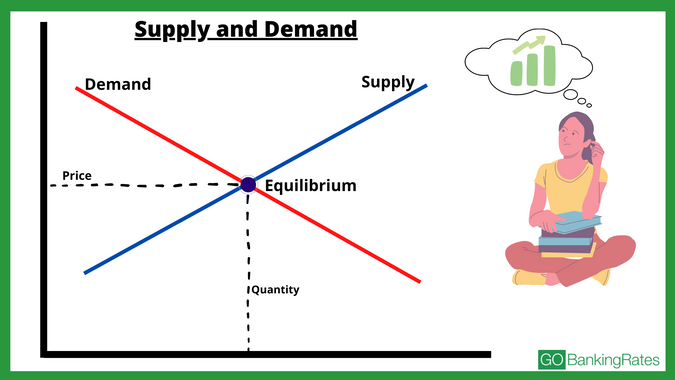 When there are more buyers willing to pay the asking price of sellers, a stock price will go up to the next level at which sellers are asking. Here's a simplified example of how supply and demand works in the market:
An Example of Supply and Demand

Buyers

Investor A offers $10 to buy a stock.
Investor B offers $10.10 to buy a stock.
Investor C offers $10.20 to buy a stock.

Sellers

Investor D asks $10.10 to sell the stock.

The first published trade occurs at $10.10, when Investor B buys from Investor D.

Investor E asks $10.20 to sell the stock

The next lowest seller is Investor E, who is waiting to sell his shares at $10.20.
This trade occurs when Investor C enters the market and pays $10.20.
This shows how investor demand can drive up the price of a stock. After the first trade at $10.10, there are no more sellers willing to accept such a low price. The next trade occurs at $10.20, as the demand to pay a higher price exceeds the willingness of sellers to accept a lower price.
What Makes a Stock More Valuable?
Although having more buyers than sellers is what physically drives up a stock price, buyers must be attracted to a stock for that to happen. One of the factors that attracts buyers to a stock is valuation. Companies can be valued in a number of different ways, but earnings per share and P/E ratio are two common factors in the equation.
Profitability and Stock Interest

Earnings per share represent a company's profitability. Generally speaking, investors are more interested in companies with rising earnings.

Earnings per share is also a metric for comparison to other companies in a particular industry. For example, if one company in the same business is twice as profitable as a competitor, it's more likely to draw investors' interest.
The P/E ratio, or price/earnings ratio, is another metric for comparison that investors use to value stocks. The P/E ratio simply consists of a stock price divided by its earnings. On a simplified basis, a company with a lower P/E than another within the same industry may be more attractive to investors, as it can be considered undervalued.
What Makes a Stock Go Up and Down
Although factors such as earnings per share and P/E ratio are standard metrics of valuation, many other factors can impact whether a stock goes up or down. Some of these include:
Technical factors
Exogenous events
Macroeconomic environment
Current market trends
Technical Factors
A whole segment of market participants utilize technical analysis to determine which stocks should be bought and when. Technical analysis is an alternative way to determine supply and demand for a stock using historical and other factors. Technical analysis relies on price movements only, rather than other valuation factors.
Exogenous Events
Sometimes, valuation, technical analysis and other factors don't matter as much as global events. In times of great fear or panic, such as after 9/11 or when the coronavirus became a global pandemic, markets tend to sell off, regardless of valuation or earnings. Similarly, in times of great optimism, stocks tend to trade up, even when considered overvalued by traditional standards.
Macroeconomic Environment
Any economic factors that can hurt corporate earnings can also depress stock prices. Inflation is one example. Historically speaking, high inflation has tended to drive stock prices lower. This is because inflation causes higher prices, which makes it more expensive to run a business.
Current Market Trends
Sometimes, stocks go up simply because they have been going up. In a strategy known as momentum investing, investors buy shares in rising stocks and sell shares in those that are following. This momentum builds on itself and continues to drive rising share prices higher. Also known as relative strength investing, this strategy follows market trends to select stocks rather than other traditional valuation metrics.
How Do You Know When a Stock Will Go Up?
In spite of all the ways to evaluate stocks, the truth is that no one can say with absolute certainty when a stock will go up in value or down. However, in the long run, the trend in the overall stock market is up. Your best bet when looking for stocks that will go up in price is to evaluate factors that tend to drive prices higher, including those described above:
Supply and demand
Valuation
Technical factors
Exogenous events
Macroeconomic environment
Current market trends
You can also use these factors to help you know when to sell stocks as well.
The bottom line when it comes to investing is that although certain factors can help predict stock movements, the best approach is to have a diversified portfolio. Rather than putting all your eggs in one basket, owning a number of different stocks can help smooth out the ups and downs of your individual portfolio.
Our in-house research team and on-site financial experts work together to create content that's accurate, impartial, and up to date. We fact-check every single statistic, quote and fact using trusted primary resources to make sure the information we provide is correct. You can learn more about GOBankingRates' processes and standards in our editorial policy.