How Does the Stock Market Work?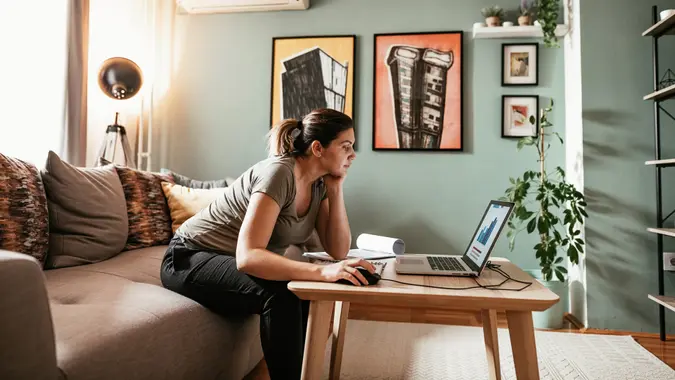 Drazen_ / Getty Images
The stock market can inspire different reactions depending on who you ask. Some see it as the key to building wealth. Others remember the 2008 financial crisis or the dot-com bust of the early 2000s and want to avoid it. 
Support Small: Don't Miss Out on Nominating Your Favorite Small Business To Be Featured on GOBankingRates — Ends May 31
Whether it involves your individual retirement account, 401(k) or even if you participate in a pension plan, the success of all of these funds depends in no small measure on the stock market. In short, the market serves as an auction house where buyers and sellers meet to exchange shares.
Here's a quick preview of what you need to know about the basics of stock investing:
Good To Know: The Best Investment Strategies at Every Age
The Stock Market Defined
So how does the stock market work? The stock market is a clearinghouse where investors can either buy or sell shares of stock. A stock, sometimes referred to as an equity, is a security that gives an investor fractional ownership in a given company. 
In the U.S., the Securities and Exchange Commission regulates what it calls "national securities exchange," places where stocks and other financial instruments can trade. While numerous exchanges exist, most Americans trade in stocks exchanged on either the New York Stock Exchange or the Nasdaq Stock Market. 
Read More: Stock Trading — A Beginner's Guide to the Markets
Investing In Stocks
Stock transactions can occur in several different ways. Still, these trades most often occur through market orders, limit orders or stop orders.
How You Buy and Sell Stocks
In a market order, an investor buys at or near the ask or buy order price. When selling, shares exchange hands at the bid or sell order price. However, posted bid and ask prices are based on the last-executed order. This does not necessarily mean the next market order will execute at the same price.
Limit orders work in the same manner as market orders. However, they include a limit price. Buy orders can only occur at the limit price or lower, while stock sales must happen at the limit price or higher. Investors should not confuse these transactions with stop orders. The stop order essentially combines the market and the limit order. In a stop order, investors wait for an order to reach a specific stop price. If and when the stock arrives at that price, brokers execute a specified market order. 
See: How To Invest In Stocks — A Beginner's Guide  
Generating Returns
Answering the question of "How does the stock market work for you?" involves explaining how it makes you money. Individual stocks carry risk as they can fluctuate in value based on both internal and external factors.
With the S&P 500 producing an average annual return of 10.26% over the last 10 years, however, stock investing tends to generate returns over time. Stocks produce returns in two ways:
Read On: How To Know When To Sell Stocks
Rising Share Prices
Stocks can generate profits through capital appreciation or a rising stock price. For example, if you buy 100 shares of stock XYZ at $10 per share, your cost is $1,000.  The stock may rise to a value of $12 per share one year later, however. At that point, your original investment increases to an amount of $1,200. 
Find Out: The 50 Safest Stocks in the Stock Market
Dividends
Many stocks offer cash payouts or dividends. These dividends are a portion of a company's profit paid out to shareholders. Most companies pay dividends in fixed periods, often every quarter. However, no rules exist regarding when publicly traded firms issue dividends. Hence, they can also pay special or extra dividends at any time. 
Compare: 9 Best Stocks for Beginners 
Managing Risk
Despite the S&P 500 rising overall, buying a stock places your investment capital at risk. Your initial investment can fall in value and, in theory, can become worthless should the company declare bankruptcy. For this reason, you may want to receive advice from a financial advisor when considering the purchase of a given stock.
Investors can mitigate this risk in other ways. One is to buy an index fund or a mutual fund. Funds invest in numerous types of stocks based on sector, index, countries or regions of origin — and countless other factors. Should one of the stocks in an index go bankrupt, investing in such a basket of stocks reduces that impact. Placing some of your capital in other asset classes such as bonds can also reduce exposure. 
Learn: How To Invest In Bonds
Should I Invest In Stocks?
Stocks can carry risks. Moreover, if you know little about stock investing, self-education and seeking professional advice is critical. As an investor, you should also gauge your tolerance for risk. 
Even so, the aforementioned 10.26% return on the S&P 500 dramatically exceeds the average 0.95% interest rate recently offered by a 60-month certificate of deposit at the bank. This alone justifies some interest in investing in stocks. By seeking both funds or stocks best suited to meet your investment needs and goals, you can make stock investing work for you while mitigating possible downside risks.
More From GOBankingRates
Last updated: May 24, 2021