7 Best Penny Stocks To Buy Under $1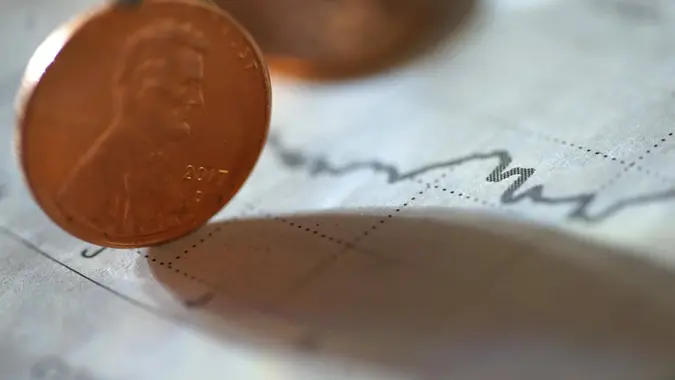 Kameleon007 / iStock.com
Penny stocks — those that trade for under $5 — are inherently risky but can also result in great rewards. Because the stocks are so cheap, it doesn't take much for them to drop to zero. By the same token, a price rise to just a few dollars a share can mean a big payday for investors.
See: 3 Things You Must Do When Your Savings Reach $50,000
Penny stocks are often found in emerging industries or in those industries that require a long period of research and development prior to the production of a viable product. The companies are typically early-stage technology, pharmaceutical, biotech or therapeutics companies.
Best Stocks That Cost Less Than $1
Here are some penny stocks that will cost you less than a dollar and might just be worth the investment:
GEE Group Inc. (JOB)
Cybin (CYBN)
Tingo Group (TIO)
Jaguar Health (JAGX)
Netcapital (NCPL)
ClearOne (CLRO)
S&W Seed Co. (SANW)
1. GEE Group Inc.
Price: $0.55
Market Cap: $62.48 million
Consensus Rating: Buy
GEE Group Inc. (Nasdaq: JOB) is a national staffing and recruiting company for information technology, legal, engineering, finance, accounting and healthcare firms. Its brands include Ashley Ellis, General Employment and Omni One.
The stock closed at $0.55 on Nov. 17. In the past year, the stock price has ranged from $0.36 to $0.80. Both analysts following the stock in November rate it a "buy." It's a volatile stock with a beta of 1.63 (1.00 being neutral), but it could be undervalued right now.
2. Cybin Inc.
Price: $0.45
Market Cap: $182.66 million
Consensus Rating: Buy
Cybin (NYSE: CYBN) develops proprietary psychedelic-based therapeutics for disorders like major depressive disorder, alcohol use disorder, anxiety disorders and more. The company is based in Canada.
Cybin closed at $0.45 on Nov. 17. Its 52-week range is $0.21 to $0.7380. Analysts haven't weighed in yet in November, but of the four watching the stock in October, two rated it a "buy" and two rated it a "strong buy," for a consensus rating of "buy." The average 12-month price target is $3.
3. Tingo Group Inc.
Price: $0.69
Market Cap: $163.03 million
Consensus Rating: Buy
Tingo Group (Nasdaq: TIO) is a multinational financial technology and agricultural financial technology group of companies operating in Africa, Southeast Asia and the Middle East. Based in Montvale, New Jersey, the company provides a digital agricultural platform in addition to insurance, automotive services, payment processing and merchant services. Its Tingo Foods business processes raw foods into staple items and operates a commodity trading platform.
TIO is a speculative stock that just one analyst tracks. They rate it a "buy" and have a price target of $11.75 over the next 12 months. Yahoo Finance predicts an estimated annual return of 74% over the next five years.
4. Jaguar Health Inc.
Price: $0.4065
Market Cap: $7.82 million
Consensus Rating: Strong buy
Jaguar Health (Nasdaq: JAGX) develops and commercializes first-in-class plant-based prescription medicines. The company's current products are an approved treatment for noninfectious diarrhea in certain adults with HIV/AIDS and an anti-diarrheal for chemotherapy-induced diarrhea in dogs, currently in Phase 3 trials. Jaguar has additional diarrhea treatments in its pipeline, including products for common conditions such as irritable bowel syndrome and irritable bowel disease.
Jaguar closed at $0.4065 on Nov. 17, more than 96% below its 52-week high and about 94% above its 52-week low. One analyst following the stock has rated it a "buy" or "strong buy" each month for at least the last four months, for a consensus "strong buy" rating. The 12-month price target is $6.
5.

Netcapital Inc.
Price: $0.2645
Market Cap: $2.5 million
Consensus Rating: Buy
Netcapital (Nasdaq: NCPL) is this roundup's smallest company by far, but it has made a name for itself among equity crowdfunding companies. It's a fintech that helps private companies raise capital online and assists in onboarding, regulatory-document filing and compliance review. The Boston-based company also serves as an advisor to tech startups and facilitates investing.
Trading near their 52-week low of $0.2490, Netcapital shares appear to be significantly undervalued. Yahoo Finance estimates a 231% annual return over five years, and the analyst who watches the stock thinks it could hit $2.80 in the next 12 months.
6. ClearOne Inc.
Price: $0.7153
Market Cap: $17.02 million
Consensus Rating: Strong buy
ClearOne (Nasdaq: CLRO) is an audio-video company that provides cloud-based conferencing and collaboration services for professional home offices and commercial spaces. The Salt Lake City-based company's client list includes Temple University, Rochester Institute of Technology, WebMD and Marriott.
ClearOne closed at $0.7153 on Nov. 17, nearly 20% above its 52-week low of $0.60 but well below its 52-week high of $2.65. Yahoo Finance says the stock is undervalued and could produce an annual return of 52% over the next five years. The two analysts who follow the stock have issued consistent ratings of "buy" and "strong buy," respectively, over the last four months.
7. S&W Seed Co.
Price: $0.68
Market Cap: $29.13 million
Consensus Rating: Buy
S&W Seed Co. (Nasdaq: SANW) produces seeds for a variety of crop products, including alfalfa, sorghum and stevia. The company distributes seeds via direct sales and dealer-distributors. S&W's research and development projects include hybrid crops and gene-edited alfalfa plants as well as a yield-boosting sorghum solution.
The three analysts who watch S&W rate the stock a "buy" with a price target of $3. A low P/E ratio of 2.18 and beta of 1.25, indicating low volatility, support the analysts' target.
Final Take
These companies represent a range of sectors, including technology and medical. Companies in these sectors have the potential to be very successful and provide significant returns to their investors, but the failure rate is high.
What's more, stocks that trade for less than $1 for 30 days or longer run the risk of eventually being delisted from their exchange. Unless the price increases on its own or the company takes action, such as reverse-splitting the stock to boost the price by reducing the number of shares, the stock could be relegated to the over-the-counter market, which has less liquidity.
When deciding which penny stocks to buy, be sure to carefully research the company to make sure you understand the product or service it offers, its potential for success and the competitive landscape in which it operates. And penny stocks should be a "recreational" investment — this is not the place to put your retirement savings or the kids' college fund. That said, large returns are possible, especially if you do your homework.
FAQ
What is a good stock to buy under $5?

For a good stock under $5, consider Pitney Bowes Inc. (PBI). Currently trading at just $3.92, this shipping and mailing company has been around since 1920. It has an average one-year price target of $6 and a dividend yield of 5.10%.

What are the best stocks under $2?

While stocks trading at less than $2 are still considered penny stocks and therefore risky, Pixelworks Inc. (PXLW) and Bolt Biotherapeutics Inc. (BOLT) are both valued under $2 and have "buy" or "strong buy" ratings from analysts.

What are the best stocks under $10?

One stock to consider in the under-$10 range is Crescent Point Energy Corp. (CPG). It currently trades at $7.06 with a one-year price target of $11.96 and a consensus "strong buy" rating from analysts.

What are some good stocks to buy right now?

The stocks listed above are good choices to start with, but it's important to assess your risk tolerance and goals before investing. Consider blue-chip stocks, like Apple or Pfizer, for more security

— but keep in mind that success is never guaranteed with any investment.
Daria Uhlig contributed to the reporting for this article.
Data was compiled on Nov. 19, 2023, and is subject to change. Information on analyst ratings was sourced from Yahoo Finance.