5 Best Small-Cap Stocks To Buy in 2023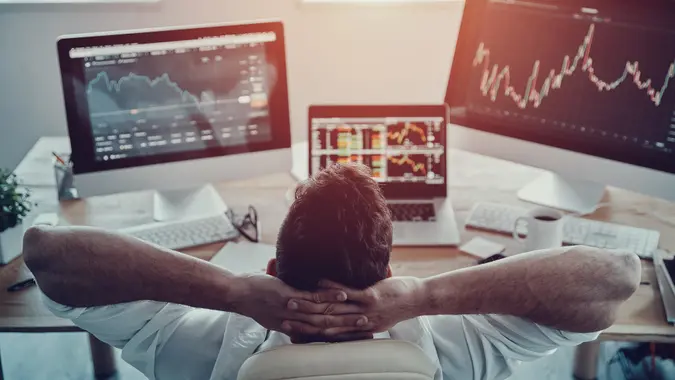 g-stockstudio / Getty Images/iStockphoto
The stock market has been on fire in 2023, but some sectors are outperforming others. The S&P 500 index, for example, is up about 19% year to date as of Aug. 1, while the Russell 2000 small-cap index is up just 13.45%. According to Forbes, the S&P 500 is trading at 19.5 times 2023 estimated earnings, while small caps are valued at just 14.4 times. This puts small caps at their largest valuation gap in decades. For astute investors, this could present an opportunity. 
See: 3 Things You Must Do When Your Savings Reach $50,000
What Is a Small-Cap Stock?
The term "small-cap" is short for small capitalization. A company's market capitalization is its worth in terms of what investors will pay for it. Market capitalization is the price per share times the number of shares outstanding, and small-cap companies have a market capitalization between $300 million and $2 billion.
Note that small-cap stocks are more volatile than mid- or large-cap positions, so choose carefully.
There are several indices that follow small-cap stocks, but the benchmark is the Russell 2000. Since this index always includes 2,000 companies, the valuations may sometimes fall outside the definition of small-cap. In fact, the index includes the companies ranked from number 1,001 to number 3,000 among the 4,000 largest publicly traded companies.
What Are Examples of Small-Cap Stocks?
Small-cap stocks are usually young companies. After all, the goal of a small-cap company is to someday become a large-cap company. So, many small-cap stocks may be companies you've never heard of. But keep in mind that Apple, Google and Microsoft were once small-cap companies, too.
Here are some small-cap companies you have probably heard of:
Green Dot (GDOT), provider of reloadable prepaid debit cards
Big Lots (BIG), general merchandise retailer
What Are the Best Small-Cap Stocks?
Here's a quick look at five of the best small-cap stocks.
| Stock | Price | Market Cap |
| --- | --- | --- |
| Ebix (EBIX) | $30.96 | $959.854 million |
| Dave & Buster's Entertainment (PLAY) | $45.80 | $1.912 billion |
| United States Lime & Minerals (USLM) | $205.61 | $1.167 billion |
| Aehr Test Systems (AEHR) | $52.16 | $1.477 billion |
| First Bancorp (FBNC) | $33.08 | $1.356 billion |
Data was compiled after the close of trading on July 31, 2023.
1. Ebix (EBIX)
Ebix provides infrastructure software exchanges and e-commerce services to the insurance, financial, travel and healthcare industries, according to its Yahoo Finance profile. Shares have rebounded nicely in 2023, up about 47% year to date as of Aug. 1, but that follows declines of 34.34% in 2022 and 19.94% in 2021. Analysts have an average target price of $39.88, up from its closing price of $29.49 on Aug. 1, even after its big gain thus far in 2023.
Of the three analysts rating the stock in August, one calls it a buy and two call it a strong buy, according to Yahoo Finance.
Best for: Investors with a strong tolerance for risk
2. Dave & Buster's Entertainment (PLAY)
Dave & Buster's Entertainment is known for games, wings and fun, both for kids and adults, but it was definitely the wrong business to be in during the pandemic. The company got through that period intact and is now recovering on the back of increased consumer spending and the removal of pandemic restrictions and fears.
The stock traded at $45.80 on July 31, but it has a one-year target estimate of $56.44. Four of the 10 analysts who followed it in July rated it a strong buy, and the remaining six rated it a buy.
Best for: Those willing to hold the stock long-term — one year or more
3. United States Lime & Minerals (USLM)
United States Lime & Minerals may not be a headline-grabbing name, but its shareholders are likely content with the stock's performance. Up over 45% YTD in 2023, the stock has also returned 180% over the past five years. As a company providing lime and limestone products to builders in the United States, USLM won't likely ever be mentioned in the same breath as Apple or bitcoin. But as America continues to build, build, build — especially if the Fed engineers a soft landing — USLM is likely to benefit.
The stock could actually benefit from the fact that no analyst formally follows it on Wall Street. If a firm were ever to pick up coverage of the stock — assuming a positive rating — it could shine a light on the company and get more investors interested. Currently, shares offer a 0.39% dividend yield.
Best for: Investors looking for an underfollowed, cyclically oriented stock
4. Aehr Test Systems (AEHR)
If you're looking for a hot semiconductor stock that isn't named "Nvidia," Aehr Test Systems might be up your alley. While not an actual chipmaker, Aehr produces test systems that help foundries produce their product. Specifically, in the words of the company itself, it "is a worldwide provider of test systems for burning-in and testing logic, optical and memory integrated circuits." Shares are up 165% in 2023 alone, helping contribute to the stock's incredible 2,100% return over the past five years.
The stock is followed by a single analyst, with a "buy" rating and a $60 price target. If other analysts pick up coverage, this could increase support for the stock.
Best for: Investors with a bit of a speculative edge
5. First Bancorp (FBNC)
First Bancorp is a regional banking corporation and the parent company of First Bank. In early 2023, it completed its acquisition of GrandSouth Bank, as the banking landscape continues to consolidate. The company's one-year average price target estimate is $36.06, up from its Aug. 1 closing price of $32.73.
Seven analysts reported by Yahoo Finance follow the company, and in August, four of them rated it a buy, one rated it a strong buy and two recommended holding the stock, for a recommendation rating of 2.2 out of 5. The stock's dividend yield is 2.66%.
Best for: Investors with a relatively low tolerance for risk looking for a dividend stock
The Bottom Line
Small-cap stocks generally offer higher levels of both risk and reward than the market as a whole. As they generally have less analyst coverage than larger, more active stocks, it requires more due diligence work on the part of the individual investor to make sure they select the right investment for their financial objectives and risk tolerance.
Karen Doyle and Daria Uhlig contributed to the reporting for this article.
Data was compiled on July 31 and Aug. 1, 2023, and is subject to change. Information on analyst ratings was sourced from Yahoo Finance.
Our in-house research team and on-site financial experts work together to create content that's accurate, impartial, and up to date. We fact-check every single statistic, quote and fact using trusted primary resources to make sure the information we provide is correct. You can learn more about GOBankingRates' processes and standards in our editorial policy.