5 Hydrogen Stocks To Watch in 2023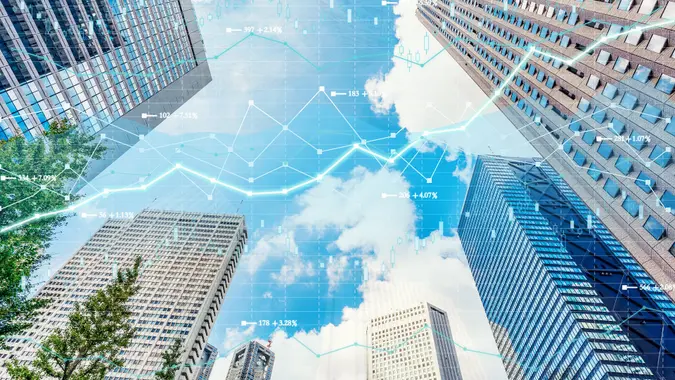 MarsYu / iStock.com
Hydrogen could replace fossil fuels — it is potentially renewable, abundant and produces no emissions. A hydrogen fuel cell combines hydrogen with oxygen to create electricity, with only heat and water as its byproducts.
The downside to hydrogen as a fuel is that it is costly to produce using renewable sources. It can also be produced in other ways, but these methods create carbon dioxide, so hydrogen produced this way is no more environmentally friendly than more traditional energy sources.
Learn: 3 Things You Must Do When Your Savings Reach $50,000
Still, there is potential in hydrogen as a fuel, and, by extension, in the companies that produce it. Here are five hydrogen stocks to watch in 2023.
Pure Hydrogen Plays
Some companies are dedicated to producing hydrogen fuel as an alternative to other, less environmentally friendly options. Like hydrogen fuel itself, these companies have potential, but it could be a bumpy ride in the near term.
Air Products (NYSE:APD)
Air Products produces and distributes liquid hydrogen gas and compressed hydrogen gas via a network of manufacturing plants, pipelines and transfill facilities.
Like many energy stocks, Air Products pays a dividend, and its forward dividend is $7.00, with a yield of 2.46%. The stock currently has a P/E ratio of 28.12.
According to analysts, Air Products has a negative performance outlook in the short and mid-term, but its long-term — nine months and beyond — prospects are positive. In February, two analysts rated it a strong buy, 12 rated it a buy and 13 recommended holding it. The average 12-month price target is $334.23, compared with the closing price of $281.27 on March 10, 2023.
Bloom Energy (NYSE:BE)
Bloom Energy distributes hydrogen and electricity using its proprietary solid oxide technology. The company's solid oxide fuel cells use natural gas, biofuels or hydrogen as fuel and produce energy without combustion.
The latest analyst ratings for Bloom Energy are mixed, with three analysts rating it a buy, five recommending that investors hold the stock and one calling it an underperformer. The stock price, as of market closing on March 10, 2023, is $20.12, and the average 12-month price target is $29.70.
Energy Companies with a Hydrogen Position
Traditional energy companies are jumping on the hydrogen bandwagon with varying degrees of success. These companies are developing hydrogen solutions in addition to the greenhouse-gas-emitting products they already market. It's important to understand this if your desire to invest in hydrogen-producing companies is driven by environmental concerns.
Cummins (NYSE:CMI)
Cummins is an energy company that is developing zero-emissions solutions under its new Accelera brand. Accelera is a supplier of components and an integrator and looks to sustainably power various industries by using hydrogen fuel cells, batteries, electrolyzers and more.
Cummins' forward dividend is $6.28 which represents a yield of 2.51%. The company's P/E ratio is 16.24. Twenty-four analysts have provided their March recommendation for Cummins, and of those, three call it a strong buy and four rated it a buy. The most common recommendation was to hold the stock, which was suggested by 14 analysts.  One analyst rated Cummins an underperformer and two recommend selling it.
The average 12-month price target is $259.99, compared to a March 10, 2023 closing price of $241.82.
Shell plc (NYSE:SHEL)
Long a provider of crude oil and gasoline, Shell is branching into the renewable energy market with hydrogen, wind and solar power, as well as decarbonization options like carbon capture and storage.
Shell's forward dividend is $2.30 with a yield of 3.79%. The company's P/E ratio is 5.22. The most recent analyst recommendations include five "strong buys," seven "buys," and five "holds." The average 12-month price target is $70.52, compared to a price of $60.36 as of the market close on March 10, 2023.
Linde plc (NYSE:LIN)
Linde is an industrial gas and engineering company whose products are used by various industries, including chemical and energy, healthcare, electronics, food and beverage, manufacturing and more.
Linde's forward dividend is $5.10, with a yield of 1.47%. The most recent analyst recommendations averaged a 1.9 on a scale of 1 (strong buy) to 5 (sell). Of the 26 analysts who most recently made recommendations, four rated the stock a strong buy, 19 rated it a buy and three recommended holding it. Linde shares closed at $340.27 on March 10, 2023, but the average analyst 12-month price target is $378.45.
Hydrogen ETFs
Exchange-traded funds are a good way to buy a stake in the hydrogen sector without going all in on a single company. Here are two to consider.
Direxion Hydrogen ETF (HJEN)
Direxion Hydrogen ETF has $32.53 million in net assets and holdings in companies like C3 AI, Linde plc, Shell, Bloom Energy, BP plc, and Nel ASA (Norway).
Global X Hydrogen ETF (HYDR)
With $42.24 million in net assets, this ETF includes hydrogen stocks from all over the world, including Air Products, Ceres Power Holdings plc (UK), McPhy Energy S.A. (France), Plug Power, PowerCell (Sweden) and others.
Final Take
Hydrogen has a great deal of potential as a clean energy source, but there are issues that will need to be overcome in order for it to be viable for a wide range of uses. If history is any indication, this means that the companies that are betting their future on this technology could be in for some volatility. Some will likely opt — or be escorted — out of the market, while others could enjoy significant profits, and so will their investors.
FAQ
Here are some quick answers to common questions about investing in hydrogen companies.
What is the best hydrogen stock to invest in?

For companies with a heavy focus on hydrogen energy, take a look at Air Products and Bloom Energy. Both companies have 12-month price targets that exceed their current prices. If hydrogen takes off, you could be looking at significant gains .
Just be careful not to invest more than you can afford to lose, because hydrogen could end up as a less-viable long-term solution in green energy, leaving these stocks in a far less profitable position.

Is it worth investing in hydrogen?

Hydrogen seems to be on the rise right now as a sustainable energy option, so while it hasn't seen a huge lift yet, this could be the right time to get in on the ground floor.
However, there are still issues to work out, such as green hydrogen production being more expensive than other options, so invest cautiously and do your research.

Who are the big players in hydrogen?

As far as pure hydrogen goes, Air Products and Bloom Energy are two big names. Major players with hydrogen as part of their business include Linde, Shell and Cummins.
Stock prices are accurate as of market closing on March 10, 2023. All other information is accurate as of March 13, 2023.
Our in-house research team and on-site financial experts work together to create content that's accurate, impartial, and up to date. We fact-check every single statistic, quote and fact using trusted primary resources to make sure the information we provide is correct. You can learn more about GOBankingRates' processes and standards in our editorial policy.