8 Best Short-Term Stocks To Buy for 2023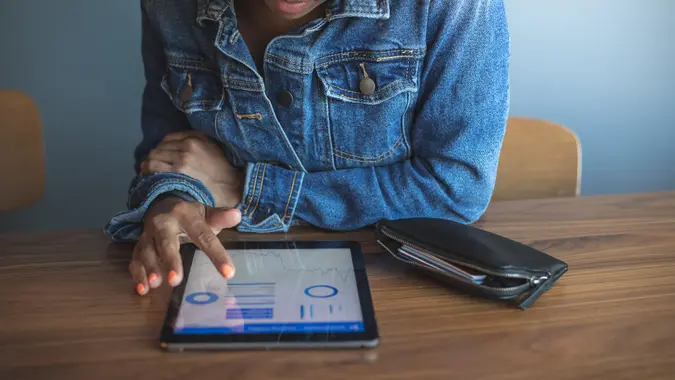 LPETTET / Getty Images
Investing in the stock market is usually a long-term proposition. "Buy and hold," they say, and "they" may not be wrong. But that doesn't mean that there are no opportunities for the short-term investor. The same recommendations apply whether you're investing for the short or the long haul: buy what you know, do your research and diversify your portfolio.
See: 3 Things You Must Do When Your Savings Reach $50,000
But there's one other caveat for the short-term investor: watch the short-term macroeconomic trends. Think about what's likely to happen in the short term with respect to things like inflation, unemployment and so on. Then think about which companies will benefit from these trends.
Which Stock Is Best for Short-Term Investment?
Here are some stocks to consider buying for the short term.
Alphabet
Price: $102.90
Market Cap: $1.32 trillion
A tech giant that made early investors rich, Alphabet (Nasdaq:GOOGL) still has appeal, even for the short-term investor. Its recommendation rating is 1.8, which is between a strong buy and a buy. Forty-three analysts made their recommendations for February, with 13 calling it a strong buy, 25 calling it a buy and five recommending that investors hold the position. The average 12-month price target is $125.45.
Amazon
Price: $102.18
Market Cap: $1.042 trillion
Investors who buy Amazon (Nasdaq:AMZN) now will never see the returns that early investors did, of course, but that doesn't mean it's not a good choice for the short-term investor.
If you're a chart follower, you'll note that Amazon is in a "double bottom" pattern, which tends to be bullish. Of the 47 analysts following Amazon in February, 15 rate it a strong buy, 28 rate it a buy, three recommend holding it, and just one rates it as underperforming. Its overall recommendation rating is 1.8 out of 5, with 1 being the best.
Costco
Price: $515.59
Market Cap: $228.782 billion
Costco (Nasdaq:COST) is likely to do well over the next few months as high grocery prices push consumers to shop where they get the biggest bargains.
Analysts are positive on the stock, but not by a whole lot. Twenty-nine analysts have weighed in for February, with seven rating it a strong buy, 11 rating it a buy and 11 recommending that investors hold the position. The stock has an average 12-month price target of $553.47.
The Walt Disney Company
Price: $109.87
Market Cap: $200.708 billion
The Walt Disney Company (NYSE:DIS) has long been a favorite of long-term value investors. The company paid a dividend for years but, like many other companies, stopped paying it in 2020. Unlike many other companies, it has not yet resumed paying a dividend and has not given much indication it intends to do so. This may be a deterrent to long-term investors but could benefit the short-term investor.
Analysts, who usually take a long view, give the stock a recommendation rating of 2, which is a buy rating. The 30 analysts who gave their recommendations on Disney in February broke out this way: five rated the stock a strong buy, 10 rated it a buy, 12 recommended holding it, two called it an underperformer and one recommended selling it.
Dollar Tree
Price: $150.97
Market Cap: $33.392 billion
Dollar Tree (Nasdaq:DLTR) is poised to benefit from the current inflationary economic conditions. This low-priced general merchandise retailer could see an uptick in sales as consumers try to get the most for their money. Competition in the space is strong from companies like Dollar General and Family Dollar, but there may be enough frugal shoppers to go around.
Analysts like Dollar Tree but they don't love it, giving it an average recommendation rating of 2.5. Twenty-six analysts have weighed in on the stock for February, with eight rating it a strong buy, seven rating it a buy, and 11 recommending holding the position.
Las Vegas Sands
Price: $57.85
Market Cap: $44.207 billion
Las Vegas Sands (NYSE:LVS) is a gaming company with casinos worldwide. With COVID-19 restrictions waning and legalized sports betting in the U.S. on the rise, gaming companies are worth a look.
The 17 analysts who weighed in on Las Vegas Sands in February gave the company an average recommendation of 1.9. Four analysts rated LVS a strong buy, and eight rated it a buy. The remaining five recommended holding the stock.
UnitedHealth Group Incorporated
Price: $475.24
Market Cap: $444.04 billion
Healthcare stocks like UnitedHealth Group Incorporated (NYSE:UNH) tend to be defensive, meaning they do well even when the economy does not.
The analysts like UnitedHealth, giving it an average recommendation of 1.8. The 22 analysts who follow it in February are evenly split, with 11 rating it a strong buy and 11 rating it a buy.
Visa
Price: $229.44
Market Cap: $482.235 billion
Financial stocks are a pretty reliable long-term play, but they can be tricky over the short term, especially when the economy is volatile. Visa (NYSE:V) may be a good short-term choice, however, given that rates are still on the rise.
Thirty-nine analysts rated Visa for February, with 13 calling it a strong buy, 22 saying it's a buy and four recommending that investors hold the position. The average recommendation rating is a 1.8, and the average 12-month price target is $260.65.
Is It Smart To Invest Short-Term?
Investing in short-term stocks can be a good idea if you want to take advantage of a rising market without locking your funds into a long-term stock.
However, you may be better off with a different type of investment if you want to keep your funds relatively liquid. Look into a CD or high-yield savings account for high interest rates without the volatility that comes with the stock market.
Are Short-Term Stocks Profitable?
Short-term stocks can be profitable if you time your buy and sell just right. They're generally not as profitable as long-term investments that have had time to grow, though.
Keep in mind that, whether you invest short- or long-term, the stock market is difficult to predict and there are no guarantees.
Final Take
Short-term stock investing takes discipline, just as long-term investing does. Before you buy, have an exit strategy, whether that is a point in time or a price point, and then stick to it. Be sure to do your due diligence and only invest money you don't need for expenses.
Information is accurate as of Feb. 6, 2023, and is subject to change.
Our in-house research team and on-site financial experts work together to create content that's accurate, impartial, and up to date. We fact-check every single statistic, quote and fact using trusted primary resources to make sure the information we provide is correct. You can learn more about GOBankingRates' processes and standards in our editorial policy.