10 Best-Performing Stocks To Invest In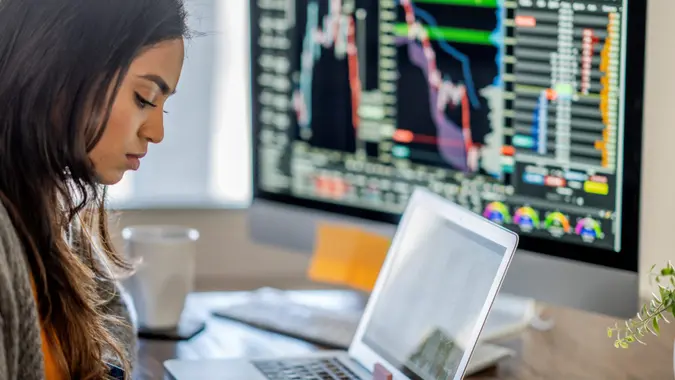 FatCamera / Getty Images/iStockphoto
You can always spot the best stocks after they rack up enormous gains for their shareholders. It's identifying them before they rally that's the tricky part.
See: 3 Things You Must Do When Your Savings Reach $50,000
But while past performance never guarantees future results, sometimes, the best-performing stocks are the ones worth buying because they still have plenty of room to run, grow and make shareholders rich. History is filled with examples of companies that posted huge returns that shy investors assumed they couldn't sustain, only to continue growing, outperforming the market and delivering good news for the shareholders who stayed on board.
Keep reading to learn about the best stocks based on their recent market performance.
What Are the 10 Best Stocks To Buy Right Now?
The following is a look at 10 of the best stocks to buy based on their impressive recent performance. Five were chosen for the gains they amassed in 2023 so far, and the other five were chosen for their gains over the past year. 
The list avoids smaller, lesser-known companies that might have experienced large gains due to the extreme volatility that is so common to stocks with minimal market caps and trading volumes.
Here are the 10 best-performing stocks on the market:
Biomea Fusion Inc. (BMEA)
Iveric Bio Inc. (ISEE)
C3.ai Inc. (AI)
Riot Platforms Inc. (RIOT)
IonQ Inc. (IONQ)
First Solar Inc. (FSLR)
Roivant Sciences Ltd. (ROIV)
Nvidia Corp. (NVDA)
Netflix Inc. (NFLX)
Fair Isaac Corp. (FICO)
1. Biomea Fusion Inc. (BMEA)
Year-to-date growth: 382.31%
Biomea Fusion Inc. is a clinical-stage biopharmaceutical firm that works to discover and develop novel covalent small molecules for treating patients suffering from genetically defined cancers.
2. Iveric Bio Inc. (ISEE)
Iveric Bio is a biopharmaceutical company focused on novel treatments for retinal diseases. On May 1, Japan's Astellas Pharma agreed to buy the company for $5.9 billion, which sent share prices soaring.
3. C3.ai Inc. (AI)
Year-to-date growth: 234.15%
C3.ai is riding the generative artificial intelligence wave by building enterprise-scale AI applications. It has so far developed 40 applications for use by organizations like Shell, New York Power Authority, the U.S. Army, the U.S. Air Force, the Department of Defense, Con Edison, Cargill and Koch.
4. Riot Platforms Inc. (RIOT)
Year-to-date growth: 206.53%
Riot Platforms is a bitcoin mining company that's rapidly expanding large-scale mining operations in the United States. Its primary focus is to expand its bitcoin mining hash rate and infrastructure capacity.
5. IonQ Inc. (IONQ)
Year-to-date growth: 204.91%
IonQ Inc. builds some of the world's most powerful quantum computers for applications as varied as automobiles, drug discovery and quantum machine learning. Its computers are powered by naturally occurring atomic ions.
6. First Solar Inc. (FSLR)
First Solar is America's largest solar PV manufacturer. It is the only one of the world's 10 largest solar companies that is headquartered in the U.S. and not in China.
7. Roivant Sciences Ltd. (ROIV)
Roivant Sciences is a healthcare firm dedicated to drug development through new technologies. The company also builds biotech and healthcare technology subsidiaries — it now has more than 20 in its portfolio.
8. Nvidia Corp. (NVDA)
Year-to-date growth: 170.83%
Nvidia is one of the leading producers of high-power GPUs for applications like gaming, construction, automotive and scientific research. Its products are playing a prominent role in the emerging AI space.
9. Netflix Inc. (NFLX)
Netflix recently had a grueling run that scared off many investors. Its stock plummeted from $690 on Oct. 30, 2021, to $181 on May 6, 2022 — but those who bought at the bottom are now glad that they did. The streaming heavyweight successfully pulled off a risky password-sharing crackdown that has increased new subscribership by its highest rate in four years.
10. Fair Isaac Corp. (FICO)
FICO is a data analytics company that provides credit rating and reporting services for businesses, individuals and employers. After more than a half-century, it remains the biggest name in consumer lending data.
Which Company Has the Largest Market Cap in the World?
It's never a bad idea to keep an eye on Warren Buffett, one of the most successful investors in history. The Oracle of Omaha has repeatedly called Apple the best stock he owns — his $158 billion investment in the company accounts for more than one-fifth of his Berkshire Hathaway firm's portfolio.
Over the last 20 years, Apple's market cap has grown from just $5.2 billion in 2003 to $2.85 trillion as of June 12, making it the largest company in the world.
What Is the Best-Performing Stock Today?
On June 9, Chinook Therapeutics Inc. (KDNY) gained roughly 58%, making it the best-performing stock of the day. A clinical-stage biopharmaceutical firm that develops advanced medicines for kidney diseases, the stock soared after Novartis AG agreed to acquire it for $3.5 billion.
What Is the Fastest-Growing Stock?
Aehr Test Systems (AEHR) was omitted from the list of top performers because its market cap is just $1.2 billion, but it's been on an impressive run that is hard for growth investors to ignore.
Currently trading at $42.85 per share, the stock has gained 55% in the last month, 79% in the last six months, 133% in 2023 and a whopping 465% in the last year.
In Conclusion
With any stock, it's helpful for investors to know how a company has performed in past market climates. But one of the most important rules of stock picking is that past performance does not guarantee future results. Choose stocks based on your analysis of the company's financials, value, projections, management, prospects for future growth and your own investing strategy.
Data was compiled on June 12, 2023, and is subject to change.
Our in-house research team and on-site financial experts work together to create content that's accurate, impartial, and up to date. We fact-check every single statistic, quote and fact using trusted primary resources to make sure the information we provide is correct. You can learn more about GOBankingRates' processes and standards in our editorial policy.