4 Soaring Airline Stocks To Invest in 2021 as Travel Rebounds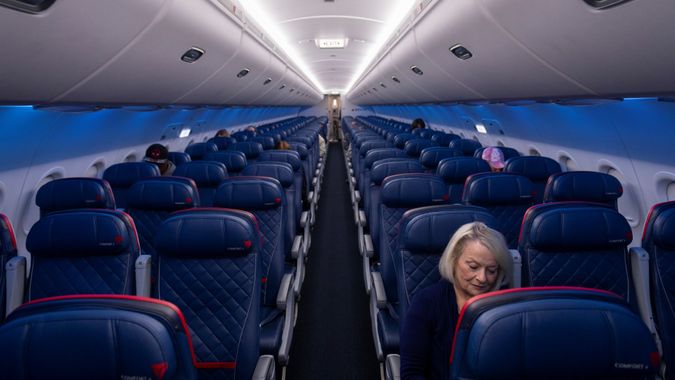 Joel Carillet / Getty Images
Airlines lost a lot of money last year — so much that Southwest Airlines had its first year in the red in more than 40 years. The industry earned $328 billion in 2020, which is about 60% down from the previous year. Management consulting firm McKinsey & Company has issued a projection that recovery will be gradual and that the airline industry won't return to 2019 levels until 2024.
A Burgeoning Recovery Defined by Unknowns
Several factors stand to influence the timing and extent of the airline industry's recovery, including but not limited to:
Recovery Factors

Whether the new variants of coronavirus emerging in Europe will become a factor in the U.S.
What happens with business travel since many companies anticipate that remote work is here to stay in some form. In all likelihood, there will be fewer corporate trips.
The speed at which leisure travel picks up.
How airlines will grapple with their post-pandemic debt levels and what that will do to ticket prices and purchasing volumes COVID-19 created $180 billion worth of debt in the sector last year alone, and airlines are hardly in the clear now.
The extent to which supply can keep pace with demand. Airlines will need to re-staff and re-service plans to offer full capacity, and both will take time. In addition, airlines may face the need for financial restructuring such as Chapter 11 filings.
How operating costs will land as airlines address maintenance needs and pay more for fuel.
Investors Are Feeling Hopeful
The Transportation Security Administration recently confirmed that it had screened more than two million passengers in one day — a number not seen since early March 2020. Investors appear ready for a rally. American Airlines' stock has risen 49% year to date and 64% year-over-year. Delta's trajectory follows a similar timeline — up 16% so far this year and 71% since June last year.
4 Best Airline Stocks To Consider Investing in Right Now
Let's take a closer look to determine whether the current enthusiasm over airline stocks is warranted, and which are the best airline stocks to buy.
1. American (NASDAQ: AAL)
Buy, Sell or Hold? Hold.
Pros: American reports that demand for flights is surging and that bookings already sit at approximately 90% of what they were in 2019, pre-pandemic.
Cons: Revenue sits at 40% less than at this time in 2019, likely in part because business travel hasn't returned in full and longer flights, which are more profitable, are still a low-volume proposition.
2. Delta (NYSE: DAL)
Buy, Sell or Hold? Buy.
Pros: Delta expects its domestic flight capacity in June to be fully back to pre-pandemic levels, and reports an increase in upselling activity from travelers bumping themselves up into premium economy.
Revenue remains down, but loss projections have been lowered and Delta's CEO, Ed Bastian, recently told investors that the airline could be on its way to record profits by 2023.
Although business travel is lagging, demand for premium seats is up and spending on Delta's co-branded credit cards is now up from pre-pandemic levels.
Cons: Revenue declined by 64% in 2020, moving from $47 billion in 2019 to $17 billion in 2020. Like the rest of its peers, Delta faces rising fuel prices and also owes its employees a bonus it awarded following its receipt of the J.D. Power award for customer satisfaction.
3. Southwest (NYSE: LUV)
Buy, Sell or Hold? Buy.
Pros: Like Delta, Southwest seems to be emerging from the pandemic with optimism. Its view of projected cash burn is lower than originally predicted, and the company has ordered 34 new 737 planes from Boeing.
Additionally, the airline, which just celebrated its 50th anniversary, announced that it will produce a 20-episode podcast series about the company's history — this would be an odd thing to do if the company wasn't confident about its future.
Cons: Despite Southwest's strong history and its commitment to moving forward, its stock is seeing ups and downs as the travel industry picks up speed.
4. United Airlines (NASDAQ: UAL)
Buy, Sell or Hold? Buy.
Pros: United worked to cut costs and maximize liquidity in 2020, ending the year with $19.7 billion in available liquidity. In 2021, the company began preparing for the start of a recovery and returned to maintenance investments to prepare for the return of demand from consumers. United believes that it's on track to outpace its 2019 performance by 2023.
Cons: Although investors can feel good about United's focus on financial stability and maintenance needs to help with recovery, its stock is still experiencing some volatility.
Investors looking to capitalize on a rebound in air travel don't need to pursue individual company stocks unless they want to.
Good To Know

There is a diversified airline exchange-traded fund available called JETS. This fund can provide exposure to American Airlines, Southwest Airlines, and United Airlines, as well as manufacturers, airline operators, airports and related services. JETS has a performance record that has far outpaced the overall market over the last year, offering a return of 71.7% compared to the S&P 500's overall return of 50.7% during the same period of time.
An Industry Ready To Recover, However Slowly
Much of the coverage of airline stocks right now revolves around which one came out on top most recently, but the reality is that all of them will need time to recover. The airlines were one of the first retail sectors impacted when the COVID-19 lockdown struck, and as they rebuild, they need to confront many potential obstacles.
All signs indicate that at least a few of these airlines are staying nimble and doing the work it will take to re-emerge fully. However, investors will likely need to stand by patiently while that re-emergence develops over the next couple of years or so.
Our in-house research team and on-site financial experts work together to create content that's accurate, impartial, and up to date. We fact-check every single statistic, quote and fact using trusted primary resources to make sure the information we provide is correct. You can learn more about GOBankingRates' processes and standards in our editorial policy.