How To Invest In Bitcoin: 4 Steps To Get Started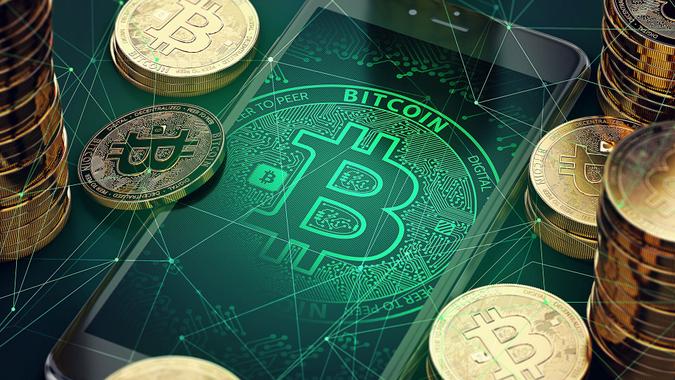 ©Shutterstock.com
Cryptocurrency has introduced people to a new form of investment that can be very lucrative. While it's a risky venture, it can earn a ten-fold return on your initial investment, in some cases.
Bitcoin holds the title for being the first cryptocurrency–and most popular for that matter–in the world. It rose dramatically from $3,237 at the end of 2018 to over $49,000 on Aug. 23, 2021.
Although it's more volatile than bonds and stocks, it's possible you can make a reasonable sum if you know how to invest in Bitcoin. For instance, most experts suggest you do not invest more than 3% of your investment portfolio in cryptocurrency.
What else do you need to know when you decide to buy Bitcoin? Here's an overview.
How To Buy Bitcoin
Like any other cryptocurrency, there are four steps you need to take to buy Bitcoin. Here's how:
4 Steps To Follow

Find a way to buy Bitcoin. You need to buy Bitcoin from a cryptocurrency exchange, such as Coinbase. You can also purchase cryptocurrency from traditional brokers, such as Robinhood.
Store Bitcoin. Secondly, you have to decide if you want to store your Bitcoin in a cold or hot wallet.
Purchase. Then, buy the number of bitcoins you want.
Now, we'll discuss all these steps in detail.
1. Find A Way To Buy Bitcoin
First off, you need to determine how to buy Bitcoin. Fortunately, there are a few different ways to do this.
Cryptocurrency Exchanges
Cryptocurrency exchanges facilitate cryptocurrency trading for several kinds of assets, including fiat currencies and digital currencies.
Such a platform would act as an intermediary between seller and buyer, making money through transaction fees and commissions.
Typically, there are two types of cryptocurrency exchanges:
Centralized: These cryptocurrency exchanges are third parties between sellers and buyers. They are more reliable since there's a company involved. Some examples include GDAX, Kraken and Coinbase. These exchanges are very user-friendly; they allow users to view their accounts and make transactions via convenient websites and applications.
Decentralized: Meanwhile, decentralized cryptocurrency exchanges facilitate peer-to-peer cryptocurrency transactions without an intermediary. Some examples include Blocknet and AirSwap. These exchanges are at a lower risk of being hacked since users do not have to transfer their cryptocurrency or other assets to an intermediary.
Cryptocurrency Brokers
Cryptocurrency stockbrokers are a firm or agent that handles a client's assets and trading .
The first mainstream cryptocurrency broker was Robinhood, offering free Bitcoin trades. eToro, a social trading platform, is another prominent cryptocurrency broker.
Other Ways
Here are some other ways to buy Bitcoin:
Bitcoin ATMs: These are just like regular ATMs but can be used to sell or purchase Bitcoins. According to Coin ATM Radar, there are over 42, 266 ATMs of this sort in the U.S.
Bitcoin Futures: This option is for pros and is offered by firms like TradeStation. It lets you trade Bitcoin futures.
Peer-to-Peer Sales: You can purchase Bitcoins from another owner directly, sort of like buying something off Etsy. Some tools for this include Bitquick and Bisq. However, you should be careful when purchasing cryptocurrency directly from someone without the involvement of a third-party intermediary.
2. Store Bitcoin
You can store Bitcoin in a hot or cold wallet. Hot wallet transactions are quicker, while those in cold wallets have extra steps to maintain security. Thus, the latter takes longer, but is more secure.
Hot Wallet
Storing your cryptocurrency in a hot wallet means the assets are stored by a provider or trusted exchange in the cloud. You can access your Bitcoins through a computer browser or an app.
All trading exchanges come with complimentary hot wallets where all your Bitcoins are automatically stored. If you want to store your Bitcoin in a third-party hot wallet, you can download a free app and use it to keep your assets safe.
Some hot wallet providers include Coinbase, Blockchain, Electrum and Mycelium.
Some pros of a hot wallet include:
Quick to access
Easy to use
Usually free
However, hot wallets are connected to the Internet, making them susceptible to hacking and presenting other, more technical, vulnerabilities.
Cold Wallet
A cold wallet is an offline encryptable device where Bitcoins can be downloaded. You can carry the device around. It's considered safer than a hot wallet and costs around $100.
For example, two cold wallet providers are:
Ledger: Their cold wallets cost $60-120.
Trezor: Their cold wallets range from $80-170.
When you're creating digital wallet accounts, make sure the passwords are strong. Here are some pros of cold wallets:
More secure than hot wallets
Completely offline
On the flip side, cold wallets are expensive and require you to carry the device with you if you want to make regular transactions.
3. Purchase Bitcoin
Once you have linked your wallet to the exchange, you have to select the number of Bitcoins you want to purchase. One Bitcoin costs about $40,000, making it difficult for everyone to purchase a round-number amount.
You can buy the cryptocurrency in fractions, allowing you to purchase exactly the amount you want.
4. Manage Bitcoin
The simplest way to manage your cryptocurrency investment is to keep an eye on the cryptocurrency market and sell your Bitcoin when it goes up in value. However, if you think the currency will face a significant spike in the coming years, hold on to your Bitcoin for a long time.
How to Invest in Bitcoin Safely?
If you're new to cryptocurrency investments, you should be pretty careful since the market is very volatile, and you can end up losing your money quickly. Here are some tips to be on the safer side:
Research: Make sure you learn all you need to know about cryptocurrency exchanges before you select one. You can also talk to experienced investors through online forums, especially those on Reddit.
Diversify: Investing in Bitcoin seems like a lucrative move since the currency has spiked exponentially in the past few years, but you should not put all your money in one cryptocurrency. Instead, diversify your investments so that your money is more durable to shifts in the market.
Good To Know

Remember that cryptocurrency, due to its volatility, can take a toll on your pocket and mental wellbeing. So, you should only dabble in Bitcoin investment if you're not too bothered by the dramatic highs and lows in Bitcoin prices.
GOBankingRates' Crypto Guides
Our in-house research team and on-site financial experts work together to create content that's accurate, impartial, and up to date. We fact-check every single statistic, quote and fact using trusted primary resources to make sure the information we provide is correct. You can learn more about GOBankingRates' processes and standards in our editorial policy.