How To Minimize Fees on the Kraken Exchange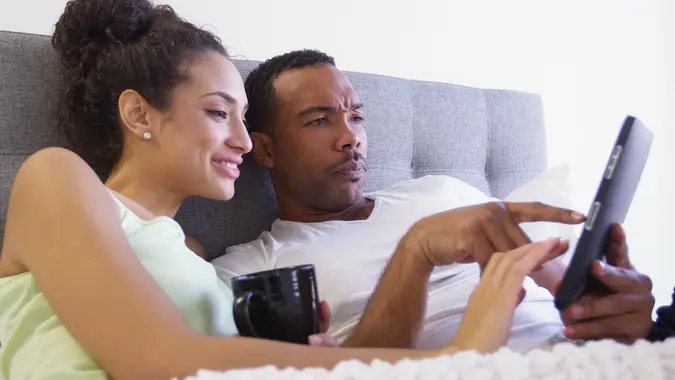 ©Shutterstock.com
Cryptocurrency jargon can be confusing, particularly because of how that jargon is used on social media. However, cryptocurrency is becoming increasingly popular as everyone from retail investors to institutions gets involved.
There's even speculation that Apple is considering supporting cryptocurrency payments. Forbes reported recently on a job ad posted by Apple that indicates it might be open to the idea of accepting crypto payments. Time will tell what Apple decides to do.
If you are thinking about investing in cryptocurrencies, this guide is for you. Keep reading to learn more about one of the more popular crypto platforms known as Kraken and the fees you will pay to trade on its platform.
What Are Cryptocurrencies?
Cryptocurrencies are digital currencies based on cryptography and decentralized networks. The technology behind cryptocurrencies, blockchain, is relatively new. Blockchain technology is a digital, decentralized public ledger designed for transactions. This technology's primary advantage is that transactions are decentralized and immutable. That means that no single entity controls the database.
This underlying technology is what enables cryptocurrencies to work as a viable currency. Blockchain ensures the integrity of that transactional data. Cryptocurrencies can be transferred between parties directly, without an intermediary like a bank.
To possess and purchase cryptocurrencies, you need an account known as a "wallet" to store your cryptocurrency. These wallets have private keys that protect what's inside. There are many platforms where you can buy and sell cryptocurrency.
What Is Kraken?
Kraken was founded in 2011 and is one of the largest cryptocurrency exchanges in the world. The company boasts "excellent service, low fees, versatile funding options and rigorous security standards."
Kraken lets you buy and sell cryptocurrencies as well as indices and futures on their exchange. They also allow you to earn rewards by staking coins and fiat. You can trade on margin, up to five times, to maximize potential gains. Kraken also provides Cryptowatch, which allows you to watch and analyze over 2,000 crypto markets across multiple exchanges at a glance.
Why Kraken?
With all of the options for buying and selling cryptocurrencies, why should you select Kraken? Here are a few reasons why many investors find Kraken compelling.
Industry-Leading Security
Kraken offers its users a comprehensive security approach designed to keep their assets and identity protected. Security is an important aspect to consider, given the number of high-profile exchange hacks over the years. Kraken takes security seriously and is the company's No. 1 objective. Some of Kraken's security features include:
Kraken's Security Features:

Safe coin storage. Ninety-five percent of deposits are kept in offline, air-gapped, geographically distributed cold storage with full reserves for immediate withdrawal.
Platform security. Servers are in secure cages under 24/7 surveillance by armed guards. Physical access and code access are tightly controlled.
Wide Variety of Funding Options
Flexibility in funding options is essential for many investors. If you cannot fund your account, you can't buy cryptocurrencies, no matter how exciting the platform is. Kraken boasts the widest range of funding options in crypto.
To start, Kraken accepts various traditional currencies, including U.S. dollars, euros and Canadian dollars, with little to no fees and funding in as little as 24 hours from the time of your deposit.
Kraken also accepts deposits using other coins including Bitcoin, Ethereum, Ripple, Litecoin and more. These coins get deposited instantly and are ready to be traded in as little as 10 minutes.
Other funding methods include:
Single Euro Payments Area, or SEPA, bank transfer
Etana Custody
Liquidity
Cryptocurrency prices can change rapidly. For example, former President Donald Trump criticized Bitcoin recently, leading to an immediate drop in price. Other coins have seen price increases after tweets from others like Elon Musk. Liquidity is crucial so you can get in and out of the market quickly and maximize your profits.
Good To Know

Kraken features high trading volume, low fees, more funding options and more active traders. All of this means that the Kraken exchange has greater liquidity than some other exchanges.
Industry-Leading Fees
Kraken offers its products at very competitive rates, including fees as low as 0%. Keep reading to learn about the fees Kraken charges and how to minimize those fees.
What Fees Does Kraken Charge?
The Kraken fees you pay will depend on the product you use, including:
Instant Buy
Kraken Pro
Stablecoin & FX Pairs
Margin
Futures
Instant Buy
Instant Buy lets you buy or sell cryptocurrencies on Kraken.com or the mobile app.
Kraken Fee
Payment Card Processing Fee
Online Banking Processing Fee
-0.9% fee for any stablecoins
-1.5% fee for any other crypto or FX pair
3.75% + €0.25
0.5%
Kraken Pro
Kraken Pro awards high-volume traders with lower fees based on their recent activity.
| 30-Day Volume (USD) | Maker | Taker |
| --- | --- | --- |
| $0 – $50,000 | 0.16% | 0.26% |
| $50,001 – $100,000 | 0.14% | 0.24% |
| $100,001 – $250,000 | 0.12% | 0.22% |
| $250,001 – $500,000 | 0.10% | 0.20% |
| $500,001 – $1,000,000 | 0.08% | 0.18% |
| $1,000,001 – $2,500,000 | 0.06% | 0.16% |
| $2,500,001 – $5,000,000 | 0.04% | 0.14% |
| $5,000,001 – $10,000,000 | 0.02% | 0.12% |
| $10,000,000+ | 0.00% | 0.10% |
Stablecoin & FX Pairs
Kraken offers a fee schedule for FX pairs — EUR/USD –where a stablecoin is the base currency, such as USDT/USD, DAI/USDT, etc.
| 30-Day Volume (USD) | Maker | Taker |
| --- | --- | --- |
| $0 – $50,000 | 0.20% | 0.20% |
| $50,001 – $100,000 | 0.16% | 0.16% |
| $100,001 – $250,000 | 0.12% | 0.12% |
| $250,001 – $500,000 | 0.08% | 0.08% |
| $500,001 – $1,000,000 | 0.04% | 0.04% |
| $1,000,000+ | 0.00% | 0.00% |
Margin
Kraken charges additional fees for margin trading at both the opening and closing of positions. Here is a sample:
Futures
Kraken Futures offers volume incentives based on your futures trading activity in the past 30 days.
| 30-Day Volume USD | Maker Fee | Taker Fee |
| --- | --- | --- |
| $0 – $100,000 | 0.0200% | 0.0500% |
| $100,001 – $1,000,000 | 0.0150% | 0.0400% |
| $1,000,001 – $5,000,000 | 0.0125% | 0.0300% |
| $5,000,001 – $10,000,000 | 0.0100% | 0.0250% |
| $10,000,001 – $20,000,000 | 0.0075% | 0.0200% |
| $20,000,001 – $50,000,000 | 0.0050% | 0.0150% |
| $50,000,001 – $100,000,000 | 0.0025% | 0.0125% |
| $100,000,001+ | 0.0000% | 0.0100% |
Here's How You Can Minimize Fees
The best way to minimize fees on Kraken is to use Kraken Pro. This product enables you to pay less based on higher volumes. You earn discounts immediately as the system reassesses your eligibility tier after every trade.
Kraken Fees FAQ
Here are the answers to some of the most frequently asked questions about Kraken's fees.
How do I get started with Kraken?

Getting started is easy. First, you create your account online. Then, you secure your account and digital life, verify your account and fund your account. Then you can start buying and selling.

What are the deposit and trading minimums?

The deposit minimums depend on the cryptocurrency. Kraken offers a full list of deposit fees and minimums online.

Does Kraken provide tax forms or statements?

No, Kraken does not provide tax forms or statements because regulations differ greatly depending on the country. You should consult your tax attorney or advisor regarding any cryptocurrency investment.
Our in-house research team and on-site financial experts work together to create content that's accurate, impartial, and up to date. We fact-check every single statistic, quote and fact using trusted primary resources to make sure the information we provide is correct. You can learn more about GOBankingRates' processes and standards in our editorial policy.