How To Buy Cryptocurrency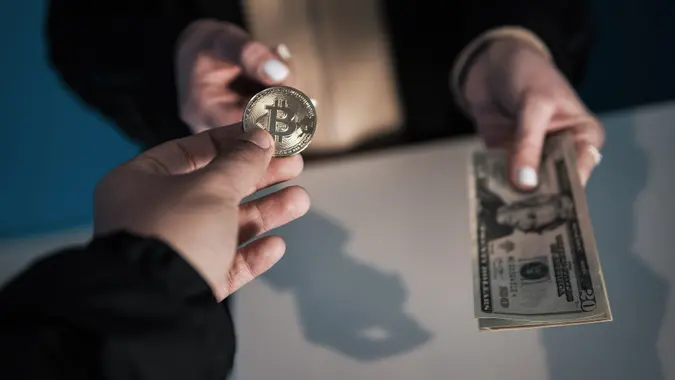 Alihan Usullu / iStock.com
If you've decided to buy cryptocurrency, you'll be happy to know that the hard part of your journey is over. Conducting the research needed to make an educated decision about investing in digital tokens is a much more exhaustive process than the relatively simple act of buying the coins.
Last year was the most brutal on record for cryptocurrency investors, but now it's 2023. Prices are still low across the industry and many analysts think there's nowhere to go but up. If you've resolved to make this the year that you diversify your investments into the digital realm, here's what you need to know about how to buy cryptocurrency.
Step-by-Step: Buying Cryptocurrency
To the uninitiated, cryptocurrency can be unfamiliar and intimidating. But buying it is a fairly straightforward process that you can wrap up in just five steps.
1. Decide Which Coins To Buy
The first step is to settle on a few cryptocurrencies of choice. This comes first because different exchanges support different coins, and you don't want to register an account with an exchange only to learn that it doesn't list the coins you want to own. All the top exchanges list the brand-name heavyweights, like bitcoin, ethereum, tether and BNB. But there are more than 20,000 cryptocurrencies in the world, and most exchanges support just a few dozen or a few hundred.
Do your research carefully and select coins based on your goals for your portfolio.
2. Choose an Exchange
When you settle on the coins you want to buy, find an exchange that supports those tokens — but don't base your decision solely on that. The most critical factors are security and safety, reputation, support for fiat currencies, liquidity, fees and transaction speed.
Among the most popular and trusted exchanges are Coinbase, the only publicly traded exchange in the U.S., and Kraken, which boasts ISO/IEC 27001:2013 certification.
3. Create an Account
Once you settle on an exchange, setting up an account is a pretty straightforward affair. The exact steps vary by exchange, but the process is similar across the industry. You'll need a government-issued photo ID to prove you're at least 18, a working email address and a computer or phone with an internet connection. You'll have to submit some personal information, like your full name, address and phone number, and verify your email.
4. Deposit Cash or Link a Payment Method
The final step in setting up your account is to link a payment method or deposit fiat currency. Some of the top exchanges allow you to purchase crypto with debit and credit cards, but others do not. Because of fees, it's often cheapest to deposit cash through an ACH transfer and buy your coins with old-fashioned money even if your exchange does accept plastic.
Either way, setting up an account and linking a payment method is not unlike signing up for PayPal, Venmo or any other platform that facilitates financial transactions.
5. Set up a Wallet
You need a digital wallet to view and manage your crypto holdings, and choosing the right one might be the most important decision you make. You don't actually store your tokens there — digital wallets only generate the keys needed to access your assets on the blockchain.
Most big exchanges provide their own, and while they're free, easy and convenient, exchange wallets are the least secure option of all. Software wallets that you control are a step up in terms of safety, but they're still connected to the internet and, therefore, are still vulnerable to attack.
The most secure option of all is an offline hardware wallet, or cold wallet. Hardware wallets are more expensive and complex than software wallets, but they're virtually impossible to hack when used correctly.
6. Place Your Order
With everything in place, the only thing left to do is turn money into cryptocurrency. Anyone with a brokerage account will recognize options like market orders, which execute immediately at the current market price; limit orders, which set a minimum price; and stop-limit orders, which specify a stop price.
Can I Buy Cryptocurrency on My Own?
There are alternatives to centralized exchanges, which are the most popular and simplest-to-use crypto marketplaces. For example, decentralized exchanges like Uniswap and Curve facilitate p2p transactions without an intermediary like Coinbase.
Also, some brokers — like Robinhood, Webull and SoFi — let you buy cryptocurrency on the same platforms where investors buy stocks and ETFs.
How Do Beginners Buy Cryptocurrency?
Most beginners use centralized exchanges, which are simpler, more familiar and easier to use than decentralized exchanges. They support a wide variety of the most popular coins and offer customer service assistance and research tools for novices.
How Much Money Do You Need To Buy Cryptocurrency?
Many of the top exchanges have lowered their minimum investment requirements to single-digit dollar amounts. Coinbase, for example, lets users get in on the action for as little as $1.
What Is the Best Way To Buy Cryptocurrency?
The best way to buy crypto is through a low-fee platform that gives you control over your assets — because the way you store your holdings is far more important than how you buy them. 
As previously stated, your investment brokerage might offer crypto — but beware. Some, like SoFi, require you to keep your holdings on their platform. That means you can't transfer your coins to the safety of cold storage in a hardware wallet — or even to a software wallet of your choice.
In Closing
Exchanges have come a long way in improving security, but they're still rich targets for hackers and other online criminals. The wallets they provide are custodial, which means you have to trust a third party with your secure keys — and as millions of FTX users learned the hard way, that trust can easily be misplaced.
Cold storage is the safest way to store digital assets, but if you're not ready to invest in a hardware wallet, at least get your holdings off of the exchange and into a software wallet — preferably a non-custodial software wallet — as quickly after the transaction as possible.
Our in-house research team and on-site financial experts work together to create content that's accurate, impartial, and up to date. We fact-check every single statistic, quote and fact using trusted primary resources to make sure the information we provide is correct. You can learn more about GOBankingRates' processes and standards in our editorial policy.