Crypto.com Fees: A Full Breakdown and How It Compares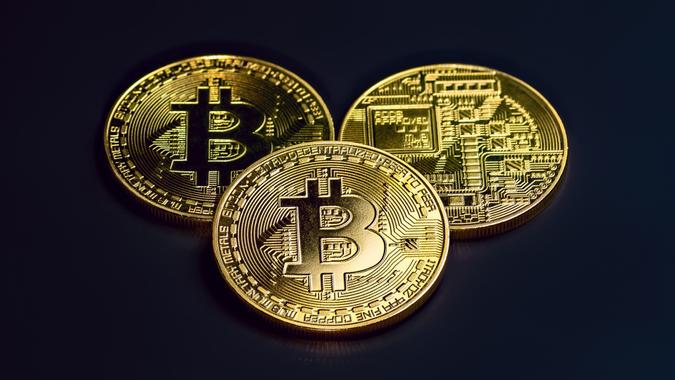 Stanislav Palamar / Getty Images
Crypto.com is a leading cryptocurrency exchange with a wide range of product offerings. Its app allows users to buy, sell, store, send and track cryptocurrencies at competitive rates.
Before trading on this exchange, crypto investors should be aware of its fee structure. This article will provide a complete breakdown of Crypto.com fees and how they compare to other popular cryptocurrency exchanges.
What Is Crypto.com?
Headquartered in Singapore, Crypto.com was founded in 2016 and has grown to become a major cryptocurrency platform, with 10 million users and around 4,000 employees. In addition to buying and selling cryptos, the platform's product offerings include an NFT marketplace, the Crypto.com Visa card,  a DeFi wallet and crypto loans.
The desktop version of the Crypto.com exchange isn't available to U.S. users yet. U.S. investors can buy and sell cryptos through the exchange's mobile app. The app is available for both iOS and Android.
Users can trade over 250 cryptocurrencies on Crypto.com, including:
Good To Know

Cronos is the native token of Crypto.com and powers the exchange's Pay app. The Crypto.com Pay app lets users pay merchants with digital cash, buy NFT collectibles, shop for Pay gift cards and conduct other transactions.
Crypto.com Fees
Crypto.com fees vary based on several factors. Here's a brief overview of what those fees and factors are.
Trading Fees
Crypto.com's trading fees are based on the user's 30-day trading volume. Trading volumes are categorized into nine different tiers. As a user's trading volume increases, the exchange offers more discounts.
Like most cryptocurrency exchanges, Crypto.com charges two types of trading fees:
Taker fees. A taker is a user who makes a trade from an existing order and "takes" volume off the order book.
Maker fees. A maker trade happens when a user creates an order that remains on the order book for some time. These trades add volume to the order book and help "make" the market. In general, makers are rewarded with lower trading fees for creating liquidity.
At Crypto.com, makers and takers are both charged 0.4% at the basic Level 1. Here's a look at Crypto.com's maker-taker fee schedule.
| Trading Volume | Maker Fee | Taker Fee |
| --- | --- | --- |
| Less than $25,000 (Level 1) | 0.4% | 0.4% |
| $25,000 to $50,000 (Level 2) | 0.35% | 0.35% |
| $50,000 to $100,000 (Level 3) | 0.15% | 0.25% |
| $100,000 to $250,000 (Level 4) | 0.1% | 0.16% |
| $250,000 to $1 million (Level 5) | 0.09% | 0.15% |
| $1 million to $20 million (Level 6) | 0.08% | 0.14% |
| $20 million to $100 million (Level 7) | 0.07% | 0.13% |
| $100 million to $200 million (Level 8) | 0.06% | 0.12% |
| $200 million and up (Level 9) | 0.04% | 0.1% |
Deposit Fees
Crypto.com doesn't charge any deposit fees for cryptocurrency assets, regardless of the coin or network. It also doesn't charge a fee for U.S. dollar fiat currency deposits via ACH or wire transfer. To be eligible for a U.S. dollar fiat wallet that can receive ACH or wire transfers, U.S. users must have:
A Social Security number
A U.S. residential address (not a P.O. box)
A U.S. bank account
Withdrawal Fees
Crypto.com fees apply to the withdrawal of cryptocurrencies from the exchange. These fees depend on many factors, including the status of the withdrawal network. It's a good idea to check Crypto.com for an updated list of withdrawal fees by cryptocurrency.
Another factor that affects withdrawal fees is the type of cryptocurrency. Each coin has a different withdrawal fee that is denominated in that asset. For example, Crypto.com currently charges a withdrawal fee of 0.0001 BTC to withdraw Bitcoin via the BEP20 network.
Purchase Fees
Digital cash traders may be charged admin fees on the Crypto.com exchange. These fees are determined at the time of purchase and vary by market. The admin fee will be displayed on a preview screen for verification before a transaction is submitted.
Since January 2021, Crypto.com has offered new users 0% fees for crypto purchases made with a credit or debit card for the first 30 days. Users must live in an eligible jurisdiction and pass the exchange's know-your-customer verification to claim the offer.
How Do Crypto.com Fees Compare To Other Exchanges?
Fee structures tend to vary across cryptocurrency exchanges, so comparing fees among them can be difficult. While most exchanges use the maker-taker model, a few of them charge flat fees and don't differentiate between takers and makers.
Another factor that makes comparisons difficult is coin availability. Some exchanges offer certain cryptocurrencies that others don't, which makes it difficult to compare withdrawal fees.
Nevertheless, here's a comparison of some fees between Crypto.com and other leading exchanges:
Exchange
Trading Fees
Bitcoin Withdrawal Fees
Crypto.com
0.04% to 0.4% maker-taker fees
.0001 BTC (BEP20)
Binance.US
0% to 0.1 % maker-taker fees (25% discount for Binance Coin)
.0000048 BTC (BEP20)
Bittrex
0% to 0.35% maker-taker fees
Not applicable
Coinbase
1.49% to 3.99% trading fee (or $0.99 to $2.99 flat fee)-
0.5% spread fee
Not applicable
Coinbase Pro
0% to 0.6% maker-taker fees
Not applicable
CEX.IO
0% to 0.25% maker-taker fees
Not applicable
Gemini
$0.99 to $2.99 transaction fee (for trades under $200)-
1.49% transaction fee (for trades over $200)
Up to 0.001 BTC
In terms of trading, Crypto.com's maker-taker fees are higher compared to competitors that operate with the same fee schedule. For Bitcoin withdrawals, Crypto.com offers a competitive rate compared to other exchanges.
For those who want to begin investing in cryptocurrencies, a centralized exchange like Crypto.com is a good option. Although it has higher trading fees compared to most of its competitors, it offers trading support for many cryptocurrencies and a wide range of cryptocurrency products that can all be accessed from the Crypto.com mobile app.
Advice

To minimize withdrawal fees, users should take time to compare coins ahead of scheduling a transaction. They should also consider converting assets with high fees to lower ones before initiating a withdrawal.
Our in-house research team and on-site financial experts work together to create content that's accurate, impartial, and up to date. We fact-check every single statistic, quote and fact using trusted primary resources to make sure the information we provide is correct. You can learn more about GOBankingRates' processes and standards in our editorial policy.