10 Best Play-To-Earn Games With Crypto and NFT Rewards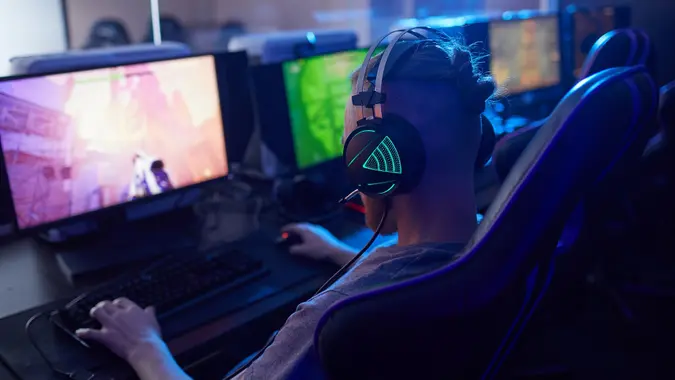 AnnaStills / iStock.com
Play-to-earn games reward participants with digital cash or non-fungible tokens. In recent years, these blockchain-backed games — also known as P2E — have gone mainstream, becoming a core component of nearly every metaverse out there, with each platform boasting its own form of cryptocurrency to pay online gamers for their time commitment.
Earning currency that has real-world value while having fun is one of the main reasons why play-to-earn games have become so popular. Creating NFTs that can become a profitable asset is another.
What Are the Best Play-To-Earn Games?
These play-to-earn games offer different features, from the types of rewards you can earn — crypto and NFTs, for example — and gameplay innovations.
Play-To-Earn Games

Axie Infinity: Trade-and-battle with ethereum-minted NFTs, with loads of customization options.
Decentraland: Virtual reality, 3D world-building, MANA currency in Ethereum wallet.
Alien Worlds: Sci-fi adventure game. Capture NFT alien species to mine or find items.
The Sandbox: Blockchain-based. Uses SAND to build houses and travel on quests.
Zed Run: Horse racing game using NFT horses, using the zed token on Polygon and Ethereum blockchains.
Blankos Block Party: Mini-game-style party platform. Users earn blankos — NFTs that offer a boost to in-game abilities.
Gods Unchained: Blockchain-based NFT card collecting game, where each "god" has a unique ability and players can battle one another.
My DeFi Pet: Raise a virtual pet with in-game currency, DPET.
Star Atlas: Explore space with this astronomy game. NFT-trading for stars, planets and more. ATLAS and POLIS tokens.
10 Best Crypto NFT Games of 2023
There are a variety of play-to-earn games available in 2023. Here's a closer look at ten of the best ones.
1. Axie Infinity: Trade-and-Battle with Ethereum-Minted NFTs
This trade-and-battle play-to-earn game is based on "Axies" — Ethereum-minted NFTs that players can collect, breed, raise, battle against and trade with other online users. There are many different types of Axies to choose from, and the possibilities for customization are endless. When a player battles other users and wins, they earn Smooth Love Potion tokens that can be sold for Axie Infinity Shard tokens, which are the main utility tokens for the game.
Axie Infinity boasts about 397,441 average monthly users for February, according to ActivePlay, down from 2.78 million in January 2022, prior to the current crypto winter, according to Cointelegraph. Smooth Love Potion prices have fallen 99.4% from their all-time high of $0.42 to $0.0027 as of March 29, according to CoinMarketCap price data.
However, Axie Infinity has a loyal international following. It fueled a digital economy based on crypto assets in Southeast Asia, specifically in the Philippines and Vietnam, before a cryptocurrency bear market took hold. What will happen next for Axie Infinity is anyone's guess, but if you believe in the future of the game and its NFTs, this could be an opportunity to get up to speed.
Roughly 115.61 million AXS — 43% of the total supply — are in circulation as of March 29, while a single AXS is valued at $8.53.
2. Decentraland: Virtual Reality, 3D-World Building
Decentraland is a virtual reality platform that allows players to construct their own 3D world, buying land and developing it within the platform. Once a player buys land, they can create anything they want with it — from a separate game to an online store that's open for business. A player can also pay other users to keep their land secure while they're offline.
To get started with Decentraland, a player needs to have an ethereum wallet to be able to buy and store the platform's MANA currency. They can then begin participating on the platform.
Around 1.86 billion MANA coins are in circulation as of March 29, and a single MANA is valued at a little more than $0.59.
3. Alien Worlds: Capture NFT Aliens To Find and Mine Items
Alien Worlds is a futuristic sci-fi adventure play-to-earn game with a simple premise: play, mine and upgrade to create an immersive gaming experience. It revolves around NFT alien species that a player can capture and use to mine or find different items. The more a player upgrades, the greater the odds of winning.
The official cryptocurrency of the Alien Worlds game is called alien worlds and it trades under the symbol TLM. A player can use the TLM token to trade NFTs with other players or win battles and missions. Players need mining tools, land and TLM deposits to get started.
A single TLM coin is valued at $0.0203 as of March 29, with only 35% of the total supply of TLM coins — roughly 5.9 billion — in circulation.
4. The Sandbox: Build Houses and Go on Quests
This blockchain-based game lets users build, craft and survive in its blocky metaverse. Users playing The Sandbox can buy SAND in-game currency tokens to build a house or a castle or to go on quests to earn more tokens. Combining creativity, strategy and survival skills, The Sandbox encourages players to actively participate on the platform, buying and selling NFTs. The more items players build, the higher the level they can reach.
Roughly 1.5 billion SAND — 50% of the total supply — are in circulation as of March 29, while a SAND token is valued at $0.6411.
5. Zed Run: Race NFT Horses
Zed Run is a horse racing play-to-earn game that allows users to curate different horses — as NFTs — that they can buy, sell and trade with other players on the platform. Users can also breed new horses or upgrade them to make them stronger. 
In this play-to-earn game, users race their horses to earn rewards. Each horse has its strengths and weaknesses, and players can upgrade them to make it easier to win races. They can also bet on other players to earn money.
Zed Run recently launched its zed token on the Ethereum and Polygon blockchains. The token will be the game's main utility and in-game currency, according to the developer's website. The token was worth about 11 cents upon its introduction in July. It's currently selling for $0.0229. Following an initial distribution of 7% of the fixed supply of 1 billion tokens, the remainder will be released over a four-year period.
Takeaway

Play-to-earn games are a likely future of online gaming. There are myriad options available today for the avid online gamer looking to capitalize on this trend and earn some digital cash.
6. Blankos Block Party: Mini-Game-Style Party Platform
Blankos Block Party is a multiplayer party platform where users can play mini-games and complete quests to collect moola, or MLA, the in-game currency. Users can also buy Blanko Bucks with a credit card.
In this game, partner artists create unique assets called Blankos, which are NFTs that offer special in-game abilities. Players can buy, sell and trade their Blankos for different perks. Considered one of the best "earn games," Blankos Block Party allows users to earn NFTs while having fun and also allows them to trade their coins for other cryptos through external exchanges.
While there's a maximum supply of 740,000 MLA coins available, there is no information on how many of them were in circulation as of March 29. An MLA coin was valued at $0.01 on that date.
7. Gods Unchained: Gods With Unique Abilities Compete Against Each Other
This blockchain-based play-to-earn game allows users to collect NFT cards to compete against each other. The game revolves around powerful beings known as "Gods," each of which possesses a unique ability. The in-game currency, GODS, can be used to buy these cards and can be earned by defeating other players in battle.
Roughly 209 million GODS coins, which is about 42% of the total supply, are in circulation as of March 29, while a single GODS is valued at $0.2332.
8. My DeFi Pet: Raise a Virtual Pet
My DeFi Pet is a play-to-earn game where users raise virtual pets. They can buy sell, and trade these pets on the game's blockchain-based marketplace. They can also create unique NFTs of their pets by customizing pet features, including color, fur patterns, eyes, monogram style, head shape and wings. This game operates on KardiaChain and Binance Smart Chain.
The in-game currency, DPET, can be used to buy items on the game's official website or to trade NFTs. The DPET coin can also be used to buy clothes, food and other items for virtual pets in the marketplace.
A single DPET was valued at $0.0662 as of March 29, with around 29 million DPET coins in circulation. The total supply is 100 million.
9. Star Atlas: Space Exploration and NFT-Trading of Planets, Stars and More
Star Atlas is an astronomy-based play-to-earn game where users can explore space and trade NFTs of planets, stars and other items. Each planet or star has unique features, making them all different from one another in the game. Players can also discover new worlds by traveling at warp speed around this virtual galaxy.
This blockchain-backed game relies on two tokens: the ATLAS, which is used in the game as a utility token, and the POLIS, which is a governance token. Players can earn POLIS by staking their ATLAS tokens.
Roughly 9.8 billion ATLAS coins, which is about 27% of the total supply, are in circulation as of March 29, with a value of $0.0033 per token. Around 153 million POLIS coins, which is about 43% of the total supply, were in circulation during the same period, with a single POLIS valued at $0.2615.
10. CryptoBlades: RPG on Binance Smart Chain
CryptoBlades is a roleplaying-style NFT game released on Binance Smart Chain in April 2021. Players start by purchasing SKILL tokens, which are the game's native currency. They use their SKILL to purchase characters and buy and forge weapons. Winning battles against enemies earns players more SKILL, which they can withdraw, sell on the secondary market or use to purchase more in-game assets.
SKILL tokens are worth $0.9218 as of March 29. Out of a maximum supply of 1 million tokens, 93% are currently in circulation.
How the Games Were Chosen
GOBankingRates considered a number of factors when selecting games for this roundup, including the following:
Live status — out of beta testing
Established user base
Visual appeal
Engaging gameplay
Earning potential
Ability to trade assets on secondary market
Play-To-Earn Game FAQs
Here are the answers to some of the most frequently asked questions about play-to-earn games that also offer crypto and NFT rewards.
How to get started in play-to-earn gaming?

To get started in play-to-earn gaming, you'll need to set up a crypto wallet to store your crypto so that you can start purchasing the NFTs needed to play. You might also want to look at free demos that offer trials without needing to put up real money. Watch other gamers' tutorials or live gameplay. You might even be able to tune into a livestreaming session, such as on Twitch.

How much can I earn from play-to-earn games?

According to Nasdaq, play-to-earn gaming was worth more than $90 billion in 2020 and will likely grow to over $256 billion in about five years. NFTs are even being introduced to mainstream video games, such as Call of Duty and Grand Theft Auto. Sales of NFTs are around $1.8 billion each month, and there are approximately more than three billion gamers across the globe.
With the user base growing at such a rapid rate, earning rewards, gaining gameplay assets and selling in-game NFTs could be lucrative for a skilled player. For measure, take a look at some of the games in this list where the currency carries good value, for example Axie Inifnity, where a single AXS is $7.58.

What is the most profitable play-to-earn game?

The more currency you earn in your games, the more you might see profits. For example, look at AXS, where one is worth about $7.58. You might also look at other play-to-earn games in this list, such as CryptoBlades, where one SKILL token is worth $1.04 and Decentraland, where one MANA is a little over $0.37.

Are play-to-earn crypto games legitimate?

There are many legitimate play-to-earn games involving cryptocurrency and NFTs. That doesn't mean they're all legitimate, however, so it's important to do your research before spending money on a play-to-earn game.

What is the best play-to-earn app?

For player vs. player combat, Axie Infinity and Gods Unchained are worth checking out. If you're more interested in raising virtual animals, try Zed Run or My DeFi Pet. If you're more the explorer type, Star Atlas or The Sandbox might be a better fit for you.
The best play-to-earn game depends on what you want from it, so check out a few options in each genre before you make your choice.
Daria Uhlig and Melanie Grafil contributed to the reporting for this article.
Information is accurate as of March 29, 2023.
Our in-house research team and on-site financial experts work together to create content that's accurate, impartial, and up to date. We fact-check every single statistic, quote and fact using trusted primary resources to make sure the information we provide is correct. You can learn more about GOBankingRates' processes and standards in our editorial policy.