The Top 10 Most Expensive NFT Art Pieces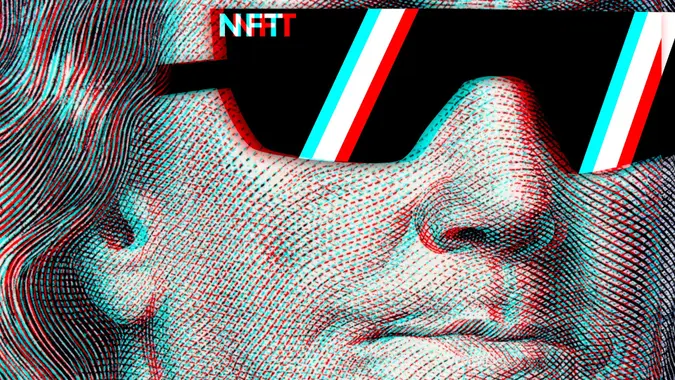 gesrey / iStock.com
NFTs, or non-fungible tokens, were first introduced in 2014. But it wasn't until famed auction house Christie's sold Beeple's Everydays: The First 5000 Days for $69.3 million that people, beyond a small niche market, first started seeing the value of this digital art.
NFTs represent digital assets, ranging from artwork to consumer goods like sneakers. Musical artists may put songs or video clips on NFTs as well.
Why Is NFT Art So Expensive?
NFT art is so expensive due to scarcity and demand. By their definition, a non-fungible token cannot be traded for another identical item. They are all one of a kind, which gives them value in the eyes of collectors.
Some NFTs may have intrinsic value beyond the art, as well. For instance, some NFTs can provide you with perks or special access at concerts or sporting events.
Of course, not all NFTs hold their value beyond the purchase price and they may depreciate. As with stocks and investments, choose NFTs carefully if you are hoping to make money. On the other hand, just as someone may buy a piece of artwork or a bottle of fine wine to enjoy it — and not as an investment — if you decide you want to collect NFT art for enjoyment, buy what you like. It makes sense to keep an eye on market prices, though. You could be sitting on a treasure!
Here is a look at some of the most expensive NFT art pieces:
Beeple's Everydays: The First 5,000 Days — $69.3 million
Julian Assange and Pak's Censored — $55 million
Beeple's Human One — $28.9 million
CryptoPunk #5822 — $23.7 million
CryptoPunk #7523 — $11.7 million
Tpunk #3442 — $10.5 million
CryptoPunk #4156 — $10.23 million
CryptoPunk #5577 — $7.7 million
CryptoPunk #3100 — $7.58 million
CryptoPunk #7804 — $7.57 million
Make Your Money Work Better for You
What Kind of NFT Art Sells Best?
If you are looking to invest in NFTs in the hopes of making money, you'll want to consider the types of NFT art that sells best. NFT art is gauged by its rarity, which is judged by evaluating several traits. You can use rarity tools to find the rarity — and the value — of an NFT. If an NFT is part of a popular collection, such as CryptoPunks, has many unique attributes, or is one of just a few of its kind in the collection, it is more likely to command top dollar.
Recently, as the Bored Ape Yacht Club becomes interested in NFT collections, apes that are part of the CryptoPunks collection are selling at high prices. It helps that there are only 24 apes in the collection of 10,000 punks, making them a rare commodity compared to some other punks.
NFT art may also sell well because of its inherent beauty or the meaning behind the art. For instance, Vignesh Sundaresan purchased the most expensive piece of NFT art ever sold because of the significance it held to him. Beeple's Everydays: The First 500 Days is a collection of 5,000 illustrations that took the artist 13 years to create. Sundaresan explained, in a CryptoSlate interview, that 13 years ago he had just started coding and had no money. Thirteen years later, he was able to spend $69.3 million on an NFT. To him, the art represents his journey and winning the bid stands as a testament to his success in the world of tech and crypto.
Most Expensive NFT Art Pieces
Read on to find out more about the most expensive NFT art pieces and their owners.
Make Your Money Work Better for You
10. CryptoPunk #7804
Price: $7.57 million
Our list of the 10 most expensive NFTs of all time begins with a name that will dominate this list: Larva Labs CryptoPunks. Like other collectible NFTs, the value of these avatars is determined by their rare traits and market demand. CryptoPunk #7804 has three attributes but is the only "cap forward" punk to also possess a pipe and small shades. This punk is an alien, which makes it exceptionally rare as one of only 9 in the series of 10,000 punks.
It was purchased in March 2021 by Peruggia-V, who is currently listing it for sale through the CryptoPunk blockchain for $11.28 million. If it sells at this price, it would quickly jump up our list to become one of the top 3 highest selling punks of all time and one of the top 5 highest priced NFTs in the world.
9. CryptoPunk #3100
Price: $7.58 million
With only nine alien CryptoPunks on the blockchain, it's not surprising to see an alien on the list of highest selling NFTs of all time. In March 2021, a user named straybits.eth purchased CryptoPunk #3100. Not only is this NFT rare because it's an alien, but it's one of only 406 punks with a headband. The owner is currently asking $44.4 million for the NFT, but recent offers have not exceeded thousands of dollars, much less millions. In October 2021, someone bid $87.64 million but withdrew the bid the same day.
8. CryptoPunk #5577
Price: $7.7 million
A rare ape, CryptoPunk #5577 from Larva Labs sold for $7.7 million in February 2022. It is one of only 24 apes and one of only 142 punks with cowboy hats. It was supposedly purchased by Robert Leshner, Compound Finance CEO. In July 2022, someone offered $4.92 million for it, but that bid was not accepted.
Make Your Money Work Better for You
7. CryptoPunk #4156
Price: $10.23 million
In December 2021, CryptoPunk #4156, one of only 24 Ape punks created, sold for $10.23 million to an unknown buyer. The punk has one attribute, which makes it rare since only 333 punks have that many. The punk was sold again in July 2022. This time, for just $3.31 million. There is currently a bid of $15,892 on the punk. This shows that NFTs are not guaranteed to rise in price and are subject to the crypto winter as well as other factors.
6. Tpunk #3442
Price: $10.5 million
Designed after the Joker of Batman fame, with green hair and a wide smile, Tpunk #3442 is one of 10,000 NFTs traded on the Tron blockchain. Tpunks were designed to mimic the look — and, ideally, the success, of CyberPunks. Although pixelated heads may not be seen as "art" by some in the conventional sense, they are in high demand and purchased at high prices by collectors. Tron founder Justin Sun purchased this NFT in August 2021. He shared in a tweet that he donated the NFT to the ApenFT Foundation.
5. CryptoPunk #7523
Price: $11.7 million
CryptoPunk #7523 is a rare alien and, even more rare because he sports a COVID-era facemask. Only 175 punks possess this attribute. Punk #7523 also has a knitted cap and an earring. This purchase stands out, not just because of its high price, but because it did not take place on the blockchain. It was purchased through Sotheby's Natively Digital Auction by a collector named "Sillytuna" in June 2021.
4. CryptoPunk #5822
Price: $23.7 million
CryptoPunk #5822, a light blue alien with a blue bandanna, is not just the third-highest selling NFT of all time, it is also the highest priced CryptoPunk to come out of Larva Labs. Listed on the Ethereum blockchain, the CryptoPunks collection includes 10,000 unique characters. Originally, CryptoPunks were free to acquire for anyone with an Ethereum wallet. Developers Matt Hall and John Watkinson created 10,000 of the 8-bit style faces but only released 9,000 to the public.
Make Your Money Work Better for You
Most characters are humans, but there are some apes, zombies and aliens, as well. As one of only 9 aliens released to date, it's no wonder #5822 fetched so much from Chain CEO Deepak Thapliyal, who purchased the NFT in February 2022 and promptly tweeted an image of his purchase.
3. Beeple's Human One
Price: $28.9 million
Digital artist Beeple creates dynamic, moving art in both NFT and physical forms. Human One combines an electronic sculpture with an NFT. The pieces sold at Christie's 21st Century Evening Sale in November 2021.
2. Julian Assange and Pak's Censored
Price: $55 million
An organization called AssangeDAO is a cross-border collective fighting for the freedom of Julian Assange, who is serving up to 175 years in prison in the U.S. The DAO collected $55 million in Ethereum to purchase this art collection created by Pak. Pak then donated the proceeds from the Feb. 7, 2022 sale to help fund Assange's legal defense. The NFT Clock, which was part of the collection, is worth $52.7 million on its own. The NFT shows a clock ticking off the days Assange has spent in prison.
1. Beeple's Everydays: The First 5,000 Days
Price: $69.3 million
Vignesh Sundaresan purchased Beeple's Everydays: The First 5,000 Days at a Christie's online auction. The crypto investor later told Cryptoslate that he purchased the piece to show people of color, and especially Indians, that they could also become art patrons. Additionally, the purchase helped to put NFTs on the worldwide radar as viable investments. Sundaresan, who now owns the most expensive NFT, told CryptoSlate that the purchase was also a way to "give back to the system that provided so much to me."
Final Take
Just like with stocks and general investments, choose NFTs carefully if you are hoping to make money. Never invest more than you can afford to lose and keep a careful eye on market prices, you could be sitting on a nice amount of cash.
Make Your Money Work Better for You
Information is accurate as of Oct. 25, 2022.
Editorial Note: This content is not provided by any entity covered in this article. Any opinions, analyses, reviews, ratings or recommendations expressed in this article are those of the author alone and have not been reviewed, approved or otherwise endorsed by any entity named in this article.
Our in-house research team and on-site financial experts work together to create content that's accurate, impartial, and up to date. We fact-check every single statistic, quote and fact using trusted primary resources to make sure the information we provide is correct. You can learn more about GOBankingRates' processes and standards in our editorial policy.