Mark Cuban: 9 Rules To Get Rich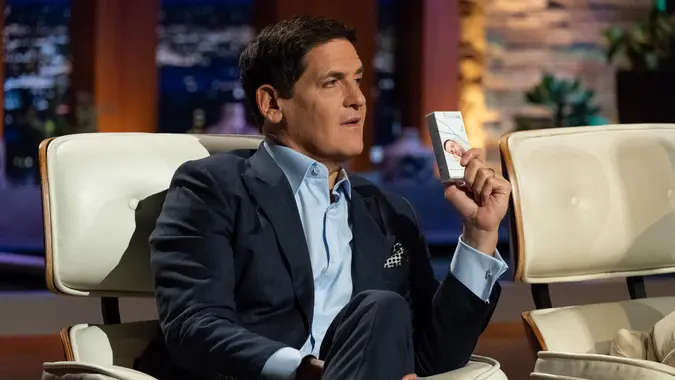 Tony Rivetti / ABC
Who doesn't want to be a little bit richer today than they were yesterday? In an interview with Vanity Fair, self-made entrepreneur and Shark Tank star Mark Cuban said getting rich is all relative. There are certain things everyone needs to do which puts them in the best position to be rich. 
We rewatched Cuban's video interview to see if his guide for getting rich, shared circa 2017, still holds up in 2023. Here are Mark Cuban's nine rules for getting rich.
1. Live Like a Student
When you get your first cool job which pays well, it's not unusual to want to spend more money. In the early years of his career, Cuban recalled seeing cool cars he wanted but "fortunately" continuing to keep driving his old car. 
Those who live like a student can keep from living beyond their means. They avoid lifestyle creep, which is defined as spending which increases as your income rises. By making moves like Cuban's — driving a reliable old vehicle instead of spending all your money buying a new car — living like a student allows you to put your money toward reaching your short- and long-term financial goals.
2. You Shouldn't Use Credit Cards
Cuban personally recalled using credit cards to the point where he was being called by debt collectors. If you can't use cash, it's better to use a debit card to keep from accruing any credit card debt.
Make Your Money Work Better for You
3. Save Six Months' Worth of Income
Generally, the rule of thumb for an emergency fund is to set aside three to six months' worth of savings. However, Cuban recommends erring on the side of saving more money than less money. 
No matter what happens in your current line of employment — whether you experience a layoff or decide to quit your job — Cuban said you will need at least six months' worth of income saved up. 
4. Put Savings Into SPX Mutual Funds
SPX, if you don't know what it means, refers to the S&P 500 index. If you've made every money move listed so far, Cuban recommends putting some of your savings into the cheapest SPX mutual fund you can find. 
5. Invest Up To 10% in High-Risk Investments
If you're a true adventurer, Cuban said you might take 10% of your money and put it into a high-risk investment.
However, Cuban added those who do invest in high-risk investments need to pretend they already lost their money. This is why Cuban limits the amount to 10%. 
"It's like collecting art or baseball cards… something's worth what somebody else will pay," said Cuban.
6. Buy Consumables in Bulk and on Sale
Stock up if you see a sale on everyday necessities. Cuban used the example of a sale on toothpaste, which is something we all use regularly every day. If you see a 50% sale on toothpaste, Cuban said you're better off buying two years' worth of toothpaste because it's an immediate return on your money.
Make Your Money Work Better for You
"Any of your consumables you have to have, when they're on a huge sale on Amazon, buy them," said Cuban. "Chances are, their prices are going to go up but that's a real savings you get to put in your pocket."
7. Negotiate Using Cash
Negotiating with cash, Cuban said, is a far better way to get a return on your investment.
8. Read Books
Cuban, who enjoys visiting and browsing through bookstores, said he reads for hours every day. Doing so gives him the opportunity to find one little idea which can propel him to the next level.
He also believes in spending money on books. "If there's something that caught my eye and I thought it could give me one idea, to spend $30 to get one idea that could help propel me, make my businesses better, it was a bargain."
9. 'Nice Works'
Finally, Cuban's last rule for getting rich is to be genuinely nice. When you show you care and are empathetic to those around you, you'll get more results. 
"The one thing in life you can control is your effort," said Cuban. "Work hard."
More From GOBankingRates