15 Most Expensive NFTs Sold So Far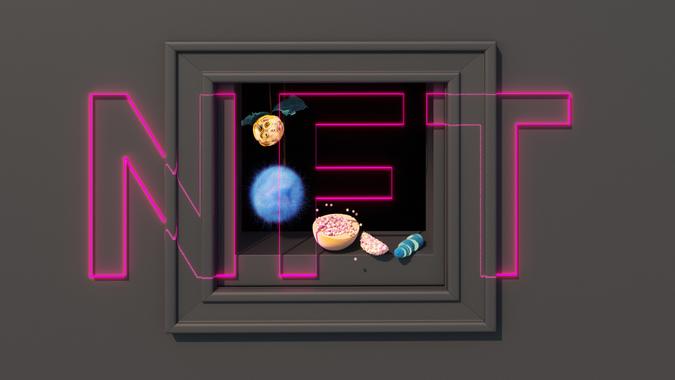 Floriana / Getty Images/iStockphoto
Nonfungible tokens are unique and noninterchangeable data units stored using blockchain technology. They come in all shapes and sizes, the most common being collectibles, digital art, event tickets and in-game currency. Some of these virtual assets are being sold for millions of dollars. Read on to learn what the most expensive NFTs are and how much they have sold for.
15. 'Fidenza #313' by Tyler Hobbs – $3.3 Million
Crafted by artist Tyler Hobbs, "Fidenza #313" is the fourth piece in its series to reach a seven-figure price. The artwork consists of a pattern of colorful squares and rectangles generated through an algorithm. After being purchased for only 0.58 ETH (Ethereum crypto) earlier this year, it recently sold for 1,000 ETH, equivalent to $3.3 million.
14. 'Doge' – $4 Million
Not only has "Doge" reached stardom as a meme, but as of June 2021, it's also become the most expensive meme NFT to date. The image of the Japanese celebrity pup was sold for $4 million.
This meme inspired Jackson Palmer and Billy Markus to create Dogecoin, an open-source cryptocurrency, in 2013. Although it started as a joke to poke fun at Bitcoin, Dogecoin has a loyal fanbase that includes Tesla CEO and multibillionaire Elon Musk.
13. 'Replicator' by Michah Dowbak – $4.1 Million
Michah Dowbak — aka Mad Dog Jones — recently became the most expensive living Canadian artist, according to Artnet News. Earlier this year, he successfully sold what he dubbed as the first multigenerational NFT for just over $4 million in the Phillips auction. His piece "Replicator" has the ability to copy-paste itself, creating variant tradable NFTs every 28 days.
12. 'CryptoPunk 2338' by Larva Labs – $4.32 Million
"CryptoPunk 2338" is one of 88 Zombie punks created by the New York software company, and it's an impressive example of return on investment. It was purchased for 3.5 ETH, or about $443, back in 2018. Fast forward to 2021, and it's made almost a 10,000% return, having sold at the beginning of August for $4.32 million.
11. 'Save Thousands of Lives' by Noora Health – $4.5 Million
Noora Health is an educational platform that provides training and information to both caregivers and patients. It created the "Save Thousands of Lives" NFT back in May of this year and sold it on OpenSea for over $4.5 million. Noora Health will ultimately use the proceeds to do as the NFT's name states: save (and improve) thousands of lives.
10. 'CryptoPunk 7252' by Larva Labs – $5.3 Million
This CryptoPunk that sports a chinstrap, an earring and crazy hair was first sold in August 2021 for $2.53 million. However, less than 20 days later, it was resold for $5.3 million.
CryptoPunks have recently gained massive popularity thanks to recent purchases by artists and YouTubers. The most famous owners of these NFTs are Steve Aoki, Logan Paul and Jay-Z.
9. 'This Changed Everything' by Tim Berners-Lee – $5.4 Million
This artistic representation of the source code to an early version of the World Wide Web certainly has historical significance. It includes a letter by Tim Berners-Lee, a digital poster of the entire code he built, and time-stamped documentation that outlines the creation of what we currently know as the internet. The "This Changed Everything" NFT was sold to an anonymous buyer for $5.4 million last June at Sotheby's.
8. 'Stay Free' by Edward Snowden – $5.4 Million
You may know Edward Snowden as the whistleblower who leaked highly classified information from the National Security Agency. Yet this former intelligence contractor made headlines again in April for a different reason. His NFT artwork titled "Stay Free" was sold for 2,224 ETH, or about $5.4 million, The Verge reported.
"Stay Free" features Snowden's portrait made out of pages of the court documents that condemned the mass surveillance program Snowden outed back in 2013. The proceeds of the auction went to the Freedom of the Press Foundation.
7. 'CryptoPunk 5217' by Larva Labs – $5.45 Million
This CryptoPunk is different from others on this list. It's one of the 24 punks in the Ape collection by Larva Labs, and it features a gold chain and a knitted cap. "CryptoPunk 5217" was sold last summer for $5.45 million, and it's currently not available for purchase.
6. 'Ocean Front' by Beeple – $6 Million
Mike Winkelmann — also known as Beeple — has become a household name in the NFT ecosystem. "Ocean Front" is only one of his most notable art pieces, and earlier this year, it sold for $6 million. The nonfungible artwork aims to raise awareness on climate change, and it features a tree sitting atop some trailers and shipping containers on a platform in the ocean.
5. 'Crossroads' by Beeple – $6.6 Million
This piece was designed as a response to the 2020 presidential election and depicts former President Donald Trump laying flat on his stomach with derogatory words graffitied all over his body. The digital artwork, which was supposed to change depending on the election result, sold for $6.6 million last February via the Nifty Gateway marketplace.
4. 'CryptoPunk 7804' by Larva Labs – $7.57 Million
In plain sight, "CryptoPunk 7804" might look just like any other pixelated face produced by Larva Labs. However, if you look closely, it features some characteristics that make it one of a kind. The now-famous Alien punk sports small shades, a cap facing forward and a pipe in his mouth. It was sold back in March for $7.57 million.
3. 'CryptoPunk 3100' by Larva Labs – $7.58 Million
At this point, does it even surprise you that there's yet another CryptoPunk on this list? This piece is the third of nine Alien punks to have sold for a hefty price tag. The feature that makes it unique is its blue and white headband. "CryptoPunk 3100" sold for $7.58 million, and as of Dec. 15, it's listed for $140.9 million.
2. 'CryptoPunk 7523' by Larva Labs – $11.75 Million
Although Larva Labs has launched tens of thousands of pixel art collectible characters like "CryptoPunk 7523," this piece is the most expensive yet. It sold for $11.75 million at the Sotheby's auction last June. This Alien punk features a knitted cap, an earring and a medical mask to keep up with the times.
1. 'Everydays: The First 5000 Days' by Beeple – $69.3 Million
Beeple currently holds the record for the most expensive NFT ever sold. His piece "Everydays: The First 5000 Days," a collage of 5,000 digital artworks he's crafted since 2007, was sold for $69.3 million at an online auction by Christie's. It was purchased by Vignesh Sundaresan — aka MetaKovan — who stated he would've paid even more.
Final Take
Investing in collectibles is nothing new, but NFTs have certainly given this practice a new meaning. The hype about these virtual assets is unlikely to go away anytime soon, so we can expect to see more of these pieces selling for astronomical prices in the future.
Good To Know

The primary characteristics that drive value in the NFT environment are scarcity, utility and tangibility.
Information is accurate as of Oct. 21, 2021, unless otherwise noted.
Our in-house research team and on-site financial experts work together to create content that's accurate, impartial, and up to date. We fact-check every single statistic, quote and fact using trusted primary resources to make sure the information we provide is correct. You can learn more about GOBankingRates' processes and standards in our editorial policy.