How Much Is Twitter Worth?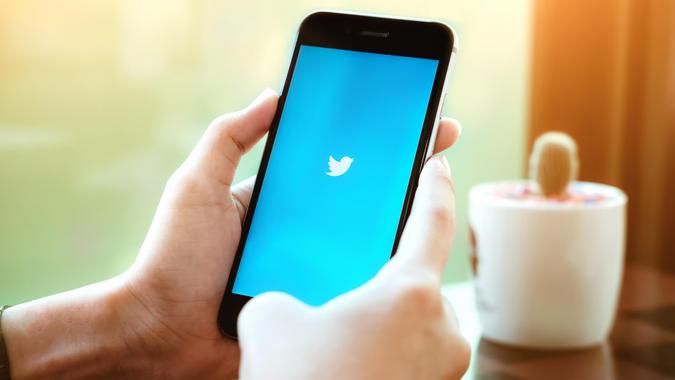 Jirapong Manustrong / Shutterstock.com
Twitter is one of the leading social media platforms.
The tech company went public in 2013.
Twitter lost over $100 million in market value in 2017, and shares fell again as CEO Jack Dorsey appeared on Capitol Hill to answer questions in the Russia investigation.
Social media messaging platform Twitter (NYSE: TWTR) sees roughly 500 million tweets from hundreds of millions of users — and bots — per day, but the company also sees billions of dollars go toward operating expenses without what some investors would consider a suitable profit. The company has taken some hits over the years; most recently, shares fell 5.65 percent on Sept. 5, Markets Insider reported, when Twitter CEO Jack Dorsey appeared on Capitol Hill to answer questions about his company's involvement in the 2016 U.S. presidential elections as part of the investigation into Russian interference in the democratic process.
Read on to learn about Twitter's finances and other facts investors should know.
Click to see where Twitter CEO Jack Dorsey and others went to college.
What Twitter Is Worth
Twitter Share Price, 52-Week Range
$15.67-$47.79
Twitter Market Cap, 52-Week Range
$11.8B-$36B
2017 Revenue
$2.4B
2017 Profit
-$108M
GOBankingRates' Evaluation of
Twitter Net Worth
$4.4B
All information on 52-week range accurate as of June 19, 2018.
About Twitter
Headquarters
San Francisco
Year Founded
2006
CEO Jack Dorsey Net Worth
$4.6B
Twitter Market Cap Range: $11.8B-$36B
Investors use market capitalization, or market cap for short, to gauge a company's worth, and the market cap is really just all the company's stock combined. Twitter's market cap has ranged between $11.8 billion to $36 billion from June 2017 to early June 2018. The company suffered a heavy loss of potential profit for its 2017 fiscal year, however, when it reported a net loss of more than $100 million.
Twitter Net Worth: $4.4B
Market cap gives investors and prospectors an idea of a company's worth, but with a caveat: Market prices change day to day, which means a bad trading day could throw off the company's valuation. The GOBankingRates Evaluation of a company's net worth, however, considers factors like profit and revenue. The resulting value is more conservative but based off of concrete figures.
Based on Twitter's revenue and profits from the last three years, Twitter is worth $4.4 billion.
Twitter's Trouble Turning a Profit Might Be Turning a Corner
The company went public in November 2013 and enjoyed a strong Twitter share price of $45 due to investor interest. The platform is a favorite medium of celebrities and President Donald Trump, and reporters and journalists frequently use screenshots of tweets in their stories. Users can even use their accounts to boost "hashtag" movements.
Despite Twitter's apparent ubiquity — and, some would say, influence — the company has been losing money until recently. Its revenue has remained mostly stagnant since 2015, possibly due to low user growth, which also affects Twitter's stock.
With 336 million monthly active users, the company has yet to find a solid way to capitalize on that figure. One thing Twitter could do is improve user experience, which is proving difficult given occurrences of online harassment by less-than-desirable denizens.
Twitter reported its second profitable quarter in April 2018 while also noting it added more users. But whether that upward movement turns into a longer-term trend remains to be seen.
Twitter's CEO and First Tweet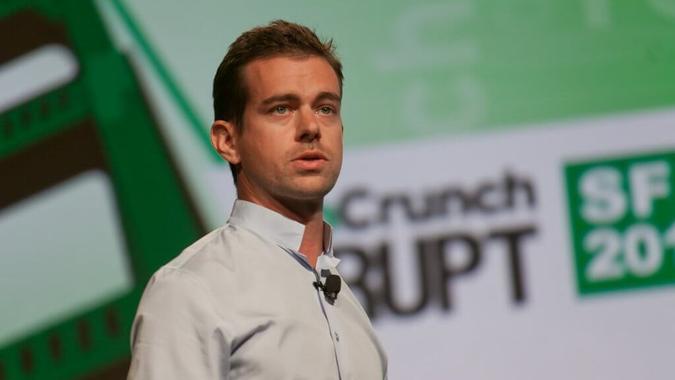 Twitter CEO Jack Dorsey co-founded Twitter in 2006 with Noah Glass, Biz Stone and Evan Williams. He sent out the world's first tweet in March 2006, which read: "just setting up my twttr." In 2008, he was fired for subpar leadership, but he returned as Twitter's chief executive officer in 2015.
Aside from serving as CEO of Twitter, Dorsey commands another helm as the CEO of Square, a mobile payment company whose flagship product is the Square Cash app.
More on Business
Methodology: The GOBankingRates Evaluation assesses a company's net worth based on the company's total assets, total liabilities, and revenue and net income from the last three years. Base value is established by subtracting total liabilities from total assets from the company's last full fiscal year. Income value is established by taking the average of the revenue from the last three full fiscal years, plus 10 times the average of the net profits from the last three full fiscal years, and then calculating the average of those two figures. The final GOBankingRates Evaluation number is the sum of the base value and the income value.