How To Make $1,000 Fast: 14 Ways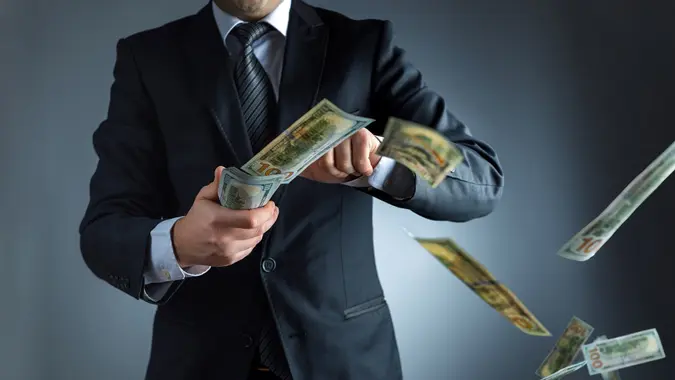 turk_stock_photographer / iStock.com
What would you do with an extra $1,000? In these times of inflation coupled with rising interest rates, an extra $1,000 in one week could help you get caught up on bills, pay down some high-interest credit card debt or even buy groceries for a month — or at least a few weeks!
Who couldn't use $1,000 fast? Even if you are doing okay and more than making ends meet, you might want to get in on the bear market and invest in stocks while they are more affordable.
It's also a great time to boost your emergency savings, retirement funds or other investments if you can generate some extra cash.
Fortunately, it is very possible to earn $1,000 fast — even in as little as one week. Take a look at some of these business ideas, side gigs and other ways to make, find or free up money.
1. Sign Up for Money-saving Apps
Every day, consumers use apps that give them cash back when they do fun things like watch videos, complete surveys and shop online or in brick-and-mortar stores. Swagbucks, for instance, is offering a $10 bonus when you sign up now. Swagbucks will pay you via PayPal, or you can choose from gift cards from popular retailers like Amazon, Walmart or Target.
Make Your Money Work Better for You
Rakuten is another great discount shopping app that delivers cash back to your PayPal account. Sign up now and earn $25 when you make your first qualifying purchase within 90 days.
2. Earn Referral Bonuses
When you join sites like Swagbucks and Rakuten, you earn rewards for shopping, but the money really stacks up when you refer friends to join. Rakuten gives you $30 for each friend who joins with your link and then makes a qualifying purchase.
When you refer someone to Swagbucks, you'll receive a minimum 100 SB referral bonus. If that person earns at least 300 SB in their first 30 days, you'll earn a 300 SB bonus. Plus, Swagbucks keeps giving. When you sign up someone through your referral, you'll earn 10% of the SB they earn, for as long as they are an active member.
3. Participate in Research Studies
If you want to share your opinions on consumer goods and services, consider joining consumer research study groups. DScout.com is one example. The company has, so far, awarded $7 million to consumers for sharing their experiences shopping, dining and taking on other consumer-related missions. You may have to share photos and videos, but it's not unusual to find research studies paying $200 and more.
4. Earn Money as a Virtual Assistant
Are you good at organization, social media, bookkeeping, scheduling trips and finding cheap flights or scheduling appointments? If so, you can earn money as a virtual assistant, or VA. FlexJobs says that the job has a median hourly rate of roughly $16, but good VAs can make $30 an hour or even more.
Make Your Money Work Better for You
You can find jobs online or network in places like Facebook and LinkedIn to land your own clients — which might pay more than what positions through job ads offer.  
5. Hold a Garage Sale
What could be better than hanging out in your front yard or driveway on a beautiful fall day, meeting neighbors, clearing clutter from your home — and earning extra cash? If you have a free weekend, consider holding a garage sale. Promote the event on Craigslist, local Facebook groups and through signs around your neighborhood. Depending on what items you have to sell, the sky's the limit on what you could earn.
6. Sell Items at a Consignment Shop
If you don't have the time — or desire — to organize a garage sale, let a consignment shop do the work for you, instead. You can visit local consignment shops or use sites like ThredUp and PoshMark to earn cash for your gently used or new items.
Consignment shops typically work best for clothing, shoes, handbags and, often, children's clothing, books and toys. But you'd be surprised how much money you can make with just a small bit of effort.
Make Your Money Work Better for You
7. Sell Electronics on Gazelle
Have more than just clothing cluttering your home or apartment? Gazelle.com lets you sell your consumer electronics, including iPhones, iPads, MacBooks and other devices. You'll receive your choice of a PayPal deposit, check or Amazon gift card.
GadgetGone reports offers of $139 for a Samsung S10 phone in good condition and $200 for an iPhone 11 in good condition as of January 2022, with higher prices for laptops.
8. Sell Items on eBay or Facebook
Have a lot of random items, toys, family heirlooms, collectibles or furniture lying around or in storage that you think people may like? Use eBay or Facebook Marketplace to sell these items.
The best thing about selling this way is you don't have to spend a whole day gathering items. You can take time to list items as you come across them in your home and watch the money start coming in as you make sales. Remember, you'll need to account for shipping and packaging costs or charge for shipping when you price your items.
9. Drive for a Rideshare App
Uber and Lyft are two of the biggest rideshare companies. Earnings depend on your location and the times you're available to drive, but Uber drivers can make around $300 to $600 driving 20 hours per week.
Drivers in cities where Uber is in high demand can earn up to $50 an hour. A driver working a 10-hour day could make $500 in a single day — way more than $1,000 per week! Of course, that's assuming you don't have another full-time job that takes up your time.
10. Become a Food Delivery Driver
If driving people from place to place isn't your thing, consider driving their food. DoorDash drivers make between $2 and $10 per order plus tips, so the more you deliver, the more you'll earn. Your pay could add up to $1,000 quickly if you make enough deliveries.
Check out some of the other food delivery services that can also help you earn extra cash quickly, too — if DoorDash isn't available in your area, you might be able to deliver for Uber Eats or Instacart.
11. Claim Credit Card Sign-up Bonuses
Cash-back credit cards often offer generous cash-back bonuses when you meet certain spending criteria within the first three months or so, though terms vary depending on the card. If you are short on cash but your credit is good, opening one of these cards can be a great way to claim some extra money.
It's common for cards to offer bonuses valued at around $200. You may also find cards with even larger bonuses — it might even be possible to make $1,000 in one week.
12. Make a Balance Transfer to a 0% APR Credit Card
Credit card interest and fees cost American consumers $120 billion annually. And those figures were calculated by the Consumer Financial Protection Bureau between 2018 and 2020 — before the Fed started hiking interest rates.
If you have good credit, consider opening a credit card with a 0% intro APR on balance transfers for 12 to 18 months. Transfer higher interest credit card debt to that card and then make a plan to pay it off within the introductory period. Look for a card with a credit card sign-up bonus and use that bonus to start making a dent in your debt and free up $1,000 per month or more. Just make sure you consider the balance transfer fees, too — they can decrease your savings.
13. Cut Subscription Services and Monthly Expenses
Years ago, finance experts touted cutting the cord on cable as a way to save money. And if you're still paying for cable, that's a smart choice. But, as a result of cord-cutting, many of us let multiple streaming subscription services creep into our budgets.
Only pay for the services you're using regularly and keep tabs on all your subscriptions — including websites, online courses and paid groups, magazines, streaming services and more — with an app like Rocket Money or BillCutterz. These services make it easy to find and cancel subscriptions. BillCutterz can also help you find lower rates for many of your household expenses, including utility bills.
14. Cash in Unused Vacation Days
Do you have vacation time at work? Some employers will allow you to trade in those days for their cash equivalent. Keep in mind, this could be leaving you short if you need to take a break — and you may be liable for payroll taxes on that money. But if you need $1,000 or more quickly, this is one way to access funds.
FAQ
How can I make $1,000 easily?

Many of the ideas on this list will take some upfront investment of time. But they can be pretty easy and fun once you get going. For other options, consider pet-sitting, housesitting or babysitting.

How can I make $1,000 this week?

If you need cash in a hurry, there are a lot of ways you can earn it.
If you have a lot of clutter, good quality electronics and appliances and things like furniture or spare bicycles and toys in your home, you can easily make $1,000 this week selling these on eBay or Facebook marketplace. If you have designer clothes, consider selling them on ThredUp or Poshmark, or visit a local consignment shop.
If you own a home and have good credit, taking a cash-out re-fi loan can be the easiest way to make $1,000 quickly. Just make sure you pay attention to the terms.

How can I make $1,000 in seven days?

From selling used items to getting a gig driving for a food delivery company or rideshare app, there are many ways you can make $1,000 in seven days. The list above shares many ways to earn, generate or find $1,000 in as little as seven days.
Editorial Note: This content is not provided by any entity covered in this article. Any opinions, analyses, reviews, ratings or recommendations expressed in this article are those of the author alone and have not been reviewed, approved or otherwise endorsed by any entity named in this article.
Our in-house research team and on-site financial experts work together to create content that's accurate, impartial, and up to date. We fact-check every single statistic, quote and fact using trusted primary resources to make sure the information we provide is correct. You can learn more about GOBankingRates' processes and standards in our editorial policy.
Make Your Money Work Better for You