7 Most Expensive Collectibles Ever Sold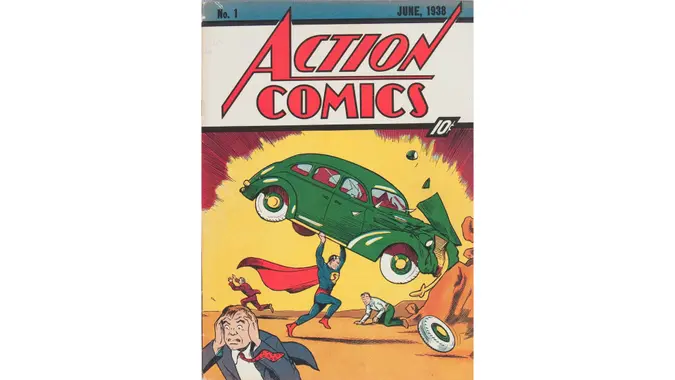 ©HeritageAuctions/Bournemouth New
Collectibles might seem like child's play to some-holding onto fast-food toys in kids meals or digging through bins of old figurines in a thrift store, but when you take a closer look, you'll see that it's a big money business. Some collectibles have been auctioned off for hundreds of millions of dollars!
$2,000 Quarter? Check Your Pockets Before You Use This 2004 Coin
See: With a Recession Looming, Make These 3 Retirement Moves To Stay On Track
Do you have a pile of Beanie Babies gathering dust in the corner of your basement or perhaps a childhood action figure that's in mint condition? You might want to double-check that they couldn't be included in GOBankingRates' list of the most expensive collectibles that were ever sold.
Stefano Canturi Barbie
Price Sold For: $302,5000
Date Sold: 2010
Owner: Anonymous
Toy maker Mattel commissioned jewelry designer Stefano Canturi to give Barbie a makeover for its new collection. Only instead of hair and nails, the Australian gem set up the classic doll with a custom-designed finger-wide three-carat white diamond necklace set around an additional carat with a square emerald-cut pink diamond. And yes, Barbie had a matching ring as well.
Make Your Money Work Better for You
1¢ Benjamin Franklin Z Grill
Price Sold For: Almost $3 Million
Date Sold: 2005
Owner: Bill Gross
Stamps used to be engraved with grill patterns, but the Z grill pattern stands out — even if it only clocks in at 11 millimeters by 14 millimeters — for being so rare. According to the Museum of Philately's records, "This 1868 1 cent Z-Grill stamp sold for $935,000 in 1998 to Mystic Stamp Company, a stamp dealer, which it was apparently later, in 2005, swapped for the Unique 1918 24c Inverted Jenny Plate Block, which had been purchased by philatelists Bill Gross." The trade of these two stamps marked Gross with a personal accomplishment as well: being one of only three men with a U.S. 19th-century stamp collection that was fully complete.
Live Richer Podcast: Scamdemic – Don't Fall Victim to These Money Scams
Pikachu Illustrator Card
Price Sold For: $5.275 Million
Date Sold: 2021
Owner: Logan Paul
When it comes to Pokémon, the saying is you gotta catch 'em all, including the playing cards based on the popular anime series. However, only one exists on planet earth that is known as the Holy Grail of Pokémon, featuring the word "Illustrator" written at the top instead of the typical "Trainer" on other cards​​. In 2021, YouTube celebrity Logan Paul purchased the Professional Sports Authenticator grade 10 Pikachu Illustrator card, which holds the Guinness Book of World Records as the most expensive Pokémon card ever sold.
Make Your Money Work Better for You
Superman #1 Comic Book
Price Sold For: $5.3 Million
Date Sold: 2022
Owner: Anonymous
Superman was first introduced in this DC comic book back in 1939 and just last year, Superman #1 set the record as the most expensive comic book in history. The comic was part of the Mile High Collection, considered one of the most famous comic collections with over 20,000 vintage comics. Now the Man of Steel is No. 1 in more than one way.
Mickey Mantle Baseball Card
Price Sold For: $12.6 Million
Date Sold: 2022
Owner: Anonymous
The 1952 Topps #311 Mantle card wasn't released in the legendary Yankee player's rookie year as was typical for most players of that era, but it still manages to top out as the most expensive baseball card around. The Mantle card ranks as No. 1, beating even Babe Ruth, who has two out of five of the most expensive baseball cards in history.
Make Your Money Work Better for You
Rothschild Fabergé Egg
Price Sold For: $18.4 Million
Date Sold: 2007
Owner: Anonymous
This egg isn't meant to be scrambled, if touched at all. With an expertly crafted enamel that dazzles with color and textures, this Fabergé egg is a work of art that is worth a fortune. At the time of the Christie's sale to an anonymous Russian bidder, Anthony Phillips, International Director of Silver and Russian Works of Art at the bidding house, said, "This is one of the most exciting moments of my 40 years at Christie's. The Rothschild Fabergé Egg presents all the elements of a true masterpiece; the quality of the craftsmanship, combined with its exceptional condition, rarity, provenance, and the fact that it is the only example to have remained in the ownership of the family for whom it was commissioned, all combine to make this a truly magnificent work of art."
Salvator Mundi
Price Sold For: $450.3 Million
Date Sold: 2017
Owner: Anonymous
It was once thought lost to time, then it resurfaced to become the most expensive piece of art that has ever been auctioned off. The Salvator Mundi is a 26-inch oil-on-panel painting by Leonardo da Vinci showing the figure of Christ as Savior of the World, donned with Renaissance-style robes. Historians believe it was commissioned for King Louis XII of France not long after the conquests of Milan and Genoa. Though it needed some restoration when it appeared in the early 2000s and some doubted its authenticity as being an original work, it wins the award as the most expensive collectible ever sold.
More From GOBankingRates
Make Your Money Work Better for You