8 of the Best Penny Cryptocurrencies To Buy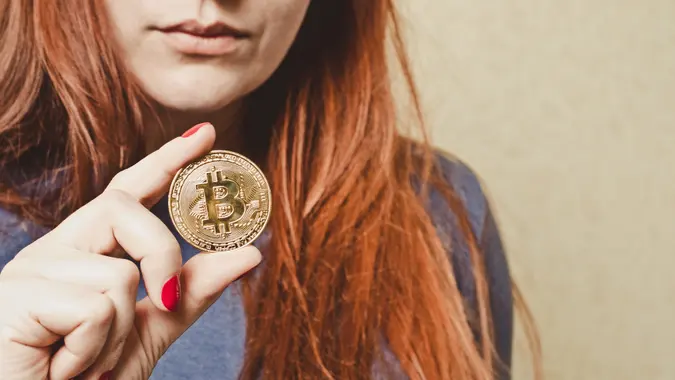 Irina Shatilova / iStock.com
Buying cryptocurrency is a risky investment due to market volatility. But if you're looking to get started inexpensively and with less risk, you might consider these low-cost penny cryptocurrencies.
While penny stocks have a bad reputation because of the risk involved in the investment, penny crypto doesn't carry the same risks. Penny stocks are risky because they are not regulated and are also subject to fraud and pump-and-dump scams.
The blockchain technology of penny crypto makes it safer and less susceptible to fraud, even though it is not regulated. Because all cryptocurrencies are decentralized, penny crypto isn't much riskier than other cryptocurrencies, including Bitcoin. On the other hand, a blue-chip stock trading on the S&P 500 carries much less risk than a penny stock.
What Is Penny Crypto?
Experts define penny cryptos as crypto that literally trades for a penny or less, up to cryptocurrencies trading for under $1. Some investors think of penny crypto as anything that sells for less than $5 per coin. Some investors also look at the crypto's market cap and consider penny crypto as anything that doesn't fall into the top 100, 500 or even 1,000 cryptos on the market.
Some penny cryptos are sold in a metaverse environment as part of NFT games. To simplify, those have been excluded from this list, but you may want to check out some of the best NFT games if you're interested in earning cryptocurrency through NFT gaming.  
What Penny Cryptos To Buy Now
The advantages of penny crypto investments are that they can have excellent returns with just a small outlay of cash to get started. This list includes several penny cryptos selling for less than $5, with a preference towards those selling under 10 cents.
This is not investment advice and keep in mind that cryptocurrency is a highly volatile market. Penny crypto, as with any investment, should make up only a small portion of a diversified portfolio. You should never invest more than you can afford to lose.
Tron
Many experts put TRON on the list of top penny cryptos to buy. In 2018, TRON purchased BitTorrent, the file-sharing service. CoinMarketCap lists TRON as the 13th largest crypto. Although it is a penny crypto based on its price, it has less volatility than many other low-cost coins. In mid-July 2022, it is trading for less than 10 cents.
Pros
Low price
Available on more than 130 crypto exchanges
High market cap
Cons
Competition from Ethereum, Cardano and others could drive the price down
Susceptible to crypto winter losses
Ripple (XRP)
The Ripple blockchain, which is a payment protocol, has a native currency called XRP that many believe is a solid penny crypto investment. It lost more than 62% of its value in 2022 during what experts are calling a crypto winter. But the low trading price just makes this penny crypto more enticing, since it has reached more than $3 in the past and some experts say it could exceed $50 or even $75 per coin by the end of 2030. That could make Ripple a good penny crypto to buy and hold since it's currently trading at just 35 cents, close to its 52-week low of 28 cents, according to CoinDesk.
Ripple has been embroiled in a lawsuit with the U.S. Securities and Exchange Commission, but as of July 2022, the payment platform seems poised for a win. However, due to the lawsuit, many cryptocurrency exchanges don't offer XRP, which might make it harder to invest in than some of the other coins on this list.
Pros
Trading near its 52-week low
Poised to win SEC lawsuit
Experts predict highs of $75 within the next decade
Cons
Not available on every crypto exchange
Embroiled in SEC legal battle
Shiba Inu (SHIB)
If you're looking for one of the cutest penny cryptos to hold, consider Shiba Inu. Initially launched as a response to Dogecoin, Shiba Inu is considered one of the best meme cryptos to buy now. And at a price of just US $0.0000107, it is a truly affordable penny stock. When most cryptos, including Bitcoin, recently crashed during the crypto winter, Shiba Inu gained more than 30% of its value. However, if you plan to make any sort of money with this investment, volume trading is the name of the game. Analytics Insight clams it could take "ten years or ten thousand years for Shiba Inu to reach $1."
Pros
Dogecoin rival shows promise as affordable meme crypto
Low entry cost
Available on major platforms
Runs on reputable Ethereum blockchain
Cons
Very low value
May never reach $1
Cardano (ADA)
Cardano's native crypto, ADA, is ranked No. 8 by market capitalization, based on CoinMarketCap.com figures as of mid-July 2022. Cardano is a highly reputable blockchain with faster processing speeds than Ethereum. It uses proof-of-stake technology, which is more energy efficient than proof-of-work algorithms that many other major currencies use.
Cardano falls into that sweet spot of a coin trading for less than $1 but still within the top 10 of all cryptocurrencies based on market cap. Only 75% of its total coin supply has been mined, which means there are plenty of opportunities for both miners and investors. Best of all, experts predict that Cardano could reach prices as high as $49.98 by the end of this decade.
Pros
Trading for less than $1
Top 10 cryptocurrency based on market cap
Potential for big profits
Cons
Ren
Some investors are calling REN the next big thing in cryptocurrency. It is within the top 100 of coins based on market cap, yet still trades for under $1 per coin, making it an excellent value. It is based on the reputable Ethereum blockchain. The Ren project allows users of any cryptocurrency to access decentralized finance products without having to sell their assets. Instead, they can transfer their existing crypto into a smart contract using REN tokens.
Pros
Low price
Available on many crypto exchanges
Uses Ethereum blockchain technology
Cons
MANA
MANA, currently selling for 85 cents in mid-July 2022 based on Coinbase.com figures, is a token on the Ethereum blockchain used in the metaverse platform of Decentraland. MANA can be used to purchase property, goods, and services in Decentraland but can also be traded on crypto exchanges for U.S. dollars. Decentraland real estate has sold for as much as $2.4 million U.S. dollars. As the popularity of the metaverse grows, MANA could represent a great investment.
Pros
Popular currency used in the metaverse
Sells for under $1
Cons
Lots of competition in the metaverse
Relatively new, unproven platform
Polygon (MATIC)
Polygon began as a true penny crypto, trading for less than 2 cents in 2021, and rapidly rising by 13,000%, GOBankingRates reported. It is designed to process transactions faster than the Ethereum blockchain and quickly gained the favor of investors. Currently trading for 75 cents, 78% of investors on Coinbase are currently purchasing the crypto, which has been on an upward trend.
Pros
Processes transactions faster than Ethereum
Promising future
Cons
Lots of competition from other coins, including Ethereum
At 75 cents, more expensive than many penny cryptos
Chiliz (CHZ)
Chiliz makes multiple lists of the best penny cryptos to buy in 2022. Chiliz is a sports and entertainment crypto traded on the Socios platform. It lets sports teams create custom tokens to distribute to fans. Analytics Insight put Chiliz on its "watchlist for the best penny cryptocurrencies to buy and HODL."
Pros
Affordable investment at just over 10 cents per coin
Partnerships with many pro sports teams and organizations
Cons
Non-sports fans less likely to maximize the platform
Final Take
Penny cryptos are a good way to get started investing in cryptocurrency without a lot of risk. You can purchase these, and other penny cryptos, on many of the best crypto exchanges.
Penny Crypto FAQ
Which penny crypto will explode in 2022?

Several experts are naming REN as the next penny crypto to explode in 2022. But with the growth of the metaverse, Mana is also a promising investment. Any of the penny cryptos on this list could yield high returns by the end of the year.

Are penny cryptocurrencies worth it?

If you're looking to get started investing in cryptocurrency, penny crypto is a great way to learn more about it without risking a lot of money. And you could have an incredible return on your investment. After all, one of the top cryptocurrencies, Solana, started out as a penny crypto trading for just $0.79 per coin in 2020. By mid-July 2022, it is trading for just under $40, according to Coinbase.com.

How much is a penny in crypto?

Cryptocurrencies are typically purchased with U.S. dollars, so a penny in crypto equals one U.S. penny, or 1/100th of a dollar. Coindesk offers a cryptocurrency calculator that allows you to find the exchange rate between fiat currencies, including U.S. dollars and various popular cryptocurrencies.
Information is accurate as of July 17, 2022.
Our in-house research team and on-site financial experts work together to create content that's accurate, impartial, and up to date. We fact-check every single statistic, quote and fact using trusted primary resources to make sure the information we provide is correct. You can learn more about GOBankingRates' processes and standards in our editorial policy.