Top 10 Artificial Intelligence (AI) Cryptocurrencies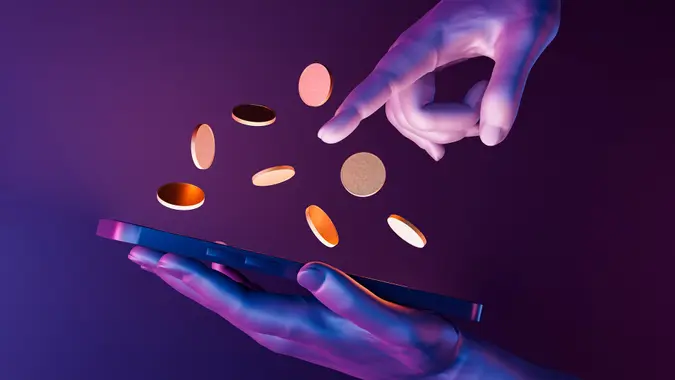 AntonioSolano / iStock.com
If you're interested in two of today's hottest alternative investments but you're having trouble choosing between crypto and artificial intelligence (AI), there's good news: You don't have to pick one or the other. There are dozens of AI-themed crypto tokens with a combined market cap of $3.2 billion.
AI is driving some of the most exciting advancements in blockchain computing and vice versa — and plenty of people are cashing in on both. You can invest in artificial intelligence blockchains and gain access to their networks and services by purchasing the right AI crypto tokens — but which are the right ones?
Best AI Cryptocurrencies
Here is a look at the most promising blockchain-driven AI projects and their corresponding coins.
1. The Graph (GRT)
Market cap: $1.2 billion
Price: $0.13
Kind of like Google for blockchain computing, The Graph provides an indexing protocol for querying networks like IPFS and Ethereum. It makes data easily accessible through open APIs, called subgraphs, which anyone can build and publish. It uses AI to decentralize proprietary indexing servers, which are expensive, complex and unverifiable.
Its native crypto, GRT, is an Ethereum token.
2. SingularityNET (AGIX)
Market cap: $414.7 million
Price: $0.34
Singularity's market cap is only about one-third of The Graph's, but it's still one of the industry's hottest AI crypto tokens. Its mission is to use blockchain technology to open-source the creation of what it calls Artificial General Intelligence (AGI), which the platform describes as "decentralized human-level intelligence."
Its AGIX token is based on the Ethereum and Cardano platforms.
3. Ocean Protocol (OCEAN)
Market cap: $220.5 million
Price: $0.36
Ocean Protocol uses AI to create a marketplace for publishing, consuming, buying, discovering and managing data. Token holders can earn rewards for locking their OCEAN holdings to facilitate data curation and farming.
4. PlatON (LAT)
Market cap: $41.4 million
Price: $0.01
PlatON concentrates on improving privacy in emerging AI technologies, which must be fed with enormous data sets to continue learning and improving. PlatON uses blockchain technology and cryptography-based privacy-preserving computation to provide a secure trading platform for the algorithms and other data assets that fuel AI.
LAT serves as the data-trading market's payment medium.
5. Cortex (CTXC)
Market cap: $44.7 million
Price: $0.21
Cortex bills its platform as "the first decentralized world computer capable of running AI and AI-powered dApps on the blockchain." Its technology is the first to enable the execution of on-chain machine learning models.
Previously, machine learning models within dApps had to rely on off-chain inference, which goes against the entire purpose of using smart contracts.
6. Fetch.ai (FET)
Market cap: $270.4 million
Price: $0.33
In terms of market cap, FET is up there with GRT and AGIX among the three biggest AI crypto tokens on the market. The platform provides infrastructure for building, deploying and connecting smart agents for automated web3 systems used in industries like travel, finance and supply chains.
Its "agents" are autonomous software codes employed by people, organizations and machines.
7. SelfKey (KEY)
Market cap: $35.5 million
Price: $0.007
SelfKey is a leader in the self-sovereign identity marketplace, which deals with managing and securing digital identities and personal data. It creates non-custodial, web3/metaverse-ready SelfKey IDs that are beyond the reach of Big Tech — only those who create them can control them or delete them.
The KEY token powers the SelfKey Marketplace, where users go to access self-sovereign identity services.
8. iExec RLC (RLC)
Market cap: $121.9 million
Price: $1.50
The RLC token powers the iExec marketplace, which facilitates the building of web3 apps, the trading of computing assets and the preservation of ownership and privacy — and AI makes it all possible. On iExec, users exchange RLC to trade computing assets on the platform, which combines blockchain technology and confidential computing.
9. Sentinel Protocol (UPP)
Market cap: $31.25 million
Price: $0.07
Operated and developed by Uppsala Security, Sentinel Protocol is the industry's first blockchain-based crowdsourced threat intelligence platform. As an early adopter of crypto regulatory compliance, Sentinel is a leader in providing collective security intelligence for protecting cryptocurrencies and other digital assets.
10. Measurable Data Token (MDT)
Market cap: $29.3 million
Price: $0.04
The MDT token denominates the value of data in the Measurable Data Token ecosystem. The platform allows users to monetize their data through the RewardMe app, which pairs data providers with data buyers and pays them more as their data earns more value.
Instead of Big Tech gathering and selling the mountains of consumer behavior data people generate every day, they can control it and sell it themselves with MDT.
What Is an AI Crypto Coin?
Artificial intelligence crypto coins are the tokens that fuel AI-based blockchains. Just as users need Ether to interact with apps in the Ethereum ecosystem, AI blockchains require users to complete transactions on their networks using their own native cryptocurrencies.
Wrapping Up
If you're considering an investment in AI crypto, focus less on a token's short-term price movements and more on the mission and utility of the blockchain that the token supports.
Many leading AI cryptocurrencies facilitate transactions on emerging networks whose full promise is not yet realized. Those whose technologies have the potential for widespread adoption will see their native tokens rise in value.
FAQ
Is AI crypto a good investment?

According to the most recent research report from Spherical Insights & Consulting, the worldwide crypto AI market was worth $230.10 million in 2021. By 2030, it's projected to grow to $980.70 million for a compound annual growth rate of 24.06%.
All crypto investments come with high risk, but that risk pairs with the potential for high rewards.

Which crypto is working on artificial intelligence?

According to CryptoSlate, at least 88 blockchain-based AI companies have released their own native cryptocurrencies. They range from tiny upstarts with barely $1,000 in market cap to emerging giants worth more than $1 billion.

What is the most popular AI cryptocurrency?

The Graph's native cryptocurrency GRT is the biggest AI crypto token by far. With a market cap of over $1.2 billion, it's the only billion-dollar AI coin. Its next closest competitor, No. 2 SingularityNET, has a market cap of just under $415 million.
Information is accurate as of April 25, 2023, and is subject to change.
Our in-house research team and on-site financial experts work together to create content that's accurate, impartial, and up to date. We fact-check every single statistic, quote and fact using trusted primary resources to make sure the information we provide is correct. You can learn more about GOBankingRates' processes and standards in our editorial policy.