What Is a Wire Transfer? Your Guide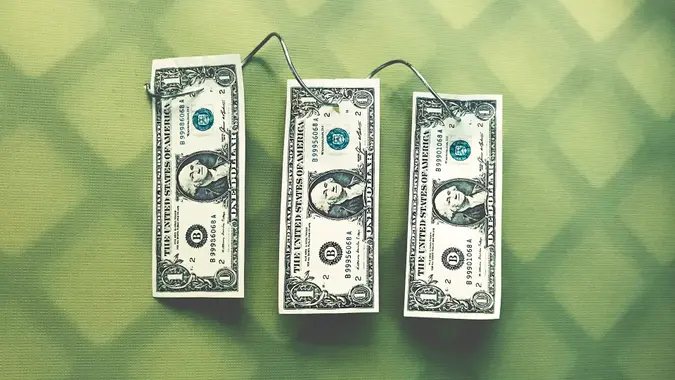 Sue Hwang / GOBankingRates
Before the rise of payment apps and digital wallets, wire transfers were a go-to payment method for customers who needed to send money without handing over cash, and they're still a valid option today. In 2022, more than 196 million wire transfers worth more than $1 billion originated — up from around 131 million originations in 2012 — according to a report from Fedwire.
You may not use a wire transfer to split the tab for dinner, but it's a convenient payment option when you want to send money overseas or need to settle a real estate transaction. Read on to learn what a wire transfer is, how it works and what you have to do to send one.
What Is a Wire Transfer and How Does It Work?
A wire transfer is a method for electronically sending money between bank accounts. You can wire money through a bank, credit union or wire transfer service.
The technology dates back to the late 1800s, when Western Union began using its telegraph network to send payment instructions between banks in Boston, Chicago and New York. The technology used to facilitate these transfers has changed over the year, but the process for wiring funds is still similar.
How It Works
The originating agency — the financial institution you initiate the transfer through — first verifies you have the cash available to cover the transferred amount and applicable transaction fees. It then initiates the transaction through a network like SWIFT or Fedwire, which then sends the transaction details to the receiving bank.
The recipient receives the money, and the banks settle the transaction. In some cases, the entire process can take just a few hours to complete, but it can take a few days for the funds to clear in some transactions and in countries known as slow to pay.
Pros of Wire Transfers
Ease of use: If your bank offers the service, you can wire funds from home using your computer or mobile app.
Safety: Wire transfers are fairly safe transactions, because anyone using a wire transfer service must prove their identity.
Speed: A wire transfer is typically the fastest way to send money overseas, and the recipient has access to the funds as soon as they clear — possibly in two days.
Transaction limits: The transaction limits imposed on wire transfers typically are higher than other money-moving methods, so you can send larger sums of money.
Cons of Wire Transfers
Fees: Banks typically charge between $25 and $45 to send wire transfers. Some banks also charge to receive wired funds.
Irreversible: Once the bank has initiated the wire transfer, you will not be able to stop the payment like you can with a paper check or ACH payment.
Good To Know

While wire transfers are generally safe, there are fraudsters out there working to scam you out of your money. Be cautious and double check the details before you wire money to anyone — some scammers will even impersonate your loved ones.
Types of Wire Transfers
Wire transfers are classified as either international or domestic, according to the location of the sending and receiving banks.
An international wire transfer sends money from one country to another, and a domestic wire transfer moves money from one bank account to another within the same country. Typically, domestic wire transfers cost less and clear more quickly than international wire transfers.
How Do I Send a Wire Transfer?
When you're ready to send a wire transfer, there are a few steps to take.
1. Gather the Information
Start by gathering the information you need for the transaction. You'll need things like the recipient's bank account and routing numbers and their name, mailing address and phone number. Check with the bank or money transfer agency you plan to use for their specific list of requirements.
This is also a good time to check the due date or deadline, as you'll need to allow enough time for the transaction to clear.
2. Fill Out the Wire Transfer Form
Whether you use your bank's online platform or go in person, complete the wire transfer form accurately and verify the information before you send it.
3. Save Your Confirmation Number
Note the confirmation or authorization number so you can track the transfer and follow up with the recipient to make sure they received the funds.
Final Take
Sending money through a wire transfer is quick and secure — and sometimes the only available option for sending money overseas. It's also a good choice for paying large invoices or real estate transaction costs when you don't want to work with cash or paper checks.
Just make sure it's the right payment method for the transaction and follow all directions provided by the bank to ensure a smooth process.
FAQ
Here are some quick answers to common questions about wire transfers.
What is needed for a wire transfer?

To send a wire transfer, you'll need the name, address and phone number of the person or organization receiving the money, as well as information about their bank account – account and routing numbers for domestic transfers or an IBAN, BIC or SWIFT code for international transfers.

How long does a wire transfer take?

Domestic wire transfers typically clear the same day they are initiated, but it's not unheard of for them to take up to three days. International wire transfers may require more time – up to five days – even though the bank debits your account immediately.
However, currency changes, time of day, bank holidays, payment errors and bank processes can extend the process. To avoid delays, follow the directions given to you by the originating bank and make sure the information you provide is accurate.

How do you receive a wire transfer?

If you're receiving money through a wire transfer, you need to give the sender your contact information and bank account details. Your bank also should give you instructions to share with the sender.
You may have the funds deposited into your bank account or mobile wallet or choose to pick up the money in person, depending on the delivery method the sender selected. If you choose to pick up the money in person, bring identification.

Can you send a wire transfer online?

Yes, it is possible to send a wire transfer online. Your bank may offer the service through online banking. Some agencies, like Western Union, also let you wire money online using a debit card, credit card or bank account as a funding source.
Our in-house research team and on-site financial experts work together to create content that's accurate, impartial, and up to date. We fact-check every single statistic, quote and fact using trusted primary resources to make sure the information we provide is correct. You can learn more about GOBankingRates' processes and standards in our editorial policy.