6 Ways To Fix Apple Pay If It's Not Working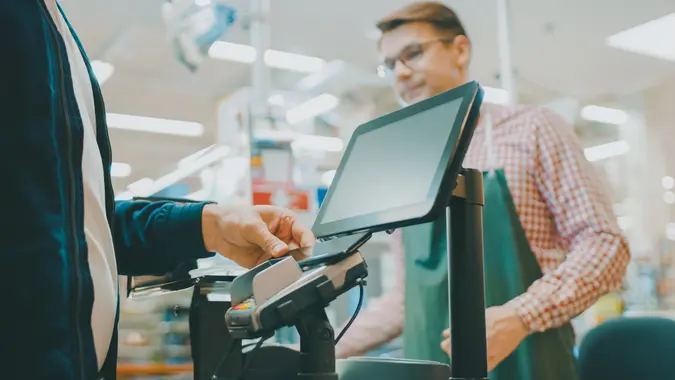 gorodenkoff / Getty Images/iStockphoto
The all-powerful phone is currently depended on more now than ever before. It is your wallet, workplace, bank, news source and where you film your TikTok dances. Whether it is working from your iPhone or just conveniently storing your credit card information for shopping excursions, having a one-stop shop in the palm of your hand makes life a little easier, until it stops working properly.
What To Do When Apple Pay Is Not Working 
Having your Apple Pay not working when you're standing in line at a checkout counter can be embarrassing and stressful. Don't worry, take a deep breath and learn from the wisdom of your childhood where you would just take a Nintendo game out and blow on it — sometimes there are simple fixes. Here are six easy ways to fix Apple Pay on your iPhone:
Verify that the vendor accepts Apple Pay.
Switch or replace the card being used in the app.
Choose a card manually from Apple Wallet.
Re-login to your Apple ID.
Restart your iPhone.
Contact Apple Customer Support.
1. Verify Vendor Accepts Apple Pay 
If you are planning on using Apple Pay when purchasing items, make sure the store you are in supports Apple Pay. You can ask someone that works there or see if there is signage around the register or point-of-sale terminal. This will save you some time and the headache of not being able to get the things you came for because the retailer or vendor does not accept your only form of payment.
2. Switch or Replace the Card Being Used 
Make sure the default card in your wallet for Apple Pay has sufficient funds and isn't expired. You can store the information for multiple debit cards or credit cards so make sure you are using the right card when buying something with Apple Pay. If you chose a default card a while ago when setting up your Apple ID account, make sure to update it accordingly.
3. Choose a Card Manually From Apple Wallet 
The Apple Wallet app allows you to store multiple cards for use with Apple Pay. Ideally, when you are at the payment terminal, you can just wave your phone near it and the payment will go through.
If this is not working, one trick you can try is to manually select a card from the Wallet app, then tap on the card you wish to use. Once you've selected your preferred card you should now be able to tap your phone to the terminal to initiate payment as it should work normally after this point.
4. Sign Into Apple ID Again
Sign out of your Apple ID and then sign back in again. This may seem obvious, but this could easily fix any issues as sometimes there are quirky updates or some other space magic that is misfiring. This easy step, more often than not, proves to get you back online and ready to shop.
5. Restart Your iPhone 
Sometimes your phone just needs a little reboot to get all systems firing again. By restarting, you can allow updates to go through or just give it a general reset.
Good To Know

If Apple Pay isn't working, your phone case may be too thick. Try to take your phone out of the case before tapping it to the payment terminal for better results.
6. Contact Apple Customer Support
If nothing else seems to work you can always contact Apple Customer Support. Sometimes it is a more involved hardware problem such as issues with the NFC chip or your phone in general. 
Another way to see why Apple Pay is not working is Check Apple System Status to make sure Apple Pay is systemically online and has a green status light. If it does not, then it is not just your account and you'll have to wait until the system is back up and running to use Apple Pay.
Final Take To GO 
Green means go, and if you see the little green circle at checkout on the payment portal it means Apple Pay is online and all systems are go. Though the touchless payment method is convenient and germ-free, sometimes you may have to face the fact of physically having to swipe your card. For a more seamless shopping experience make sure you try these easy steps first with Apple Pay before making it hard on yourself.
FAQ
Here are the answers to some of the most frequently asked questions regarding Apple Pay.
How do I reset Apple Pay?

To reset your Apple Pay follow these steps:

1. Go to "Settings" on your iPhone.
2. Select "Wallet and Apple Pay."
3. Scroll down to "Transaction Defaults."
4. Update your personal information and payment details.

Why is your card working but Apple Pay was declined?

There are a few reasons why your card may not be working on Apple Pay such as the card being locked out of the app or insufficient funds. If you know there is money on the card try one of these ways to troubleshoot if Apple Pay is not working:

-Verify that the vendor accepts Apple Pay.
-Switch or replace the card being used in the app.
-Choose a card manually from Apple Wallet.
-Logout and back in to your Apple ID.
-Restart your iPhone.
-Contact Apple Customer Support for help.

How do you set up Apple Pay on your iPhone?

To set up Apple Pay on your iPhone follow these steps:

-Open the Wallet app.
-Tap the add button which looks like a plus sign.
-This will bring you to the "Add to Wallet" page and select the "debit or credit card" option to store your information.
Editorial Note: This content is not provided by any entity covered in this article. Any opinions, analyses, reviews, ratings or recommendations expressed in this article are those of the author alone and have not been reviewed, approved or otherwise endorsed by any entity named in this article.