Is Plaid Safe To Use? What You Need To Know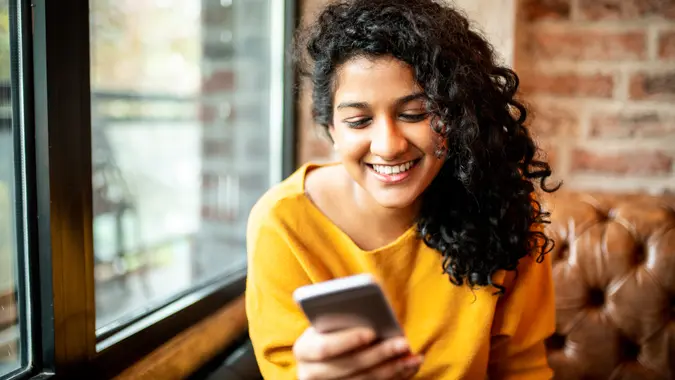 MStudioImages / Getty Images
Reaching your financial goals may seem overwhelming if you aren't properly organized. Fortunately, there are tons of apps available to help you with banking, investing, budgeting, borrowing and more. However, entering your financial information into each one of these apps gets tedious over time.
Plaid has created a solution for both consumers and financial apps to make the account setup process quicker and easier. But is Plaid safe? How does it work, and how does it keep your data safe? Keep reading to get answers to these questions and more.
What Is Plaid?
Plaid is a platform that shares your banking information with other apps you use. Plaid is connected to over 7,000 financial apps, such as Acorns, Truebill, Wave, Venmo, SoFi and many others. Plaid can connect to over 11,000 financial institutions throughout the United States, Canada and Europe.
Traditionally, each app that you use must have the infrastructure to support connections to many different banks and financial institutions. However, it's easier for them to rely on a third-party, such as Plaid, that creates these connections for them. In addition, it can make it easier for you to have your financial information stored in one location to share amongst your apps.
Is Plaid Safe To Use?
Plaid is safe to use due to its transparent privacy policies and strong security features. Plaid makes it easy to control your financial information and data, and it does its best to communicate to you which apps have access to your information. Your Plaid Portal lists the apps that are connected to your Plaid account and allows you to delete connections and Plaid data.
Good To Know

Plaid uses the following security features to help protect your financial information:

Encryption
Multi-factor authentication
Cloud storage
24/7 monitoring
Independent security testing

Plaid also has ISO 27001 and ISO 27701 certifications, which means that it meets expanded security guidelines set by the International Organization for Standardization.
In some cases, you may be prompted to create a Plaid account while signing up for another app. In this case, Plaid requires that all apps that use its services display the Plaid logo and disclose why Plaid is involved in setting up your accounts. Whenever you connect your Plaid account to another app, it lists what information the app needs and how it uses the information.
How Does Plaid Work?
Plaid works by sending financial account information to other apps as needed. First, you must choose the app that you want to use, and you must confirm that Plaid is able to connect to the app. 
When you are initiating a connection between your Plaid account and another app, you will need to enter the username and password for the financial information that you want to send. For example, if you are trying to send information for your checking account, you will need to enter the username and password for that bank. Plaid does not share the username and password for your financial accounts. Instead, it simply sends the necessary information, such as account numbers.
Plaid is completely free for consumers. The app that you are connecting to will pay Plaid a fee for setting up the connection.
Final Take
Plaid is an easy way for consumers to store their financial account information and share it with other apps that can help them reach their financial goals. In addition, safety is one of Plaid's top priorities, so you can manage which apps have access to your information and be sure that Plaid isn't sharing your information with just anyone. 
However, you could always opt to work directly with the financial apps that you want to use. Just be aware that some apps may not have built a connection with your financial institution, and you will have to spend some extra time setting up connections that are available.
FAQ
Here are the answers to some of the most frequently asked questions about Plaid.
Is it safe to give Plaid your bank login?

Plaid uses many security features to protect your banking information. You will need to enter your username and password when creating a connection with another app, but Plaid does not share this information with the app. Instead, it will only share the information required by the app.

Should you give your credentials to Plaid?

Signing up for Plaid is completely optional, so you don't have to give Plaid your credentials unless you want to take advantage of its services. However, some other apps may require a Plaid account to connect to your financial institution. In any case, Plaid works hard to keep your information safe.
Editorial Note: This content is not provided by any entity covered in this article. Any opinions, analyses, reviews, ratings or recommendations expressed in this article are those of the author alone and have not been reviewed, approved or otherwise endorsed by any entity named in this article.