Is Venmo Safe? What You Need To Know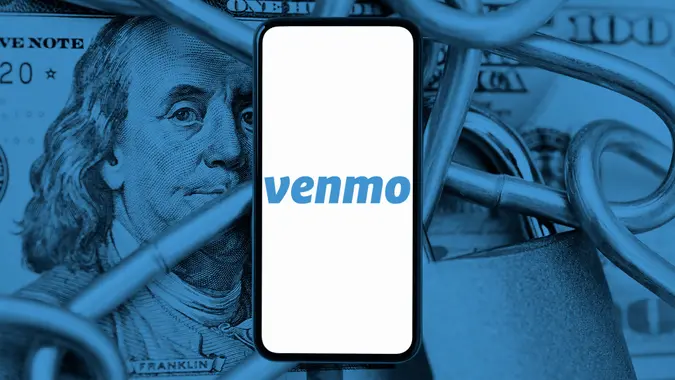 More than 90 million people use Venmo to send and receive money and split bills with friends. Sending someone cash is as simple as opening the app on your phone, entering an amount and recipient, and tapping "Pay."
But is Venmo safe? The answer: It depends, but in general, Venmo can be a relatively safe option if you make use of its security features and take precautions to avoid scams. Keep reading to learn about safety considerations you should take into account so you can decide whether Venmo is right for you.
What Is Venmo?
Venmo is a peer-to-peer payment platform that lets people send money back and forth. It's one of a few cash apps available. Venmo differs from its parent company, PayPal, in that it provides a more casual way to send funds. It also has a social aspect to it — the app is designed to send money only to people you know.
Sending, receiving and withdrawing money is free unless you want to send funds instantly, send money directly from your credit card or withdraw cash from an out-of-network ATM.
Is Venmo Safer Than PayPal?

Based on the fact that it's designed to move money to and from people you know and trust, Venmo could be safer than PayPal. If you're wondering whether you can get scammed on Venmo, that all depends on how well you know the person you're sending or receiving money from.

Recently, Venmo users have been receiving notifications that they've received money from people they don't know. While it could be an honest mistake in some instances, it also could be a scam. Under no circumstances should you send the money back to the person or you could end up losing your money. Instead, contact Venmo immediately.
How Secure Is Venmo?
To understand whether Venmo is secure, it's a good idea to look at how it works and protects your personal information. Here are a few things to keep in mind.
Linked Bank Account
Many people ask, "Is Venmo safe to link to a bank account?" One reason you can rest easy is that Venmo sends money using your linked bank account or credit card, but it keeps your external account information anonymous. 
All the recipient will see is a payment labeled as Venmo. As for the money you receive, it sits in Venmo until you spend it, send it to someone or choose to transfer it to your linked bank account. 
Payment Limits
You're limited to spending $299.99 per week with Venmo until you verify your identity. This reduces the chances of someone doing some serious damage to your account balances.
Account Monitoring and Encryption
Venmo monitors your account transactions to flag any suspicious activity. In addition, all data is encrypted for a high level of security and privacy. All information is stored on servers housed in secure locations. 
Multifactor Authentication
If Venmo doesn't recognize a device, it will send a code to the phone number you registered the account with. You can add the device to the permissions list to avoid having to authenticate it each time you access the app. Additionally, you can remove the device from your safe list at any time. 
Remote Security Management
If your phone is lost or stolen, you can access your account from the Venmo website to remove phone access. Go to Venmo.com, navigate to "Settings," click on "Security" and revoke all sessions except for the current Venmo.com session. Venmo also suggests that users consider changing their Venmo password if they believe it has been compromised. 
How To Protect Yourself on Venmo
Although Venmo protects your account in several ways, there are things you can do to further secure your money and personal information. Here's a look at eight ways to protect yourself.
1. Add a PIN
Once you add a PIN, it will be required every time the app is opened for an extra layer of security. It's easy to add a PIN: 
Go to the "Me" tab.
Choose the "Settings" gear icon. 
On iPhone, select "Face ID & PIN" and set your PIN.
On Android, select "PIN code & biometric unlock" and set your PIN.
2. Choose a Good Password
A good password that isn't easy to figure out is critical to your account's security. Use a password that's a combination of letters, numbers and characters, such as a randomly generated password, for the highest level of security. 
3. Multifactor Authentication
Venmo uses multifactor authentication to keep your account safe. If an unrecognized device attempts to log in to your Venmo account, Venmo will send your phone number an authentication code. You can choose to authenticate every login for extra security or add devices to your recognized device list to avoid multifactor authentication. 
4. Use a Credit Card
You can send money using a bank account, debit or credit card. Although linking a credit card can protect your banking information, it isn't as convenient because you won't be able to send your Venmo balance to the linked credit card. In addition, the fees can add up. 
Each time your credit card is used to cover your Venmo payments, Venmo will charge you a 3% fee. Your credit card company might also charge you a cash advance fee.
5. Send and Receive Cash Only From People You Know
The answer to the question "How safe is Venmo?" depends on the people you send and receive money to and from. The best way to ensure that Venmo is secure is by sending and receiving cash only to and from people you know and trust.
6. Make Your Venmo Transactions Private
On the Venmo app, all of your transactions are public by default. That means anyone can see the transactions you make and who you are sending them to. The more information you make available, the more of a chance it can be used against you. 
Here's how to change your Venmo privacy settings from a computer: 
Log in to Venmo.com.
Click "Settings."
Click "Privacy."
Select the default privacy setting you want. 
Click "Save Settings."
Here's how to change your privacy settings in the Venmo app: 
Go to the "Me" tab. 
Tap the "Settings" gear icon. 
Tap "Privacy."
Select the default privacy setting you want under "Default Privacy Setting."
7. Avoid Using Public Wi-Fi
When you use a public Wi-Fi connection in places like hotels, restaurants or airports, hackers can gain access to your private information. Avoid completing any financial transactions, including Venmo transactions, until you can use a secure connection. If that's not an option, consider using a VPN. 
8. Be Aware of Common Venmo Scams
Another way to protect yourself on Venmo is to be aware of common Venmo scams. Vemo has an extensive list on its site with an explanation of how each scam works. 
What To Do If You Get Scammed on Venmo
If you take the aforementioned precautions and avoid letting your phone and passwords fall into the wrong hands, you shouldn't have to worry about getting scammed on Venmo or having your bank account hacked. The peer-to-peer cash app has plenty of safety measures built in. Plus, Venmo is meant for exchanging money between friends and family.
However, there is a chance it could happen. If you discover unauthorized transactions, including someone you don't know sending you a payment, or believe you've been scammed, the first step is to contact Venmo right away so you can avoid any liability. 
You can talk to Venmo support by calling 855-812-4430, 8 a.m. to 8 p.m. CT, Monday-Friday. You can also use the chat option in the app — which Venmo recommends as the fastest option — or you can reach out by using the contact form or emailing support@venmo.com. 
To contact customer support straight from the mobile app: 
Open the app on your smartphone.
Tap on the three bars in the upper left corner.
Tap on "Get Help."
Tap on "Contact Us."
Choose whether you want to email, call or chat with Venmo support.
Live chat is available weekdays from 6 a.m. to 11:59 p.m. CT and weekends from 8 a.m. to 10 p.m. CT. Note that customer support is open 24/7 for Venmo card-related phone calls; look on the back of your card for the number. 
Cynthia Measom contributed to the reporting for this article.
Editorial Note: This content is not provided by any entity covered in this article. Any opinions, analyses, reviews, ratings or recommendations expressed in this article are those of the author alone and have not been reviewed, approved or otherwise endorsed by any entity named in this article.