How To Permanently Delete Your Zelle Account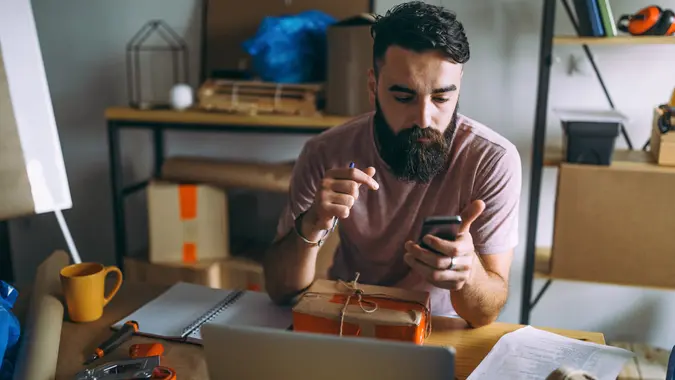 mixetto / Getty Images
Many Americans use Zelle to transfer money from one person to another instantly. Because it is often integrated into the banking apps of large U.S. banks and credit unions, it can be a convenient alternative to other services that only have standalone apps like Cash App or Venmo.
Read: How To Guard Your Wealth From a Potential Banking Crisis With Gold
However, because many users sign up for Zelle through their banks, it can be a bit confusing to figure out how to delete your account when you no longer wish to use it. Here's everything you need to know about how to delete a Zelle account and remove your phone number or email from the service.
Can You Delete Zelle From the iOS or Android App?
While Zelle is integrated into many bank apps, the service also has its own mobile app. If you want to cancel your Zelle account, deleting the app from your phone will not work — your account will still be active, and any phone numbers or emails will remain connected until the account is closed permanently.
To delete your Zelle account, go into the mobile app settings and select the "Delete Account" option. Confirm you want to continue when the app asks if you're sure. Your profile and all related data should be deleted.
If you are having issues with closing your account, you will have to contact Zelle customer service by calling their helpline at 1-844-428-8542. Zelle's customer service line is open seven days a week from 10 a.m. to 10 p.m. EST, except on New Year's Day, Christmas, Independence Day and Thanksgiving.
How Do I Delete Zelle From My Banking App?
If you signed up for Zelle through your bank or credit union, you will need to contact them to close your account. Every bank and credit union will have its own system and interface, and some will give you the option to deactivate your Zelle account through their banking app or website.
To deactivate Zelle through a banking app or website, look for a Zelle section or tab and click on it. Then look for an unenroll option. If there is no such button in the app or website of your bank or credit union, you may need to contact them directly. 
Contact your bank or credit union through in-app support or by calling their customer support line. Explain that you would like to deactivate Zelle and follow any instructions they provide.
How Do I Unregister My Number From Zelle? 
If you would like to unlink your current phone number or use another number with your Zelle account, you can do so either through the interface or by contacting Zelle or your financial institution. 
Go into the Zelle app or your financial institution's app or website. Find the section which lists the contact information connected to your Zelle account. Then select the modify or edit option, add a new phone number and unregister your old number. You may need to verify your phone number with a text message authorization code.
If you do not have access to your old phone number or do not see an option to modify your Zelle phone number, you can contact Zelle or your financial institution for assistance.
How To Delete an Email Account in Zelle?
You can replace or remove the email account connected to your Zelle account through the Zelle app or your bank or credit union. 
If you signed up for Zelle through the app, you should be able to use the Zelle app or website to edit your personal information. Click the gear icon to access settings and click on the "Account" tab. You should then be able to edit or remove your connected email accounts. If that does not work, you can contact Zelle's customer service helpline
If you signed up for Zelle through your bank or credit union, visit their app or online banking and follow their instructions to modify your information. If there is no option to change or remove connected email accounts in the interface, contact your financial institution's customer service.
Can I Delete My Zelle Account History?
Unfortunately, Zelle does not allow you to delete your account history through the interface. However, you may request to exercise your data privacy rights by filling out a form on the Zelle website or by calling 844-212-9102 between 8 a.m. and 5 p.m. MST. Zelle states that they will respond to let you know how long it will take them to comply with your request. However, the company reserves the right not to delete your data for various reasons, including legal obligations.
If you want to remove your transaction history from the Zelle app interface without deleting it from Zelle's servers, there may be another trick. According to the company, when you switch the bank account connected to your Zelle account, the transaction history for that bank account will be lost.
Therefore to remove your transaction history from the Zelle interface:
Tap the gear icon in the top left corner of your mobile screen.
Select "Account."
Next, select "Switch Accounts."
Follow the instructions to link to another bank account.
Takeaway
If you are looking to permanently delete your Zelle account or modify account information or history, you will need to first determine whether you are using Zelle through their app or your bank. Then you can follow the relevant instructions to close your account or change your information. If you only want to remove transaction history from the app interface, you may be able to do so by switching the connected bank account.
FAQ
Here are the answers to some of the most frequently asked questions about permanently deleting your Zelle account.
Can I connect more than one bank account to my Zelle?

Currently, Zelle only supports one bank account per Zelle profile. However, if you have multiple email accounts or phone numbers, you can make another Zelle profile using a different email or phone number for your other bank account.

Why can't I delete my Zelle account?

If you signed up via your bank, you can cancel enrollment and request to have your profile deleted, but you must call customer service at (844) 428-8542. You might need to reach out to your bank or financial institution to cancel Zelle if you use it via their mobile app.
Editorial Note: This content is not provided by any entity covered in this article. Any opinions, analyses, reviews, ratings or recommendations expressed in this article are those of the author alone and have not been reviewed, approved or otherwise endorsed by any entity named in this article.