How Does Chase Mobile Deposit Work and How Long Does It Take?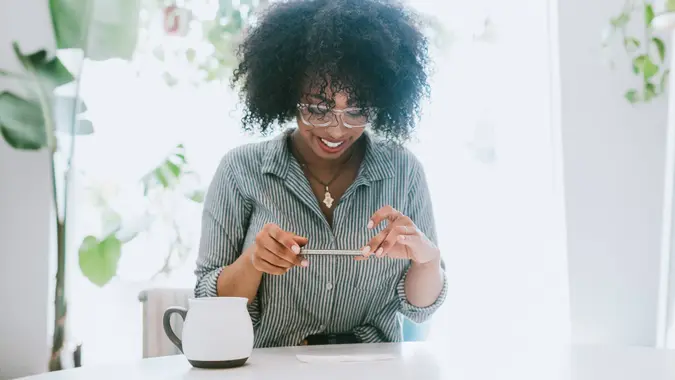 RyanJLane / Getty Images
Chase QuickDeposit offers a fast and easy way to deposit checks via the Chase mobile app, saving you from having to go to a bank branch or ATM. If you're new to Chase, you might have questions about how the app works. Here's a closer look at its features and benefits.
How Long Does Chase Mobile Deposit Take?
If you deposit the check before 11 p.m. ET on a business day, your funds should be available by the next business day. Checks deposited after 11 p.m. ET or on a weekend or holiday are processed the next business day but are not necessarily available.
In some cases, Chase delays access to deposited funds. In such instances, the funds won't be available until after the bank reviews the deposit.
How Does Chase Mobile Deposit Work?
Chase QuickDeposit lets you deposit checks through the mobile app. To use the service, you must first download the app to your smartphone or tablet. You also need to register your Chase online account. Once that's done, follow these steps to deposit a check using Chase QuickDeposit.
Step-by-Step Guide to Using Chase QuickDeposit

Log in to the Chase mobile app with your username and password.
Tap "Deposit Checks" from the navigation menu in the app.
Select the account where you want to deposit the check.
Enter the dollar amount of your deposit. Double-check the number you enter and pay attention to the placement of the decimal point.
Tap "Front" and take a picture of the front of the check, then repeat the process to take a picture of the back of the check with your endorsement. Make sure you endorse the check correctly.
Verify the information and submit the deposit.
You should receive two emails from Chase after submitting the deposit. The first confirms receipt of the deposit, and the second lets you know when the deposit has been accepted.
If there is a problem with the deposit, you will receive a separate email that explains what the problem was or why the deposit was rejected. The availability of your funds might be delayed if there's a problem with the deposit.
Chase offers support through its website. It also offers a how-to video that shows you how to use the mobile check deposit feature.
What Happens to the Deposited Check?

Always keep the paper check until you see the available funds in your account, just in case something goes wrong. Chase notes that you can destroy it immediately after the funds have been posted to your account.

But before you do that, keep in mind that in some cases, you might want to check with your tax professional to see if there's a reason to keep your checks. Shred or destroy the checks before throwing them in the trash.
Benefits and Drawbacks of Chase Mobile Deposit
The popularity of online banking, direct deposit and peer-to-peer payment apps has reduced the number of checks that people receive. You may receive checks only a few times a year, if at all. In that case, stopping by a bank branch or ATM to deposit them might not be a big deal.
It helps to weigh the pros and cons of Chase mobile deposit if you're still not sure you want to use it. Here's a quick look:
Pros
If you've been using online banking services, you'll find that mobile deposit offers many of the same benefits. Here are some of the pros of using mobile deposit:
Convenience: You can deposit a check wherever you are without having to visit a branch or ATM.
Security: Passwords, check deposit data and images are not stored on the device.
Accessibility: The Chase mobile app is available for download on Apple and Android devices.
Cons
In some cases, mobile deposit might not be a good option for you. Here are a few cons to consider:
For optimal performance when using the mobile check deposit feature, Chase notes that you'll need to have a smartphone or tablet that has at least a 4-megapixel rear-facing camera with autofocus.
You need to keep paper copies of checks until the deposits are accepted and must keep track of which checks you've deposited.
Messaging and data rates may apply, depending on the terms of your phone's data plan.
Should You Use Chase Mobile Check Deposit?
If you already use online banking, then mobile check deposit should be a snap. In fact, you probably already have Chase's app available. Unless you prefer doing business at a local Chase branch or ATM, you should consider using Chase mobile deposit because of the convenience of depositing a check at any time or location.
The downside is that you need internet access and a plan for keeping track of which checks you've deposited. Unlike when you deposit at a branch or ATM, you'll still have the paper check in your hand after the mobile deposit is made.
Information is accurate as of April 6, 2023.
This article has been updated with additional reporting since its original publication.
Editorial Note: This content is not provided by Chase. Any opinions, analyses, reviews, ratings or recommendations expressed in this article are those of the author alone and have not been reviewed, approved or otherwise endorsed by Chase.