Chase ATM Withdrawal, Deposit Limits and How To Get More Cash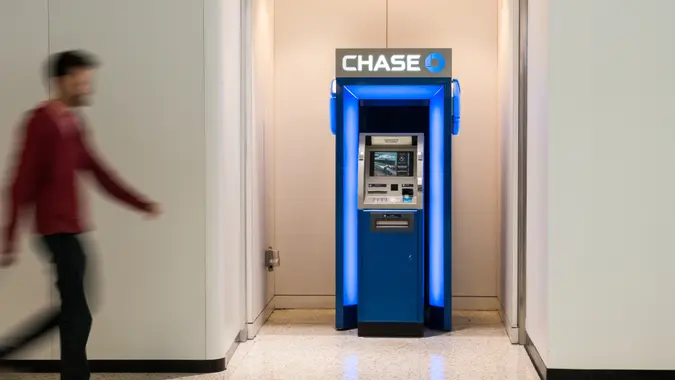 pabst_ell / Getty Images
Cash is king, and sometimes you need it right away, even — or especially — when banks aren't open. If you have a checking or savings account with an ATM or debit card from Chase, here's what you need to know about how much cash you can get from a Chase ATM.
See: How To Guard Your Wealth From a Potential Banking Crisis With Gold
Chase ATM Withdrawal Limit
Chase provides an ATM withdrawal limit when you first receive your debit card. It does not make the limit available on its website. However, a Chase customer service representative provided the following information.
If you have a basic Chase debit card, you can withdraw up to $3,000 per day at your in-branch Chase ATM. For Chase ATMs outside of your branch, you can withdraw up to $1,000 per day. Non-Chase ATMs allow you to withdraw up to $500 per day. Withdrawal limits for Chase can vary, depending on the type of card you have and type of transaction.
With a Chase Private Client debit card, you can withdraw up to $2,000 from non-Chase ATMs.
What Is the Maximum Deposit Limit for Chase ATMs?
There's no limit to the amount of money you can deposit in a Chase ATM, though there might be a limit to the number of bills you can deposit in a single transaction due to the physical design of the machine. You can deposit up to 30 checks in one transaction.
There is also no Chase deposit limit to the dollar amount or number of transactions you can perform in a single day.
How Quickly Will My Funds Be Available?
When you deposit cash in a Chase ATM, the funds will be available the same business day. Direct deposits and wire transfers are also available the same day. When you deposit a check in a Chase ATM, the funds will usually be available the next business day.
Check Holds

In some cases, Chase might place a longer hold on a check. If that happens, the date the deposit should be available will be displayed on your ATM receipt. Chase will make the first $225 of the deposit available the next business day.
How To Increase ATM Withdrawal and Deposit Limits
If you want to increase the amount of cash you can withdraw from a Chase ATM, you can speak with a banker at a branch. However, you might not be able to increase the limit for out-of-branch ATMs.
There is no limit on deposits at a Chase ATM.
Does Chase Have a Transfer Limit?
If you want to transfer funds into or out of your Chase account, most accounts are limited to $25,000 per day. If you have a Chase Private Client account or Chase Sapphire Banking account, however, your limit is $100,000 per day.
If you are transferring funds to or from an account at an institution other than Chase, it will take one to two business days to complete the transfer, and the limit may vary, depending on the other bank's limits.
How To Get Cash If You've Reached Your Limits
If you've already withdrawn the maximum amount you can with your Chase debit card, but you still need cash, there are still a few ways to get additional cash. Here are some options:
Cash Back at a Point of Sale
If you make a purchase using your Chase debit card at a grocery store or other retailer, you might be able to get additional cash back. When you use the PIN pad to pay for your purchase, you will see a screen asking if you want cash back and, if so, how much.
Select a cash back amount and your cash will be delivered as change. The maximum amount of cash back you can request is set by the retailer, not by Chase.
Withdraw From a Savings or Other Account
If you have multiple debit cards linked to different accounts, each card has its own limit. If all of your accounts are linked to a single card, however, a single limit applies.
Cash a Check
Another option is to cash a check at a Chase branch. If it's a check in your name written by a third party, you'll need to have enough funds in your account to cover the amount, since check deposits are usually not available until the following business day.
Keep In Mind

You'll need to cash the check at a branch, since depositing a check at an ATM and getting cash back are two separate transactions, and the withdrawal would be subject to your daily withdrawal limit.
Increase Your Limit
You might be able to get an increase in your daily withdrawal limit by speaking with a Chase customer service representative at a branch or calling 1-800-935-9935.
Withdrawing in Person at the Bank
You can always walk into a branch and withdraw cash, up to the amount that is available in your account at the time. This is typically done using one of your own Chase checks.
Final Take
Understanding the Chase ATM withdrawal limits that are associated with your account can help prevent a situation where you need cash but are unable to get it. Knowing how much cash you can withdraw and deposit also makes it easier to manage your cash flow.
More on Chase Bank
Information is accurate as of May 18, 2023.
The information related to Chase Private Client and Chase Sapphire Banking was collected by GOBankingRates and has not been reviewed or provided by the issuer of these products. Product details may vary. Please see the issuer's website for current information. GOBankingRates does not receive commission for these products.
Editorial Note: This content is not provided by Chase. Any opinions, analyses, reviews, ratings or recommendations expressed in this article are those of the author alone and have not been reviewed, approved or otherwise endorsed by Chase.