Wells Fargo ATM Withdrawal and Deposit Limits and How To Get More Cash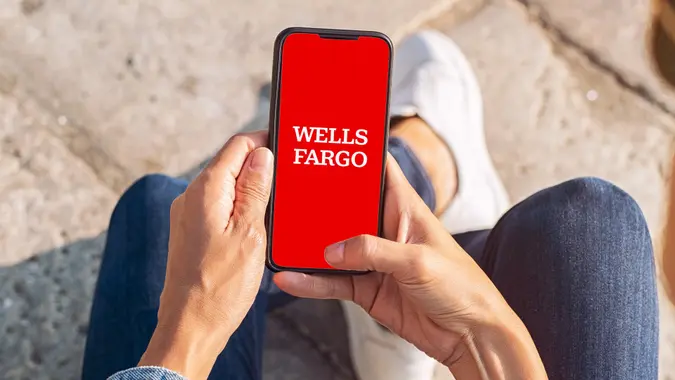 Getting cash from an ATM is an easy way to make sure you always have plenty of money in your wallet. However, banks limit the amount of money you can withdraw from an ATM each day for security reasons.
If you have a debit card from Wells Fargo, it is important to know how much money you can withdraw from an ATM each day. Keep reading to learn more.
What Is the Maximum Amount of Money I Can Withdraw at a Wells Fargo ATM?
Wells Fargo does not publish its ATM withdrawal limits publicly, and they vary depending on the account and debit card you have. However, the maximum daily withdrawal limit is likely to be about $1,500 and the daily ATM withdrawal limit is likely around $300. If that doesn't sound like enough, you can request an increase by contacting customer service at Wells Fargo by phone or in person.
To find out what your Wells Fargo withdrawal limit is at any given time, call the number on the back of your card or visit a Wells Fargo branch and ask one of the bankers. You can also sign on to Wells Fargo Online and choose "Open Card Details." You will find your limits under "Limits for this Card."
The daily withdrawal limit resets each day at midnight.
Keep in Mind

The Wells Fargo ATM withdrawal limit is designed to protect you and your money. If your card and PIN fall into the wrong hands, a fraudster can only withdraw a limited amount of cash from your account. If you request an increase to your ATM withdrawal limit, you are also increasing the amount that could be withdrawn fraudulently, so keep that in mind. Only request an increase if you think you will need it.

What Is the Maximum Deposit Limit for Wells Fargo ATMs?
There is no limit on the amount you can deposit at a Wells Fargo ATM. Some ATMs have a limit on the number of bills or checks you can deposit in a single transaction, but this is based on the limitations of the ATM itself. You can always do multiple transactions to deposit the amount you want.
There is a limit to the amount of money you can deposit when you deposit checks through the mobile app. To find out what your limit is, check the app. This limit can also be increased if you need it.
How To Increase Deposit and ATM Withdrawal Limits
If you want to increase your ATM withdrawal or purchase limits on your Wells Fargo debit card, you'll need to contact Wells Fargo. You can go into a branch and speak to a banker, or you can call the telephone number on the back of your card.
There is no limit on deposits at a Wells Fargo ATM.
What Is the Purchase Limit on a Wells Fargo Debit Card?
There is also a limit on the total dollar amount of purchases you can make with your Wells Fargo debit card. This limit may vary and should have been indicated on the materials you received when you got your card.
To confirm your debit card purchase limit, you can:
Sign on to Wells Fargo Online
Check the Wells Fargo mobile app
Call Wells Fargo at 800-869-3557
How To Get Cash If You've Reached Your Limits
If you've maxed out the withdrawal limit on your Wells Fargo debit card, there are other ways to get cash. Here are a few options.
Get Cash Back When You Make a Purchase
When you use your debit card to pay at certain grocery stores and other retailers, you have the option to get cash back. The amount you choose is added to the purchase amount and debited from your Wells Fargo checking account. The amount of cash back you can get depends on the retailer's limits. Be sure you understand your daily purchase limit as well.
Withdraw From Another Account
The withdrawal limit is linked to your debit card, so if you have another account with a different debit card, you can withdraw from that one.
Cash a Third-Party Check
If you have a check written out to you, you can go into a Wells Fargo bank branch and cash it even if you've already reached your ATM withdrawal limit for the day. Just make sure you have enough money in your account to cover the check if the funds are not immediately available. Wells Fargo might not make these funds available immediately when you deposit a third-party check.
Request an Increase
Request an ATM limit increase by calling Wells Fargo or visiting a branch and speaking with a banker. Once your request for an increase is approved, you can withdraw additional funds.
Go Into a Branch and Withdraw
Make a withdrawal in person at a branch. If you want to withdraw an amount greater than your ATM limit, you can go into a bank and request it, typically by using one of your own checks.
Good To Know

When you make your request in person, you can withdraw as much cash as you want, up to the total amount of money that is in your account.

Takeaway
Understanding the daily withdrawal and purchase limits of your Wells Fargo ATM card will help you better manage your cash and ensure you have money available when you need it.
Information is accurate as of Nov. 28, 2022.
Editorial Note: This content is not provided by any entity covered in this article. Any opinions, analyses, reviews, ratings or recommendations expressed in this article are those of the author alone and have not been reviewed, approved or otherwise endorsed by any entity named in this article.