US Bank ATM Withdrawal and Deposit Limits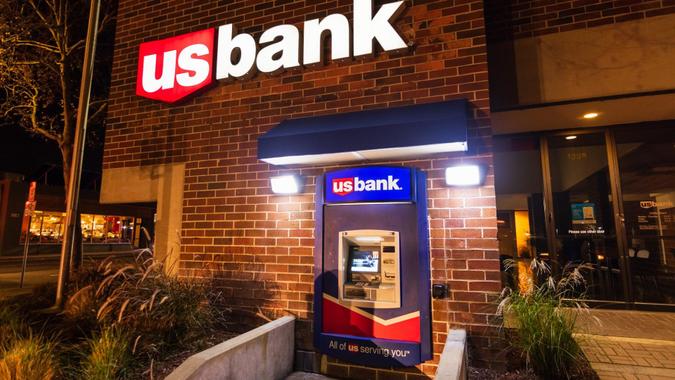 Sundry Photography / iStock.com
Sometimes you need to deposit or withdraw a substantial amount of cash, and you either don't want to wait in line inside the bank, or it's after hours and the bank's closed. Most banks and ATMs have their own limits. Here's what you need to know about withdrawing and depositing cash at a U.S. Bank ATM.
What Is the Maximum Withdrawal Limit at a US Bank ATM?
The maximum withdrawal limit can vary because it depends on your account and your relationship with U.S. Bank. For many banks, daily ATM withdrawal limits start at $500. This limit still applies if you "go cardless," meaning, instead of using a card, you are able to wave your mobile device next to the ATM.
What Is the Maximum Amount You Can Deposit at a US Bank ATM?
Unlike the withdrawal limit, the deposit limit probably won't be much of a concern. How much you can deposit isn't about the dollar amount; it's about the number of pieces involved in each transaction. U.S. Bank states that most of its ATMs can accept as many as 50 bills or up to 30 checks in a single transaction. If you have more bills or checks than that, you can deposit in multiple transactions.
How Soon Will the Funds Be Available?
The availability of funds depends on whether you've deposited cash or a check, whether it required an envelope and what time you made your deposit. At U.S. Bank, as long as you deposit by the cutoff time — typically 8 p.m. — cash is available right away, while the first $225 of your check deposit is available right away and the rest is available the following business day.
A cash or check deposit not needing an envelope will be available the same business day as long as you deposit by the cutoff time. If your deposit is in an envelope, it needs to be deposited by 6 p.m. and won't be processed until the next business day.
How Can US Bank ATM Limits Be Increased?
Most banks will offer increased ATM withdrawal limits upon request. Temporary limit increases, like when you're planning travel or preparing to make a large purchase, are more common than permanent increases.
Because U.S. Bank limits withdrawals based on your type of account and account status, every case is unique. Call U.S. Bank at 800-USBANKS or 800-872-2657, to discuss any limit increase options that may be available to you. You can also stop in a branch and make your request in person.
Good To Know

U.S. Bank ATM limits are pretty typical compared to other banks. Because of these card-specific limitations, it's probably a good idea to take time to withdraw cash during regular bank business hours. Also, you could carry more than one card with you, so you'll have a backup plan for withdrawing cash when you need it most.
Does US Bank Have a Transfer Limit?
When it comes to transferring funds from your savings account to your checking account, the usual federal regulations apply: In general, you're only allowed to make up to nine withdrawals or transfers out of your savings account per month. The good news is that making a transfer at an ATM using a PIN is an exception to "Regulation D" that doesn't count against you in the way that online transfers do.
How Can You Get More Cash if You've Already Reached Your Limit?
If you still need cash and you've already reached your limit for ATM withdrawals, don't despair. There are other ways to get more. Assuming the bank is closed and making a large withdrawal inside the bank or in the drive-through isn't possible, here are some other options:
Ask for cash back during a point-of-sale transaction.

For example, you could go to a couple of different grocery stores and request the maximum amount of cash back after making a small purchase at each store.

Withdraw from another account that uses a different card.

Limits are generally card-specific, so if you use the same card for both your checking and

savings account

, you're probably out of luck. Getting a cash advance on a credit card is another option.

Increase your limit over the phone.

As mentioned previously, a U.S. bank representative may be willing to increase your withdrawal limit for your convenience.
Key Information

Review: See Our Full Review

Customer service number: 800-872-2657

Routing number: See Routing Numbers by State

Hours: See U.S. Bank's Hours

Login: U.S. Bank Login Help
Information is accurate as of Sept. 29, 2022.
Editorial Note: This content is not provided by any entity covered in this article. Any opinions, analyses, reviews, ratings or recommendations expressed in this article are those of the author alone and have not been reviewed, approved or otherwise endorsed by any entity named in this article.