What Are US Bank's Hours?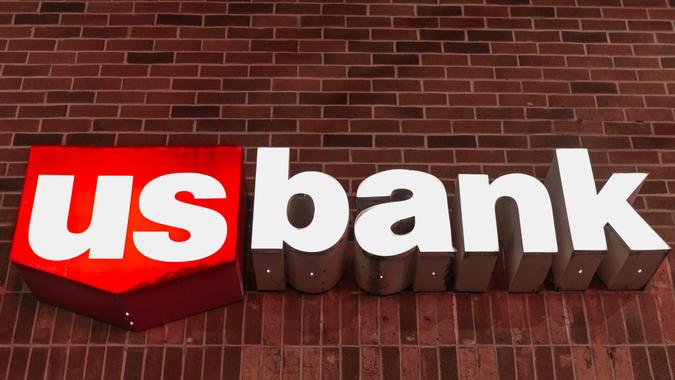 Sundry Photography / Shutterstock.com
U.S. Bank is the fifth-largest commercial bank in the U.S., with $547 billion dollars in assets. GOBankingRates rated U.S. Bank as one of its Best National Banks of 2020 thanks to factors such as its wide geographic reach and diverse product lineup. Most of U.S. Bank's branches operate during normal banking hours during the workweek, with adjusted hours on weekends.
Keep reading to find out when you can expect to find U.S. Bank branches open for business.
US Bank Hours for Normal Days
U.S Bank branches are usually open from 9 a.m. to 5 p.m., though some branches open at 10 a.m. and close at 7 p.m. Individual locations will have different hours, so always call ahead or check online to confirm your branch's hours. Some branches located in grocery stores are even open on Sunday.
U.S. Bank Hours
Day
Time
Monday – Friday
9 a.m. – 5 p.m.
Saturday
9 a.m. – 6 p.m.
Sunday
10 a.m. – 2 p.m.
Although these hours are the norm, they might not apply to every branch. Not all branches are open on weekends, either. Those with Sunday hours are typically open at supermarkets such as Ralphs.
US Bank Hours for Holidays
U.S. Bank doesn't post a holiday schedule on its website, but because it's one of the biggest banks in the country it likely follows the same federal holiday schedule as other big banks. That schedule, set by the Office of Personnel Management, observes the following holidays in 2020:
U.S. Bank Holiday Schedule
Holiday
Date
New Year's Day
Wednesday, Jan. 1
Martin Luther King, Jr. Day
Monday, Jan. 20
Presidents' Day
Monday, Feb. 17
Memorial Day
Monday, May 25
Independence Day
Saturday, July 4
Labor Day
Monday, Sept. 7
Columbus Day
Monday, Oct. 12
Veterans Day
Wednesday, Nov. 11
Thanksgiving
Thursday, Nov. 26
Christmas
Friday, Dec. 25
Customers should expect U.S. Bank to shutter its branches for the above holidays. However, GOBankingRates suggests calling your local branch to make sure it's closed on these holidays.
How To Bank With US Bank After Business Hours
Like most banks, U.S. Bank gives its customers the option of banking after normal business hours through its network of ATMs, which are open 24/7 and let you check balances, make deposits, withdraw cash, transfer money and more.
You can also use its online and mobile banking options, which let you access your accounts anytime and anywhere. Here are some of the tasks you can handle with online and mobile banking:
Review balances of all your U.S. Bank accounts.
Transfer money between your accounts.
Send and receive money through Zelle.
Activate U.S. Bank credit cards.
Review and download transaction history.
Online banking with U.S. Bank also allows you to access your credit score.
US Bank Customer Service Hours
If you're in need of customer service from U.S. Bank, you can call or go online. You can call 1-800-US-BANKS (1-800-872-2657) 24 hours a day.
Additionally, U.S. Bank's customer service portal provides information for:
Online and mobile banking
Checking and savings
Credit and check cards
Mortgages
Home equity lines and loans
Vehicle loans and leases
Student loans
Wire transfers
Reporting fraud
You can also call a local branch if you want to speak to someone closer to home.
This content is not provided by U.S. Bank. Any opinions, analyses, reviews or recommendations expressed in this article are those of the author alone and have not been reviewed, approved or otherwise endorsed by U.S. Bank.
Information is accurate as of Sept. 29, 2021.