What Are BOK Financial's Hours?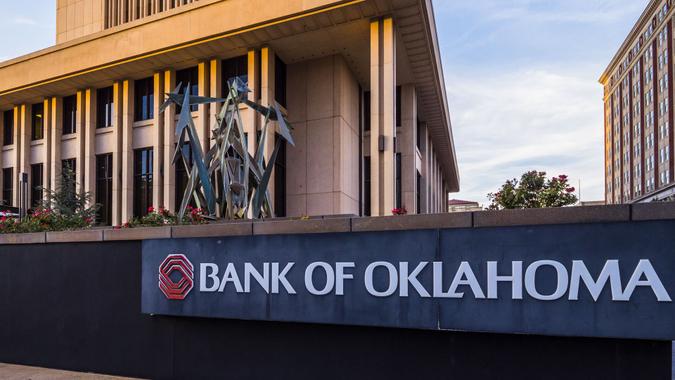 4kclips / Shutterstock.com
BOK Financial, also known as the Bank of Oklahoma, has been serving customers since 1910. More than a century later, it now commands over $40 billion in assets. Keep reading to learn about BOK Financial's hours and when you can expect to find its branches open.
BOK Financial Hours on Normal Days
BOK Financial is open from 9 a.m. to 4 p.m. on weekdays, which is fairly standard for banks. The drive-thru service is open longer, from 9 a.m. to 6 p.m.
Best Banks: Best National Banks of 2022
Is BOK Financial Open on Weekends?
Some BOK Financial branches are closed on Saturday and Sunday. Below is an overview of BOK Financial's business hours.
BOK Financial Hours
Day
Hours
Monday-Friday
9 a.m. to 4 p.m.
Saturday
Closed
Sunday
Closed
Keep in mind that a branch's drive-thru might keep longer hours than the lobby. BOK's branch locator includes helpful filters that let you know if a branch is open on Saturday and if it has a drive-thru.
BOK Financial Hours for Holidays
BOK Financial follows the same federal holiday schedule as most other banks. Per its employee handbook, BOK Financial closes on the following holidays in 2021:
         2021 BOK Financial Holiday Schedule
 
Holiday
Date
New Year's Day
Saturday, Jan. 1
Martin Luther King, Jr. Day
Monday, Jan. 17
Presidents Day
Monday, Feb. 21
Memorial Day
Tuesday, May 30
Independence Day
Monday, July 4
Labor Day
Monday, Sept. 5
Columbus Day
Monday, Oct. 10
Veterans Day
Friday, Nov. 11
Thanksgiving Day
Thursday, Nov. 24
Christmas Day
Sunday, Dec. 25
When a holiday falls on a Sunday, branches typically close the following Monday.
Also See: Are Banks Open Today? Full List of Every Bank Holiday
How To Bank With BOK Financial Outside of Business Hours
If you need to conduct banking business after hours, it's easy with BOK Financial's online and mobile banking platforms. Both options let you check balances, monitor activity, pay bills and transfer money between accounts. With mobile banking, you can also make check deposits after hours by scanning them from your phone and set up mobile alerts to stay informed of your account activity.
If you need to make cash or check deposits after hours, another option is to do so through BOK Financial's nationwide network of 32,000 ATMs.
Check Out: Best Online Banks of 2020
How To Contact BOK Financial Customer Service
To contact BOK Financial's ExpressBank customer service line, call this number and a customer service rep will be able to assist you:
844-517-3308

Open from 7 a.m. to 9 p.m. CT, Monday through Friday; 8 a.m. to 5 p.m. CT on Saturday; closed Sunday
You can also send BOK Financial a secure message from your online account. Another option is to schedule an appointment with your local branch. For additional contact information, visit BOK Financial's website.
More on BOK Financial
More on Bank Hours
This content is not provided by BOK Financial. Any opinions, analyses, reviews or recommendations expressed in this article are those of the author alone and have not been reviewed, approved or otherwise endorsed by BOK Financial. Information is accurate as of May 10, 2022.