Can You Deposit Cash at an ATM?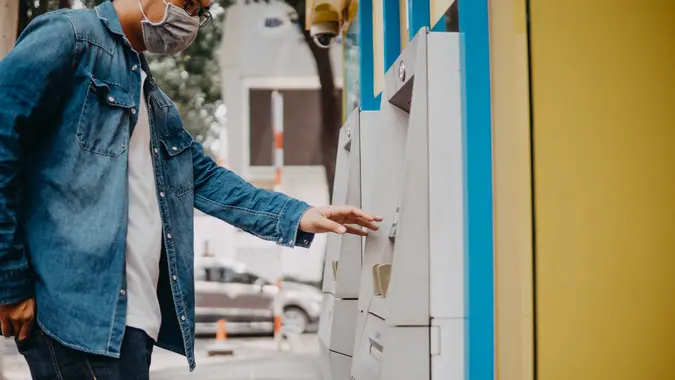 NgKhanhVuKhoa / Getty Images/iStockphoto
Many conduct their banking needs digitally. But sometimes, you have physical cash to take care of. If you have cash on hand, you might want to deposit it at an ATM. The good news is that it's possible to deposit cash at some ATMs. But not all banks allow you to deposit cash through an ATM.
Here's everything you need to know about depositing cash in an ATM.
Can You Deposit Cash at an ATM?
You can deposit cash at many ATMs. However, not all ATMs offer this functionality. Instead, your financial institution will determine whether or not you can deposit cash through an ATM. Your bank or credit union may make this option available at select ATMs.
In many cases, online banks don't allow cash deposits. For example, Discover Bank doesn't allow cash deposits. But some online banks, like Current, will allow customers to make cash deposits. You'll need to scope out what cash deposit options your bank offers, if any.
Can You Deposit Money at an ATM That Isn't Your Bank?
In general, you cannot deposit cash through an ATM that isn't associated with your bank. If an ATM is out of your bank's network, then you likely cannot deposit cash through the machine. However, many banks allow you to withdraw cash from an out-of-network ATM — if you are willing to pay an extra fee.
Earn Perks With A New Checking Account
If you aren't sure whether or not you can deposit cash at a particular ATM, check out the rules set by your financial institution. You should be able to find a detailed list of ways to make cash deposits.
How Much Cash Can You Deposit ATM?
Although cash deposit limits are rarer than cash withdrawal limits, some banks do have a cash deposit limit. For example, you can only deposit up to $500 per transaction with Current. But other financial institutions offer higher ATM withdrawal amounts. For example, Capital One allows customers to deposit up to $5,000 in one transaction through ATMs.
Other banks might not impose an upper limit on your cash deposits through an ATM. In order to find out what your limit is, read the fine print of your account information. The details should be clearly laid out in the terms of your account.
It's important to note that the ATM itself might have a deposit limit, which may depend on how much cash the machine can hold at one time and how full it already is — so don't plan to deposit a lot of cash at once without a backup plan, just in case.
Earn Perks With A New Checking Account
If I Deposit Cash Into an ATM, When Can I Spend It?
The delay between depositing your cash at an ATM and being able to spend it varies based on the financial institution.
In some cases, you can spend the cash deposits from your account on the same day. It might even be ready to spend immediately. A speedy turnaround is more likely when you make a deposit through an in-network or branch ATM. However, some financial institutions will take several days to post the funds to your account as ready for spending.
If you have a specific timeline for your spending, it's a good idea to learn more about the financial institution's policy before you make the deposit. For those who have immediate plans to spend the funds, the turnaround time might be too long to meet their timeline.
If you are worried about the timeline, consider using the cash directly to make the purchase. Or, if you have access to a credit card, make the purchase with your credit card and pay it off as soon as the funds post.
Earn Perks With A New Checking Account
How To Deposit Cash at an ATM
After you find out which ATMs will accept a cash deposit to your checking account, it's time to make the deposit. Although the exact steps of depositing cash at an ATM will vary a bit based on the exact machine, here's a look at the basic procedure:
Depositing Cash at an ATM: Step by Step

Confirm that cash deposits are accepted: As mentioned, not all banks allow cash deposits through ATMs. Confirm this is an option before heading to the closest ATM.
Count your cash: Before getting to the ATM, count out your cash deposit. It's useful to know how much you are depositing before you are in front of the ATM — for both safety and convenience.
Enter your ATM card: Once at the ATM, enter your debit or ATM card into the machine. Next, enter your PIN. In some cases, your bank may allow cardless access to the ATM through an app on your phone.
Select "making a deposit": The ATM screen will have an option for making a deposit.
Select deposit account: If you have multiple accounts at the financial institution, you'll need to confirm which bank account will receive the deposit.
Insert the bills: Generally, you will insert the stack of bills directly into the ATM. But in some cases, you'll need to insert the funds into an envelope before putting the money into the machine.
Confirm the deposit amount: The ATM will add up the stack of cash. But mistakes happen, so you'll need to confirm the amount.
Bottom Line
Depositing cash at an ATM is relatively straightforward. But you'll need to find an ATM that accepts cash deposits for your account to move forward. Scope out the limits and restrictions before heading to your local ATM.
Earn Perks With A New Checking Account