How To Endorse a Check: Here's What To Write on the Back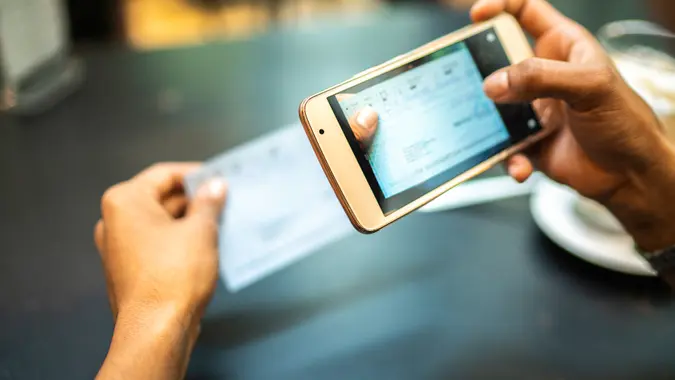 FG Trade / Getty Images/iStockphoto
When someone writes you a check, you can deposit it in your account or cash it at the bank to get the money. Before you hand the check over to the bank, you'll need to endorse it. That means you sign the back of the check to indicate you have permission to receive the funds. Keep reading to learn how to endorse a check properly.
How To Endorse a Check: Step-by-Step Guide
The correct way to endorse a check varies slightly, depending on how the check is written and what you want to do with it. Here are the general steps to endorse most checks:
Verify the information on the check. Before you endorse the check, make sure it's written for the amount you expect, and note the payee. This is especially important if the check is written to more than one person. For example, a check written to "Jack and Jill" must be endorsed by both Jack and Jill. If the check is written to "Jack or Jill," only one of them has to sign it.
Turn the check over and locate the endorsement box. You should see a section at the top of the check with a place for you to sign or stamp the check. Look for the words, "Endorse Here."
Sign your name on the top line or in the box. Avoid writing outside the area or below the line that says "Do not sign, write, stamp below this line."
Restrictive Endorsement

Some people choose to endorse checks for deposit only, which restricts the ability to cash them.

This method is more secure than a blank endorsement because it limits what can be done with the check — the only option is to deposit it in the account.

If you want to take this route, add "For deposit only" and include your account number.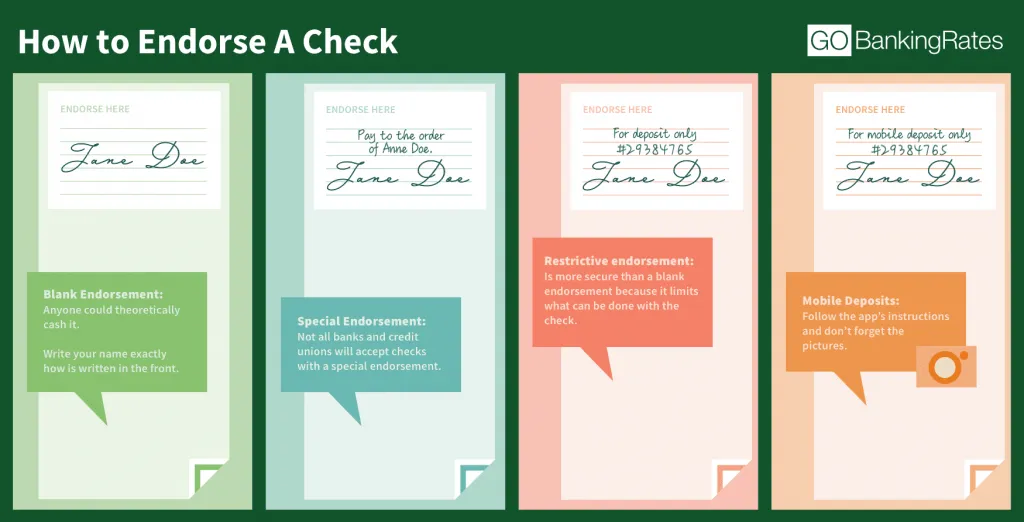 Endorsing a basic check is a fairly straightforward process. Here's a look at how to endorse a check that's not written to you.
How Do You Endorse the Back of a Check to Someone Else?
After someone writes you a check, you can sign the check over to someone else who can cash or deposit it if you don't have a bank account. That's called a special endorsement or a third-party check.
Upgrade Your Checking Account
To endorse a check this way, follow the instructions above for endorsing a check. However, you must include the statement, "Pay to the order of [person's name]" in the endorsement box.
Keep in mind that banks take a risk when they cash this kind of check, because anyone can find a signed check and fill in the endorsement information. For this reason, not all banks and credit unions will accept checks with a special endorsement. If your bank or credit union does accept a third-party check, you may need to visit the bank in person or wait a few days before the funds are available. 
How To Endorse a Check Written To Your Business
If you receive a check written to your business, you should endorse the back of the check with the name of your business and also your name and position.
You may use a stamp with the company's name and other identifying information. The stamp tends to be more convenient to use when you have to endorse a stack of checks.
How To Endorse an FBO Check
An FBO check is a check that's made payable to a business or person for the benefit of someone else. Here are some situations where an FBO check would apply:
A check to a minor and their parent, such as "John Doe FBO Jimmy Doe."
A check to the caretaker of an elderly person, which could be an individual or a facility, and the elderly person, such as "Sunshine Nursing Home FBO Jane Doe."
To endorse an FBO check, both parties sign the check, starting with the payee. In the first example above, John Doe would endorse the check followed by Jimmy Doe. In the second example, Sunshine Nursing Home would endorse the check followed by Jane Doe.
Upgrade Your Checking Account
How To Endorse a Check For Mobile Deposit
Your bank might have additional requirements if you're making a mobile deposit. You might need to write "For mobile deposit" instead of "For deposit" and check a box that indicates it's a mobile deposit.
Ask your bank or search its website for specific instructions that apply to mobile deposits, if you're not sure.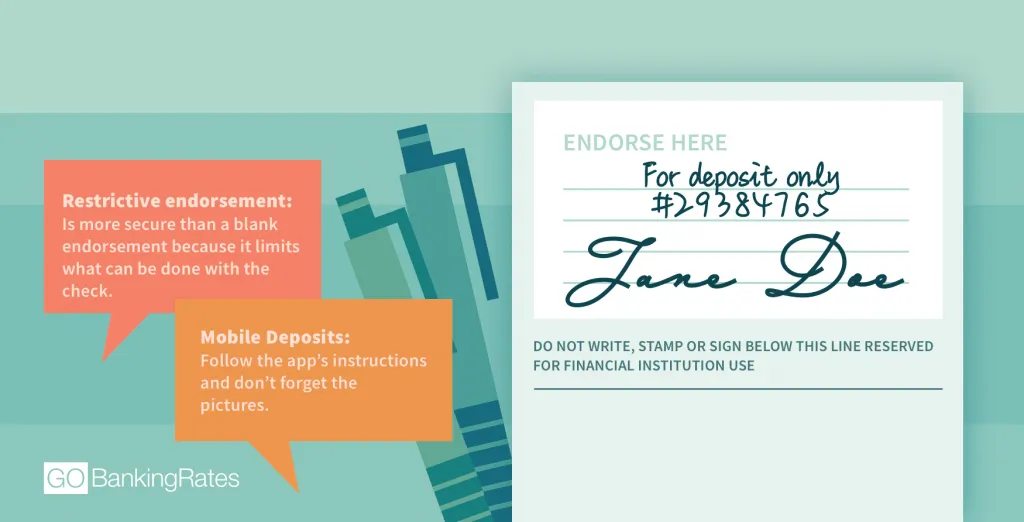 Final Take
Check deposits are less common today, thanks to the use of electronic payments and money transfer apps. If you have your paycheck deposited directly into your account or pay for your share of dinner through a service like Zelle or Cash App, you may not see a physical check often. Still, it's helpful to know how to endorse a check so you can avoid a returned check and receive your money as quickly as possible when you do have a paper check in hand.
FAQ
How do I endorse a check to someone?

Signing a check over to someone else, called a special endorsement or third-party check, is as simple as writing "Pay to the order of [recipient's name]" above your signature on the endorsement line.
Note, however, that not all banks will accept a check with a special endorsement due to the potential for fraud.

What are the three types of endorsements?

Three common types of endorsements for personal checks are blank, special and restrictive. Here's how they compare:

Blank endorsement: includes the signature of the payee with no other language.
Restrictive endorsement: includes the signature of the payee and a statement that specifies how the check can be paid, such as "for deposit only."
Special endorsement: includes the payee's signature and a statement that makes the check payable to someone other than the payee.

What happens if you don't endorse a check?

It's not the end of the world if you deposit an unendorsed check. What happens depends on your bank's policies and the origin of the check. Your bank might endorse it for you, or it might reject the check and return it to you so you can endorse and deposit it again. When this happens, contact your bank and ask how you should proceed.

Do you have to endorse a check if you write "For Deposit Only"?

Even if you write "for deposit only" on the back the check, you should still endorse the check. Your endorsement enables your bank to confirm your signature, and it may return the check if it's missing your signature.
Upgrade Your Checking Account
Cynthia Measom and Allison Hache contributed to the reporting for this article.
Our in-house research team and on-site financial experts work together to create content that's accurate, impartial, and up to date. We fact-check every single statistic, quote and fact using trusted primary resources to make sure the information we provide is correct. You can learn more about GOBankingRates' processes and standards in our editorial policy.