How To Close a Bank Account: Your 2023 Guide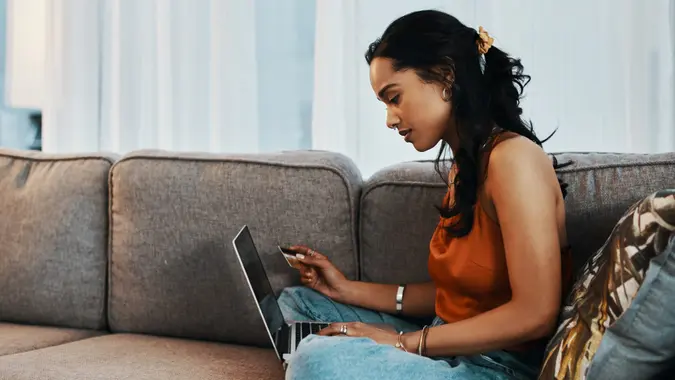 Delmaine Donson / iStock.com
Closing a bank account makes sense if you have accounts at more than one financial institution and want to consolidate, or if you're switching to a bank with fewer fees. But making a move isn't as easy as transferring funds from one bank to another. Keep reading to find out how to close a bank account.
How To Close a Bank Account: Step-by-Step Guide
If you want to close your bank account, you can follow these steps:
Make sure you're prepared to close your account
Time your account closing
Document the closing
Check your credit
1. Make Sure You're Prepared To Close Your Account
Before you close your bank account, you should have a new one in place and ready to use. Make sure you update your banking information on the following:
Debit cards: Make sure you have access to the money in your new account. Activate your debit card so it's ready to use when you transfer your money over.
Direct deposit: Do you receive your paycheck or any other payments via direct deposit? Provide your new bank account number to your employer and any agency that pays you via direct deposit. There could be a lag before the changes go into effect so make sure payments are going to your new account before closing.
Bill payments: If you plan to use your new bank's bill pay service, add in your payees and account numbers. Log in to your accounts at businesses you pay via ACH transfer to update your payment information so none of your payments get rejected.
Memberships: Are you on autopay for a gym membership or monthly streaming subscription? Make sure you update your payment information with those companies as well.
Shopping accounts: Chances are that your debit card is linked to loyalty programs at grocery stores and other retailers. Make sure their systems are updated with your new information. That way, the next time you go to check out, you won't have to scramble to add your new card number to complete a purchase or miss out on rewards.
Upgrade Your Checking Account
How To Close a Bank Account Without Paying Fees

Ensure that all of your payments are successfully coming out of your new account before attempting to close your old one. By verifying all your automatic payments from the new account, you'll avoid late fees and insufficient funds fees from creditors and other billers.
2. Time Your Account Closing
Allow a month to transition from your old account to the new one. In the meantime, keep some money in the old account in case you overlooked a bill or had a lag in a payment being processed. 
Call your bank to verify that you have no issues that would prevent you from closing your account, such as unpaid overdraft fees or pending transactions. You can also find out the steps for closing an account. You should ask questions like:
If applicable, when will the last monthly service fees be charged?
Will you get your opening deposit back?
Are there any additional fees associated with closing an account?
You can find some of this information in the deposit account agreement and account disclosure on the bank's website.
Upgrade Your Checking Account
Once you're sure that you're ready to close the account, follow the bank's instructions and transfer your remaining funds to your new bank account.
3. Document the Closing
Protect yourself from the possibility of future discrepancies with your closed account. If you receive any documentation confirming that your account has been closed successfully, keep it.
Also, be sure to save your last bank statement to your computer or print it out. This way, if there is ever a question about your account closing, you can refer back to your records.
4. Check Your Credit
Closing a bank account doesn't usually affect your credit unless you leave a negative balance and the bank turns it over to a collection agency. However, some banks report accounts to ChexSystems, which is a consumer reporting agency, similar to a credit bureau. This agency collects information on closed checking and savings accounts.
If you close an account with a derogatory history and try to open a new account at a bank that checks your banking history, it's possible that you'll be denied based on your account history. Closing an account that's been in good standing, on the other hand, should have no negative effect.
Upgrade Your Checking Account
That said, it's a good idea to access your free annual credit report a month or two after your account closes. Ensure that no derogatory remarks are on your credit report as a result. If you see any discrepancies, report them to the credit bureaus and call the institution where you closed your account.
Closing an Account With a Major Bank
Each bank and credit union has its own requirements for closing an account. Make sure you know the exact steps necessary so you don't accidentally incur fees after closing your account.
How To Close a Chase Account
You can close your account online, by phone or in person at a Chase branch. The easiest method is online. To do so, log into your account and visit the secure message center. The secure message center provides an option allowing you to send a request to close your account. Chase will send you a reply with follow-up instructions for finalizing the account closure.
If you choose to close your account in person, you'll need to provide verification of your identity, such as your driver's license. An on-site banker will help you through the process.
Upgrade Your Checking Account
How To Close a Wells Fargo Account
Close your account in person at a branch, by phone or by mail. Make sure your account is not negative. Wells Fargo allows you to have a balance of zero, but you cannot close an account if you owe the bank money. All pending transactions must settle before the bank closes your account.
Keep in mind that allowing your account to stay open with a zero-dollar balance won't prevent you from incurring additional monthly service fees. If you owe any outstanding fees, prepare to pay them before closing your account.
Final Take
Closing a bank account may be a bit of a hassle, but it's worth doing if you're unhappy with your bank or find a better deal. Before closing your account, take care to update any automatic payment details, such as streaming subscriptions or mortgage payments. If you're paid via direct deposit, notify your employer of your new banking details so the organization knows where to send your paycheck. Keep in mind that it may take a month or two to solidify the changes, so you may want to keep your account open until you're confident that all of your information is in order. 
Upgrade Your Checking Account
FAQ
Here are the answers to some of the most frequently asked questions regarding closing bank accounts.
Can you close a bank account online?

You might be able to close a bank account online. To find out whether your bank allows you to close your account online, log into your bank's online portal. Check the available options and see if they include online account closures. If you don't see this option, you may need to call or visit the bank instead.

Is there a fee for closing a bank account?

Sometimes there is a fee, especially if you close your account within a short period after opening it. Check your account's terms and conditions to find out whether you'll need to pay any fees. Generally, closing an account within 180 days after opening it may result in a fee of $25 or more for some banks.

How do I permanently close my bank account?

To permanently close your account, you'll need to notify your bank and follow its account closure instructions. Your bank will require your account to be in good standing, with no overdrawn balances or unprocessed payments, before it will begin the closure process.

What documents are needed to close a bank account?

Banks won't close your account unless they can verify your identity as the account holder. If you close your account in person, the bank will want to see your driver's license or some other form of ID. If you try to close your account online or over the phone, the institution will ask you for additional information to verify who you are before beginning the account closure process.
Daria Uhlig and Virginia Anderson contributed to the reporting for this article.
Data is accurate as of Aug. 29, 2023, and is subject to change.
This content is not provided by the companies mentioned. Any opinions, analyses, reviews or recommendations expressed in this article are those of the author alone and have not been reviewed, approved or otherwise endorsed by the companies mentioned.
Editorial Note: This content is not provided by Chase. Any opinions, analyses, reviews, ratings or recommendations expressed in this article are those of the author alone and have not been reviewed, approved or otherwise endorsed by Chase.
Upgrade Your Checking Account
Our in-house research team and on-site financial experts work together to create content that's accurate, impartial, and up to date. We fact-check every single statistic, quote and fact using trusted primary resources to make sure the information we provide is correct. You can learn more about GOBankingRates' processes and standards in our editorial policy.