How To Cash a Check Without a Bank Account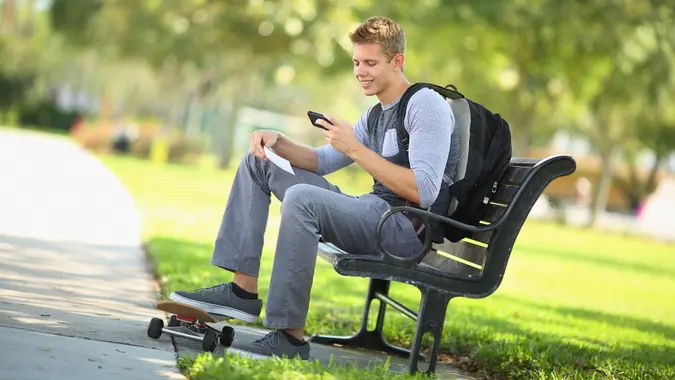 PhotoInc / iStock.com
According to the latest figures from the Federal Deposit Insurance Corp., over 7 million U.S. households are "unbanked." That means that no one in the household has a checking or savings account at a bank or credit union. This rate is the lowest since 2009, when the FDIC started tracking the figure.
Millions of Americans don't have a bank account yet sometimes still need access to banking services, including check cashing. Keep reading to learn how and where to cash a check without a bank account.
How To Cash a Check Without a Bank Account
Even if you don't have a bank account, that doesn't mean you won't be able to cash a check. Here are several options that are available.
The Issuing Bank
You can try to go to the bank that issued the check and see if they will cash it for you. You can go to the nearest branch and go up to the teller and ask.
Earn Perks With A New Checking Account
Note that no law requires them to cash a check for noncustomers, and they may charge you a fee to do so.
Certain Retailers
Some retailers offer check-cashing services for a small fee. Walmart, for example, will cash two-party personal checks of up to $200 for a fee of up to $6. For all other types of checks, the cashing limit at Walmart is $5,000, and you'll pay a fee of up to $8. You can get cash or load a Walmart MoneyCard for convenience. If you're wondering how to cash a personal check without a bank account, this is an easy option as long as the amount of the check does not exceed the cashing limit.
Check-Cashing Stores
Check-cashing stores are in the business of cashing checks but may have the highest fees. Still, it's an option for you to consider. Amscot, for example, will cash almost all kinds of checks with no limits. If you're wondering how to cash a large check without a bank account, this is one way. Be aware that Amscot charges a fee of 9.9% to cash personal checks or money orders.
Earn Perks With A New Checking Account
Prepaid Cards
Another option is to get a prepaid card. Visa offers a prepaid card with mobile check deposit so you can deposit your check directly. The Visa prepaid card is an excellent way to keep your money safe and make purchases anywhere Visa is accepted.
Sign It Over
If all else fails, you can consider signing the check over to a trusted individual who does have a bank account and have them cash it for you. You might want to go with them in case they have questions about the check or if they require your identification.
Here's an example of how a check typically looks: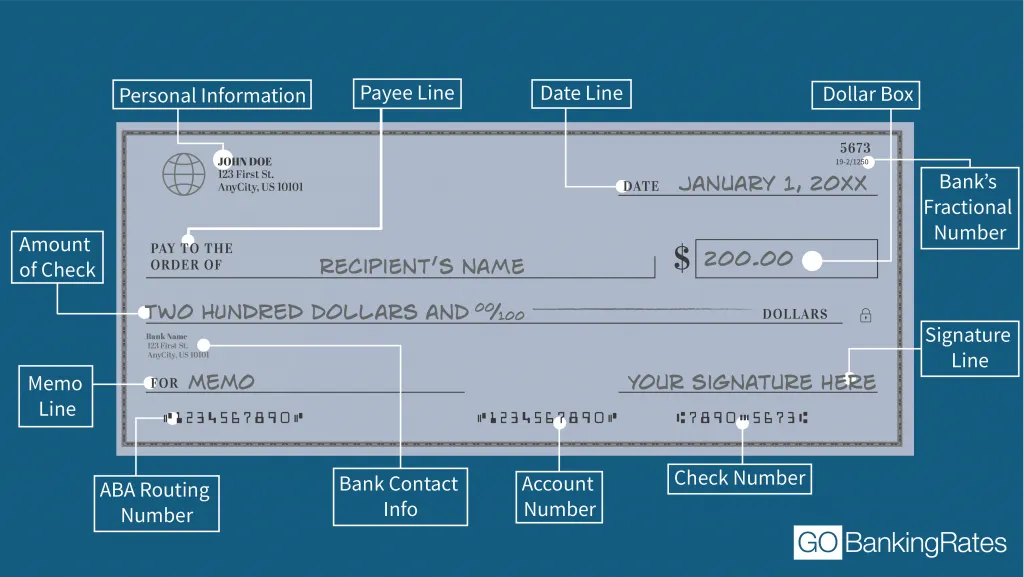 Other Considerations
You May Have To Pay a Fee
Depending on where you cash your check, you will have to pay a fee. Check-cashing stores and payday lenders have the highest fees and should be avoided if possible. Prepaid cards are reloadable, so once you buy the card, you can deposit checks repeatedly without additional fees.
You Will Likely Need Some Form of Identification
Typically, if you are cashing your check at the issuing bank, a retailer or other stores, you will have to provide some form of identification.
Consider Opening a Bank Account

If you're able, you should consider opening a bank account so you can access all of the banking and financial services that banks offer. Many banks offer free checking with no minimum balance requirements.
Our in-house research team and on-site financial experts work together to create content that's accurate, impartial, and up to date. We fact-check every single statistic, quote and fact using trusted primary resources to make sure the information we provide is correct. You can learn more about GOBankingRates' processes and standards in our editorial policy.
Earn Perks With A New Checking Account