How To Cash or Deposit a Check: 3 Simple Steps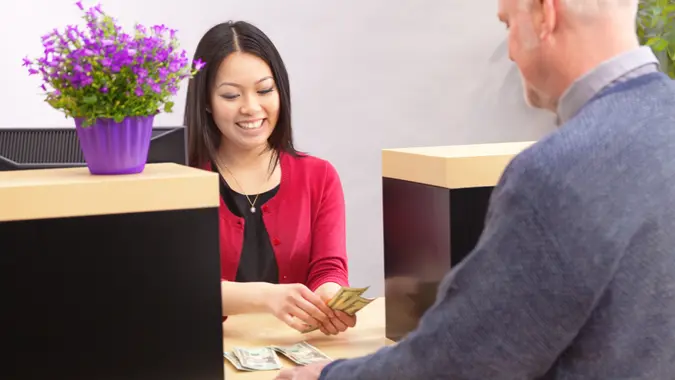 YinYang / Getty Images
When someone writes you a personal check, you can either cash it or deposit it into your bank account to get the money. Getting your hands on the cash can sometimes cost you time or money — especially if you don't have a bank account. Here's everything you need to know about how to cash a check.
How To Cash a Check: 3 Easy Steps
Cashing a check can be done in a few ways. Many opt to deposit it directly into their bank account or cash it at their own bank. Alternatively, you can cash the check at the bank that issued it. For those without a bank account, consider using a check cashing service. All these options require identity verification and for you to endorse the check properly.
Here's how to cash a check in three steps:
Bring the check to the bank with your ID.
Endorse the back.
Tell the banker how much you would like deposited into your account, if you have one, and how much you would like in cash.
You can still cash a check even if you don't have a checking account, but you will have to pay a fee for the service.
Where Can You Cash a Check?
If you are not near a bank or don't have a bank account, there are still ways you can cash or deposit your check. Here are four other options:
ATMs
Issuing bank
Check-cashing apps
Retailers and grocery stores
Upgrade Your Checking Account
ATM
When cashing a check at an ATM, you should choose an ATM that is affiliated with your bank to avoid fees. You can deposit your check at the ATM and withdraw the same amount in cash from your bank account once the updated balance is shown. Here's how to deposit a check at the ATM:
 Insert your debit card and enter your PIN. 
Select the "deposit" option. You may need to enter the amount the check is for. 
When prompted, insert the check.
Each bank has different rules for verifying checks, however, so you may not be able to withdraw the cash immediately. Also, don't forget to endorse the check before you deposit it.
Issuing Bank
Even if you don't have a bank account there, you can visit the issuing bank to cash the check. Rules for non-account holders can vary from bank to bank, so verify what you need to cash the check before going inside.
Check-Cashing Apps
Check-cashing apps are a convenient way to cash checks without stopping in a bank or retail store. To use an app, you'll have to sign up for an account. Then you can follow these steps to cash your check:
Sign in to the app.
Take a photo of the front and back of the check.
Select how you want to receive the money.
Submit the check for approval through the app.
Upgrade Your Checking Account
When you cash a check through a check-cashing app, the service may deposit the funds directly into your bank account or to a prepaid card. Alternatively, you may be able to apply the money to your PayPal account, pay bills through the app or pick up cash at a service location.
Retailers and Grocery Stores
Some retailers offer check-cashing services for their customers. For example, select Walmart stores cash all preprinted checks, including payroll, government and two-party personal checks. The maximum fee for a check up to $1,000 is $4. Kroger has a similar service and charges $4 or $4.50 to cash checks.
Where Shouldn't You Cash a Check?

If you have no other options, you can cash a check instantly by visiting a check-cashing, cash-advance or payday-lending store. Only use these companies as a last resort because they typically charge higher fees than banks and other retailers.

Because these types of companies don't usually post their fees online, it's hard to determine how much you'll pay before you get there. The highest rates are reserved for the riskiest types of checks: handwritten checks drawn on personal accounts.
Upgrade Your Checking Account
Tips for Cashing a Check
Accepting a check for payment is riskier than being paid in cash. Until you cash it, you may not know there's a problem with the check. Here are a few tips to remember when cashing a check:
Make sure the check is properly written to you. Your name should be spelled correctly, and the check should be signed.
Verify the date and check the amount.
Cash the check as soon as you can, and verify its validity.
Watch for signs that you're dealing with a check scammer.
Look for free or low-cost options when cashing a check.
FAQ
Here are the answers to some of the most frequently asked questions regarding cashing checks.
What is the best way to cash out a check?

There are many ways to cash out a check. Some include visiting the issuing bank, using a check-cashing app or using an ATM. The best way for you would be the option that is the most convenient and has the least amount of fees.

How do I cash a check at an ATM?

You can follow these steps to cash a check at an ATM:

Insert your debit card and enter your PIN.
When prompted, select "deposit." You might need to enter the amount of the check.
Insert the check.

How can you deposit a check?

You can deposit your check at any bank where you have an account. You can use an ATM, visit a branch or use a check-cashing app synced to your account to do so.

What are the rules of cashing a check?

Each bank will have a different set of rules for cashing a check. If you have any questions or feel unsure, you can contact your bank before making a trip.
Upgrade Your Checking Account
Chris Ozarowski contributed to the reporting for this article.
The article above was refined via automated technology and then fine-tuned and verified for accuracy by a member of our editorial team.
Information is accurate as of May 9, 2023. 
Our in-house research team and on-site financial experts work together to create content that's accurate, impartial, and up to date. We fact-check every single statistic, quote and fact using trusted primary resources to make sure the information we provide is correct. You can learn more about GOBankingRates' processes and standards in our editorial policy.