How To Cash a Check at Walmart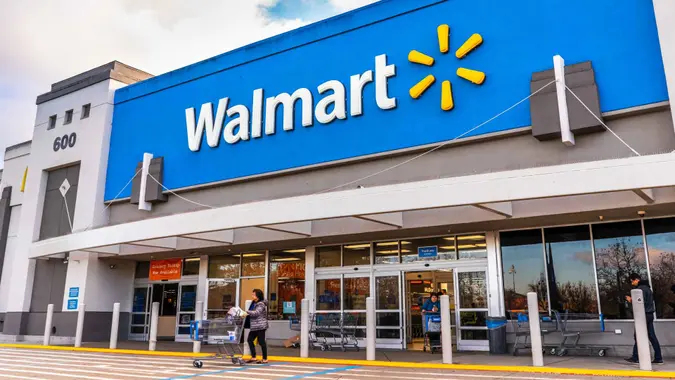 Sundry Photography / Getty Images
With over 4,500 stores in the United States, Walmart is often the easiest place to get to for groceries, clothing, housewares, toys and more. But did you know you can even cash a check at Walmart? If you don't have a bank, if your bank is not convenient, or if you just happen to be at Walmart picking up a few things, you can cash a check at a nearby location.
How To Cash Checks at Walmart
Cashing a check at Walmart is easy. Just bring your check and a valid ID, such as a driver's license or other government-issued photo ID, to the customer service desk or the MoneyCenter at your local Walmart. Checks can be cashed whenever the service desk or MoneyCenter is open.
You'll need to endorse (sign) the check on the back in order to cash it. The clerk at the customer service or Money Services desk will compare your signature on the check to the one on your ID to make sure it's you. While it's not a requirement to endorse the check in front of the clerk — you could do it ahead of time — it's a good idea to do it there so that you're not carrying around an endorsed check.
What Kinds of Checks Can Be Cashed at Walmart?
You can't cash every type of check at Walmart, but you can cash many common types:
Government checks
Payroll checks from a payroll service like ADP
Tax refund checks, including state or federal refunds
Insurance settlement checks from an established insurance company
Distribution checks from 401(k) or other retirement plans
Pre-printed checks
MoneyGram money orders that were issued at a Walmart
Two-party personal checks (up to $200 max)
Make Your Money Work for You
How Large a Check Can You Cash at Walmart?
The largest two-party personal check you can cash at Walmart is $200. For all other types of checks, the maximum amount is $5,000 from May through December and $7,500 from January through April. Why the difference based on the time of year? Tax refund checks come in during the first four months of the year, and those can easily be over $5,000, especially for a couple filing jointly. So, Walmart increases the limit for those months.
Fees for Cashing a Check at Walmart
It will cost you to cash your check at Walmart. The fee for checks of $1,000 or less is a maximum of $4. The fee for checks over $1,000, up to the limit of $5,000 (or $7,500 from January to April) is a maximum of $8. Two-party personal checks for up to $200 can be cashed for a maximum fee of $6.
Takeaway
Cashing a check at Walmart may not be the cheapest way to do it — after all, your bank will cash a check for you for free. But it certainly is convenient, with Walmart locations all across the country. Plus, Walmart locations usually have longer hours than most banks, so you can cash your check at night or on the weekend if you need to. It's nice to know that you have the option to cash many different kinds of checks at Walmart.
Editorial Note: This content is not provided by any entity covered in this article. Any opinions, analyses, reviews, ratings or recommendations expressed in this article are those of the author alone and have not been reviewed, approved or otherwise endorsed by any entity named in this article.
Make Your Money Work for You