How Much Money Should I Keep In My Checking Account?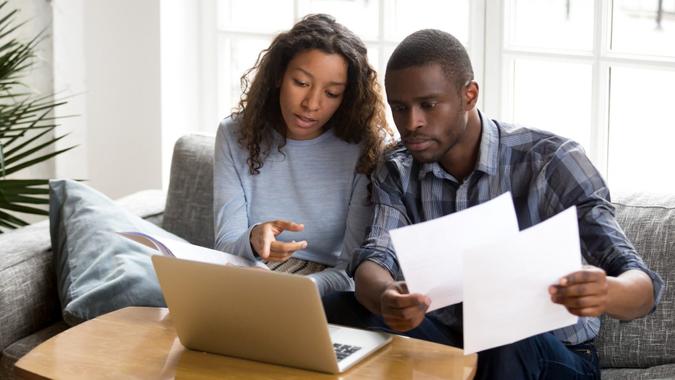 fizkes / Getty Images/iStockphoto
Suppose you get a five-figure windfall like an inheritance, a huge income tax refund or a bonus at work. You decide to deposit the entire amount into your checking account. It sounds like a nice problem to have, right? How much money is too much or too little to keep in your checking account? Good question! And the answer is: it depends.
This article will help you determine how much money you should keep in your checking account and the reasons why. We'll also look at where you should stash the rest.
What Are Checking Accounts For?
Most people use their checking accounts for regular monthly spending and immediate needs such as:
Daily and weekly expenses, such as groceries and gas
Monthly expenses, such as the mortgage, rent and entertainment
Paycheck direct deposit
Transferring funds to and from other bank accounts
Checking accounts are generally used as transactional accounts. For longer-term savings purposes, you may choose to keep funds in regular savings accounts and alternate savings vehicles such as certificates of deposit and investment accounts.
Earn Perks With A New Checking Account
Advantages Of Having a Checking Account
Liquidity
Liquid assets are the cash you have in your bank accounts. Liquidity is simply the availability of your cash in those accounts. You can quickly and easily access the money in your checking account to pay your monthly bills. After you have determined the amount of cash flow you need each month, maintain that amount in your checking account for easy withdrawals.
Direct Deposit
When you sign up for direct deposit with your employer, you can have your paycheck sent straight to your checking account. Here are three reasons you would want to do this:
You get paid on time. No more waiting for a check to arrive in the mail or to clear. You have instant access to your hard-earned money.
You save time. No more rushing to your bank before closing time to deposit your paycheck.
You manage your risk. Direct deposit eliminates the risk of losing a physical check.
Other Benefits of Having Direct Deposit
Having your paycheck directly deposited into your bank account offers many benefits like these.
| What You Get | Why It's an Advantage |
| --- | --- |
| Automatic tracking | Budgeting tools that automatically record and keep track of your spending |
| Free debit card | Safer than carrying cash; protection if lost or stolen |
| Free bill pay | Conveniently pay bills online without writing checks or money orders |
| Protection and safety | Consumer checking accounts are FDIC insured up to $250,000 |
Earn Perks With A New Checking Account
What's Your Financial Comfort Level?
If you are comfortable with the amount of money in your savings account, emergency fund and investment portfolio, then how much money should you keep in your checking account?
Compared to some other types of accounts, checking accounts typically offer low interest rates, and the rates have steadily declined over recent years. However, accessing your money is relatively quick and easy.
How will your mental and emotional financial stress levels affect your decision on the amount of money that you regularly keep in your checking account? If you're concerned about interest rates, then you may want to keep most of your money in your savings account and move what you need for paying bills into your checking account as needed.
Good To Know

If you don't know how much you spend on average each month, you can figure your monthly spending using a web-based or mobile budget tracking app. An app helps you track your spending so that you know exactly how much money is available in your checking account at all times.
Some Differences Between Checking and Savings Accounts
Most checking accounts earn very little interest if any, and those that do earn interest typically earn less than savings accounts. If your goal is saving money, then the account that you use for regular spending is not the best option.
Earn Perks With A New Checking Account
For example, you decide to keep an average of $5,000 in your checking account to cover your monthly bills, and the interest rate for checking accounts at your bank is 0.06%. The interest rate for savings accounts at your bank is 0.16%. What do you do?
If you average $5,000 in your checking account over 12 months, you will earn $300 in interest over that 12 months. Leaving the same $5,000 amount in your savings account for a year will yield you an extra $800.
Although you will gain more interest by storing a monthly sum in your savings account, keeping an appropriate amount of money in your checking account for needed spending may be the better option. Plus, savings accounts often have limits on access to your money and the number of allowed monthly account withdrawals. However, recent changes to Regulation D allow for banks to loosen some of the requirements.
What About Minimum and Maximum Balance Requirements?
Make sure you understand your bank's minimum and maximum checking account balance policy. You want to avoid being charged fees if your balance falls below your checking account's allowed minimum.
Many banks offer free checking accounts with no minimum balance requirement. Commonly, banks allow customers to have as little as $5 in a checking account with no fee. The fees are usually low but can add up over time.
Different banks have varying maximum checking account limits, but the Federal Deposit Insurance Corporation insures balances up to $250,000 at FDIC insured banks per account and depositor. You can rest assured that your money is safe regardless of the amount you decide to keep in your checking account.
Common Checking Account Fees
Consider opening an online checking account instead of using your local bank to save on common banking fees. Online checking accounts often have no fees or low fees such as these:
Paper statement fee
Non-sufficient funds fee
Out-of-network ATM fee
Minimum bill pay account fee
Income Matters
Everyone is different and has different financial needs, money situations and income levels. Your take-home pay often dictates how much money you should keep in your checking account. Your financial security and circumstances could very well drive your checking account balance.
If you have not saved a substantial emergency fund that will cover financial emergencies, unplanned expenses or loss of income, then you will have to rely on the money in your checking account to pay for some emergencies. That money could keep you from having to use credit.
Final Take
Your decision on how much money you should keep in your checking account is not merely a numbers decision. Psychology and your emotions may also carry some weight. Relying on your gut instincts as well as considering your monthly expenses will help you strike a reasonable balance in the actual balance of your checking account.
Our in-house research team and on-site financial experts work together to create content that's accurate, impartial, and up to date. We fact-check every single statistic, quote and fact using trusted primary resources to make sure the information we provide is correct. You can learn more about GOBankingRates' processes and standards in our editorial policy.
Earn Perks With A New Checking Account