What Is a High-Yield Checking Account and Why You Need One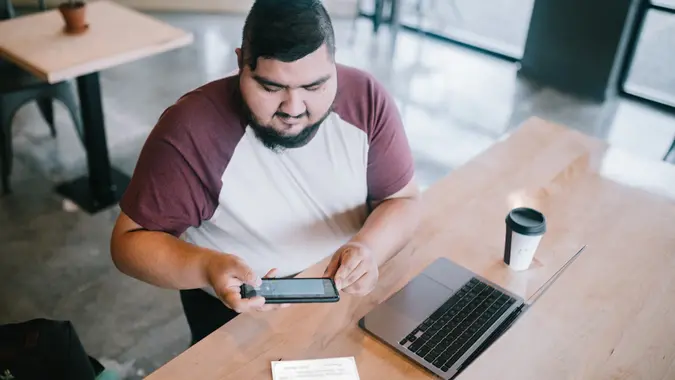 RyanJLane / iStock.com
If you keep a significant balance in a checking account, you might benefit from one that pays interest on that account balance. A high-yield checking account can allow you to have the features of a regular checking account while earning interest. 
This overview of high-yield checking accounts will give you a good idea of how high-yield checking works, what it earns and common account requirements so that you can decide if high-yield checking is a good option for you.
What Is a High-Yield Checking Account?
Most high-yield checking accounts work the same way as standard non-interest-bearing checking accounts, giving the account holder access to online banking and bill payment, the ability to write checks and a linked debit card.
But a high-yield checking account comes with specific requirements and a significant annual percentage yield, or APY, to earn you interest. Every bank has account requirements — they may include direct deposit and a minimum number of monthly transactions to qualify for the account's APY.
Some high-yield accounts have tiered account requirements. In these cases, the more requirements you meet, the higher will be your monthly APY.
How Much Does a High-Yield Checking Account Earn?
Every financial institution provides different high-yield APYs — they can be up to 5.0% on high-yield checking in some. However, some banks may have APYs that are as low as 0.05% to 0.25% on high-yield checking accounts. Because of these significant differences, shopping around before opening an account can definitely be beneficial.
Upgrade Your Checking Account
How To Shop for a High-Yield Checking Account
When shopping around for a high-yield checking account, consider and compare the following features to find the best checking account for your needs.
Account Requirements
High-yield checking account requirements vary by bank, and sometimes, by account. For example, a bank might have tiered account requirements that pay a good APY to those who meet minimum requirements and an even better APY to those who meet all requirements. Account requirements may include: 
A minimum opening deposit amount
A minimum number of monthly transactions using the account's linked debit card
A minimum number of monthly transactions using a credit card linked to the account
Direct deposit or other monthly deposit requirements.
Fees
Some banks might waive fees like money transfer fees and cashier check fees for high-yield accounts. However, some have a monthly maintenance fee. Be sure to take a close look at the fee schedule of any bank you're considering so that you know what a high-yield account may cost you.
Accessibility
Shopping for a checking account requires you to compare more than just account requirements and interest rates. These days you also need to consider accessibility, since online-only banks have a lower overhead and can therefore offer some of the better high-yield rates.
If you choose to open an account with an online bank, make sure you can easily do your banking online or via an app since you won't be able to drop into a local brick-and-mortar branch to make a deposit or withdraw cash.
Upgrade Your Checking Account
Before choosing an online bank, ensure that it has a robust app that allows for easy check deposits and provides fee-free ATM access in your area or reimburses ATM fees.
Some credit unions also offer great APYs. However, even though you might be eligible to join, you might not have a physical branch in your area.
Interest Rate
Once you've narrowed down your account options to those with requirements you can meet, fees you find reasonable, and access that will allow you to complete transactions easily, then compare interest rates to choose an account.
Some banks may only pay a higher APY on an account balance up to a maximum amount. Any money you have in your account over the maximum may earn a much lower APY.
Which Banks Pay the Highest Interest Rates on Checking Accounts?
When choosing a high-yield checking account, consider account requirements, fees and accessibility before focusing on interest rates. Here are some of the higher APYs offered currently:
Final Take
If you maintain a high balance in your checking account, a high-yield account may be a good option for you. While you may be tempted to choose the account with the highest APY, you should also consider account fees and requirements when choosing a high-yield checking account.
Upgrade Your Checking Account
Keep In Mind

You won't get the most beneficial high-yield checking account perk — a high APY — if you can't meet the account requirements consistently. Also, pay close attention to fees to ensure they won't consume too much of the interest you might earn.
Those looking to earn more interest who can't meet high-yield checking account requirements might find it easier to meet the requirements of a high-yield savings account. But if the requirements, fees and accessibility considerations are met, a high-yield checking account can earn you some extra money.
FAQ on High-Yield Checking Accounts
These are some of the commonly asked questions about high-yield bank accounts.
Are high-yield bank accounts worth it?

High-yield bank accounts with low or no monthly maintenance fees can be worth it for people who consistently meet account requirements and want to earn high APYs on their money.
Those who cannot consistently meet account requirements might be better off with a standard free checking or regular or high-yield savings account with lower minimum account requirements.

Which bank pays 7% interest on savings accounts?

You likely won't find a U.S. financial institution offering APYs as high as 7% on savings accounts. If you're looking to earn higher returns, consider other forms of investment.

Where can I put my money to get the most interest?

You can find high-interest checking and savings account options and certificates of deposit at many financial institutions. Deciding which type of account is best for your money will depend on several factors, including how soon and how often you'll need access to the money and whether you can meet the account requirements. Bonds are another interest-bearing investment to consider.
Rates are subject to change; unless otherwise noted, rates are updated periodically. All other information on accounts is accurate as of Dec. 28, 2022.