High-Yield Savings Accounts vs. Money Market Accounts — Which Is Right for You?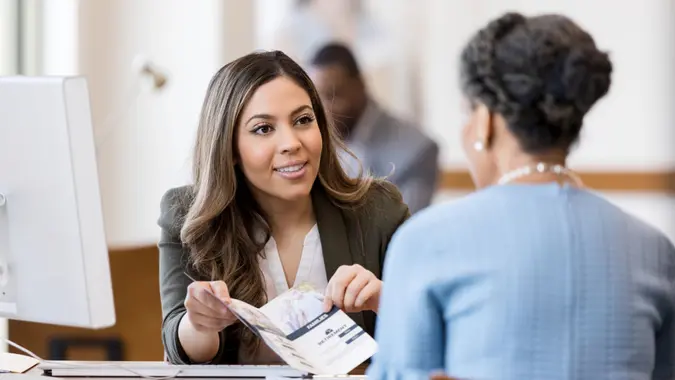 SDI Productions / Getty Images
An emergency fund. A college fund. A retirement fund. A new car fund. A house down-payment fund. A vacation fund.
Those are a lot of funds. But the reality is that everyone has financial goals to meet and dreams that require you to put aside money. How you save that hard-earned cash depends on whether you plan to access your money in the short term or the long term.
For retirement funds, there are 401(k) and other accounts. For college, a 529 plan is popular. But you have a lot of choices on where to safeguard your money in the shorter term, starting with high-yield savings accounts and money market accounts. But what's the difference between them? And which one is right for your needs?
What Is a High-Yield Savings Account?
Mostly everyone have gotten accustomed to a traditional savings account paying virtually no interest, with many major banks offering earnings of 0.01% annual percentage yield, or APY. Look at it this way. If you have $100 in your savings account, and keep it there untouched for one year, you will have earned one penny in interest at the end of 12 months if it is compounded monthly.
A high-yield savings account is just that — it pays a bigger APY, and some banks today are offering about 5%. If you put that $100 into a high-yield account at the 5% APY, you would have $105 after 12 months.
Consider bigger stakes. If you put $5,000 in a traditional savings account with a 0.01% APY, you would earn 50 cents interest after one year. With that high-yield account? You would have $250 more.
Is it smart to have a high-yield savings account? These numbers show it is much smarter to have a high-yield account than a standard savings account.
What Is a Money Market Account?
A money market account is a hybrid between a savings account and a checking account. You'll deposit your money to a financial institution of your choice, which will treat it like a savings account. Your cash will stay there until you need it, and you'll earn interest. The money market account resembles its checking account cousin in that you can write checks and also get cash at an ATM. The number of withdrawals you can make, either by check or debit card, could be capped, however.
Some customers might confuse money market accounts with certificates of deposit. When you open a CD account, you're giving the bank your money to hold for a specific period of time, and you could be assessed a penalty for early withdrawal. A money market account is liquid, however. You can access your deposits at any time.
Typically, you will earn more interest when your funds are in a money market account instead of a checking account or traditional savings account or even some high-yield savings accounts.
And because they are liquid accounts, you can access your money immediately in case of an emergency, without penalties as with a certificate of deposit.
Many banks and credit unions offer APYs similar to high-yield savings accounts, including some rates that exceed 5%.
High-Yield Savings Vs. Money Market
Which is better: a high-yield savings or money market account? The answer depends on how you want to access your cash.
If you want the convenience of writing checks or making withdrawals at an ATM, a money market account could suit you better than a high-yield account. If you need to get your money out of a high-yield savings account in short order, that is more difficult. Since many of the banks offering high-yield accounts are online, you could need to wait a few days for your money to transfer to a linked checking account instead of walking into a local branch.
Why Choose High-Yield Savings Over a Money Market?
Are there downsides to high-yield savings accounts? The biggest is the slight wait you could have to access your money. But there is a big upside too: a typically low initial deposit — or even no minimum — to open a high-yield accounts. Some financial institutions require minimum deposits — and minimum balances — for money market accounts that can range from the hundreds to the thousands.
Why Choose a Money Market Over High-Yield Savings?
If the convenience of writing checks and ATM access is more important to you, then a money market account might be more appealing to you than a high-yield savings account. Since some money market accounts could trigger fees, it's wise to examine potential costs before opening an account.
Is One Account Safer Than the Other?
As long as your bank is a member of the Federal Deposit Insurance Corp., or your credit union is covered by the National Credit Union Association, your accounts are insured up to $250,000 per depositor and per account category. FDIC and NCUA insurance protects high-yield savings accounts, as well as money market accounts, in case of bank failure.
Final Take
Before opening either account, it's wise to shop around to compare the basics that will impact how much you stand to earn and spend. Find out what the APY is over the course of the year, and whether you must have a certain amount in the account to earn the highest interest rate. Also learn whether the account has monthly maintenance costs, a limit on the number of checks you can write, ATM withdrawal fees or if you'll pay if your account falls below a minimum balance.
Our in-house research team and on-site financial experts work together to create content that's accurate, impartial, and up to date. We fact-check every single statistic, quote and fact using trusted primary resources to make sure the information we provide is correct. You can learn more about GOBankingRates' processes and standards in our editorial policy.