How Much Should I Have in Savings?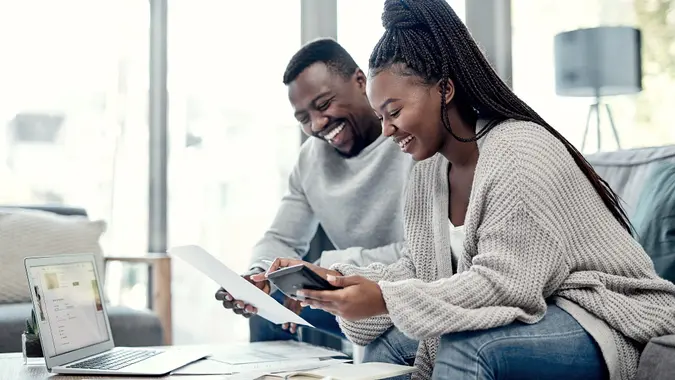 PeopleImages / iStock.com
You have some money put aside in savings, but you're not sure if it's enough. As a financially responsible person, you want to make sure you have enough cash to fund both unplanned expenses and future financial goals.
Most financial experts recommend building up enough savings to cover six months of expenses. However, there's no need to panic if you don't have anywhere near this amount.
Ready to build up your savings account? Keep reading to answer the question "How much should I have in savings?" and learn tips to help you put more money in the bank.
Here's How Much Money Should Be In Your Savings Account
Is $20,000 a good amount of savings? This largely depends on several factors, including your age, income and lifestyle.
Generally speaking, experts recommend saving at least 20% of your income. Known as the 50/30/20 rule, this can serve as a guide to help streamline your budget.
Under this rule, a maximum of 50% goes toward necessities and 30% pays for discretionary items. Therefore, if you earn $1,000 per month, you would allocate $500 for necessities, $300 for discretionary items and $200 for savings.
How Much Does the Average Person Have in Savings?
If you're wondering how your savings account balance measures up to other people in your age group, the Federal Reserve has you covered. Take a look at the average account balance, according to the 2019 Survey of Consumer Finances — the most recent data available.
| Age Group | Average Savings |
| --- | --- |
| Less than 35 | $11,250 |
| 35-44 | $27,910 |
| 45-54 | $48,200 |
| 55-64 | $57,670 |
| 65-74 | $60,410 |
| 75 and older | $55,320 |
So, how much should a 30-year-old have in savings? At around 30 years old, the average person has around $11,250 in savings. If you have that amount or more set aside, that's great. However, there's no need to panic if you have less — or significantly less — saved.
No matter what your age and where you're at with your savings plan, you can always catch up. This will require dedication and discipline on your part, but you can do it.
Building an Emergency Fund
As noted above, experts recommend putting aside at least six months of savings. Known as an emergency fund, this type of account should be kept separate from your standard savings account.
If you suddenly find yourself out of a job or with a large, unexpected bill to pay, this fund can cover your expenses. Instead of having to borrow from your standard savings account or take on debt to handle the cost, you'll already have the money at your disposal.
When you build up enough savings in this account, there's no need to continue contributing to it. However, if you need to access the funds, you'll want to put a plan in place immediately to replenish them.
Saving for Retirement
How much should you have in savings at your age? The answer to this question largely depends on the age you plan to retire and your desired lifestyle, according to Fidelity.
Generally speaking, Fidelity recommends the following savings guidelines.
| Age | Savings |
| --- | --- |
| 30 | One times your annual salary |
| 40 | Three times your annual salary |
| 50 | Six times your annual salary |
| 60 | Eight times your annual salary |
| 67 | 10 times your annual salary |
If you think you can largely live off of Social Security benefits, this likely won't be the case. As of November 2022, the average monthly benefit is $1,551.66.
According to Rent., the average monthly rent is $2,007, as of November 2022. Therefore, your Social Security check wouldn't even cover one month's rent, much less other living expenses.
If you feel like you're not on track, you're not alone. Here's a look at where other Americans stand with their retirement savings, according to the Federal Reserve's Economic Well-Being of U.S. Households in 2021 report
| Age | Any Retirement Savings | Retirement Savings on Track |
| --- | --- | --- |
| 18-29 | 62% | 30% |
| 30-44 | 75% | 39% |
| 45-59 | 84% | 45% |
| 60+ | 87% | 52% |
5 Tips To Grow Your Savings Account
You've found the answer to the question "How much should I have in savings?" If your ideal amount doesn't match the balance currently in your account, it's time to make some changes to your spending habits.
Here are a few tips to help boost your savings in no time.
1. Automate Savings Contributions
Saying you're going to put a certain amount of money from each paycheck into your savings account is easy, but actually doing it can be hard. Reduce the temptation to spend the money elsewhere by having it automatically deducted from your account.
2. Create a Budget
Finding extra room in your paycheck to commit to savings can be hard, especially if you don't really know where your money is going. Take a close look at your spending habits, then make a budget to help reduce expenses.
3. Make a Debt Repayment Strategy
If you're in debt — such as carrying balances on several credit cards — this is impeding your ability to save. There's never been a better time to make a plan to pay off your debt once and for all.
This might involve consolidating your monthly payments into one to lower your interest rate or simply putting extra money toward the balance with the highest interest rate. Find the strategy that best meets your needs and stick to it.
4. Take on a Side Gig
Earn extra money to bulk up your savings by picking up another job. This could be anything from serving as a rideshare driver on the weekends to picking up a part-time virtual assistant job. Put your earnings from this gig directly into savings.
5. Cancel Unused Subscriptions
Chances are, you're paying for at least a few streaming platforms, apps, magazines and services you don't actually use. Be honest with yourself about the level of both use and enjoyment you're getting from these them, and cancel those you don't need. Send the money you were paying for these subscriptions directly to your savings account.
Just remember, working to increase your savings account takes time — especially if you have a lot of work to do. Instead of feeling discouraged about how long it will take to reach your goal, be proud of yourself for all the hard work you're doing and celebrate your increased account balance every time you make a deposit.
GOBankingRates' Best Banks 2023
Data is accurate as of Dec. 21, 2022, and is subject to change.
Our in-house research team and on-site financial experts work together to create content that's accurate, impartial, and up to date. We fact-check every single statistic, quote and fact using trusted primary resources to make sure the information we provide is correct. You can learn more about GOBankingRates' processes and standards in our editorial policy.