Discover Savings Account Rates for May 2023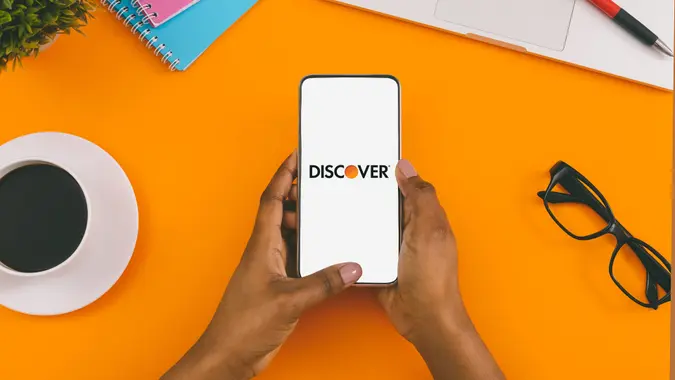 Discover Bank/Prostock-Studio / Getty Images/iStockphoto
Most have heard of Discover credit cards but did you know that Discover also offers online banking? You can find checking accounts, certificates of deposit and a high-yield savings account at Discover. Whether you want to write a bank check, get a handle on your debit card purchases or simply let your savings grow with interest, you might want to consider Discover.
Discover Bank Savings Account Interest Rates
The annual percentage yield for Discover's Online Savings account is above the national average as it pays APY. The interest is compounded daily and paid monthly. 
Discover Bank Rates Breakdown
| Account | APY |
| --- | --- |
| Online Savings Account | |
Discover Savings Account Overview
Discover Bank offers one savings account, which is ranked among the Best Online and Neobank Savings Accounts by GOBankingRates for 2023. This account has no monthly maintenance fees, no overdraft fees and no minimum balance requirements. Since it also has no minimum deposit required, you can open one with as much or as little as you want.
Is the Discover Savings Account Right for You?
The Discover Online Savings account is best for you if you want to earn a guaranteed rate of interest that is higher than the national average. It also offers the option of having your checking account, credit card and investment accounts linked at the same bank. This convenience is worth it for many, as it makes it a one-stop banking shop. The only drawback could be if you prefer to do your banking in person as Discover deposit accounts are online only.
Maximize Your Savings Potential
Discover Savings Account Pros and Cons
Here are some pros and cons to consider before you open a Discover Online Savings account.
Pros
APY is higher than the national average
No monthly fees
Cons
No physical branches
Not conducive for cash deposits
Discover Bank: Other Savings Options
In addition to Discover's Online Savings account, they also offer a variety of CDs. These come in a wide range of term lengths and APYs. Below is a breakdown of Discover Bank rates for CD accounts. 
| Term Length | APY |
| --- | --- |
| 3-month CD | |
| 6-month CD | |
| 9-month CD | |
| 12-month CD | |
| 18-month CD | |
| 2-year CD | |
| 4-year CD | |
| 7-year CD | |
| 10-year CD | |
Final Take To GO 
The bottom line is if you are looking for a quality online savings account with a high APY, Discover has you covered. If you have been searching for a solid place to store and grow your money, this account offers a great jumping-off point for your savings journey.
FAQ
Here are answers to frequently asked questions about the Discover Online Savings account interest rates.
Which bank gives 7% interest on a savings account?

Discover Bank does offer competitive rates on its accounts but it does not offer 7%. This rate is not an option found at any credit unions, or traditional or online banks located in the United States. To get a 7% interest rate on a bank account you would have to consider moving your bank accounts outside of the United States.

What are the interest rates at Discover Bank?

The current interest rate for Discover Banks' Online Savings account is

3.90%

APY.

What are Discover's CD rates right now?

Discover offers 12 CD options which range in term length from three months to 10 years and vary in interest rates from

2.00%

to

4.75%

APY.

What are the pros and cons of Discover Bank?

Some pros for Discover Bank would be that there are no minimum deposits on checking or savings accounts, no monthly fees, no insufficient funds fees or overdraft fees. The APY is competitive and higher than the national average.
For cons, you would have to factor in the relatively high minimum to open a CD and the lack of branch availability or in-person banking opportunities.

How much interest will I get on $10,000 a year in a savings account?

If you were to put $10,000 in the Discover Online Savings account, which has an APY of

3.90%

, you would have $10,381.51 after one year. This estimate includes the $10,000 initial deposit and interest. It would represent what the amount would be if you didn't add any other money besides the opening deposit to the account.
Maximize Your Savings Potential
Rates are subject to change; unless otherwise noted, rates are updated periodically. All other information on accounts is accurate as of May 3, 2023.
Editorial Note: This content is not provided by any entity covered in this article. Any opinions, analyses, reviews, ratings or recommendations expressed in this article are those of the author alone and have not been reviewed, approved or otherwise endorsed by any entity named in this article.
Maximize Your Savings Potential