4 Best Cash Management Accounts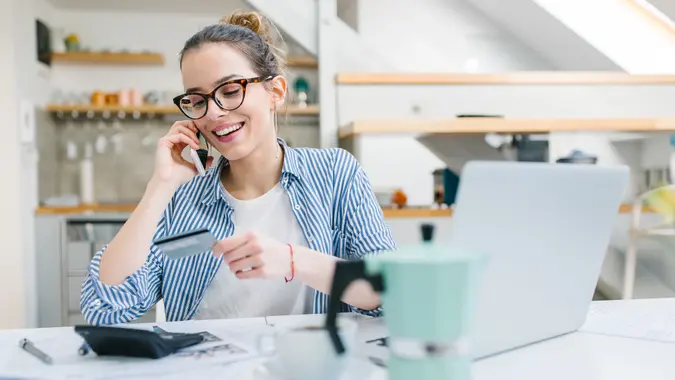 Astarot / Getty Images/iStockphoto
Cash management accounts are similar to bank accounts in that they provide a place to hold your money for spending or saving. Cash management accounts are not typically managed by banks but are instead owned by fintechs or neobanks.
See: How To Guard Your Wealth From a Potential Banking Crisis With Gold
When you choose a cash management account, make sure the funds held are backed by a U.S. bank or credit union that holds FDIC or NCUA insurance up to $250,000 per account. By splitting up deposits between various accounts, some cash management accounts even offer FDIC insurance exceeding $250,000. Many cash management accounts also offer APYs on savings that far exceed the national average.
What Are the Best Cash Management Accounts?
Choosing the right cash management account can mean the difference between high interest rates and low fees or leaving money on the table with low interest rates. GOBankingRates has identified some of the best cash management accounts to help you make the right choice:
Wealthfront Cash Account
Aspiration Spend & Save
Betterment Cash Reserve
Fidelity Cash Management Account
1. Wealthfront Cash Account
With 600,000 clients and $43 billion in assets, Wealthfront is one of the largest and most reputable cash management accounts available today. It offers up to $5 million in FDIC insurance through partner banks, and it connects to your Wealthfront investment account for easy transfers.
Why It Stands Out
With no fees, online bill pay and access to more than 19,000 fee-free ATMs, Wealthfront offers all the same features as the best online banks, but with no fees and high interest rates.
Pros
No monthly fee or overdraft fees
Up to APY on savings
Unlimited withdrawals
$1 minimum opening balance
Cons
No branches
No paper checks
What To Look For
Wealthfront has a high APY of on savings for new and existing customers. But when you refer friends to Wealthfront and they sign up, you can boost that APY to for both of you for three months. If the APY changes in those three months, you and your friend will both receive Wealthfront's current APY plus 0.50%.
2. Aspiration Spend & Save
Aspiration Spend & Save is a cash management account that delivers cash rewards on debit card purchases plus APY on savings, and APY with an Aspiration Plus account.
Why It Stands Out
Aspiration stands out because of its commitment to the environment and sustainability. As an Aspiration member, you'll have opportunities to fight climate change by having Aspiration plant a tree with every purchase you make, earn cash back when you shop at socially and eco-conscious businesses, and reduce your carbon footprint with offsets on your gas purchases (for Aspiration Plus members).  
Pros
Support the environment while you save and earn interest
Set your own monthly fee with a "Pay What Is Fair" account
Earn cash back on some debit card purchases
Funds FDIC insured up to $2.5 million per depositor through partners
Fee-free access to 55,000-plus Allpoint ATMs
Cons
$1,000 minimum deposit each month to earn APY on savings
$8 monthly fee ($6 per month if you pay annually) for Aspiration Plus
$10 minimum opening deposit
What To Look For
The Aspiration Plus account, with a $6 monthly fee, comes with added perks, including Purchase Assurance for items damaged or stolen within 90 days of purchase with your Aspiration debit card, one out-of-network ATM reimbursement per month, and carbon offsets for your gas purchases.
3. Betterment Cash Reserve
Betterment Cash Reserve is a cash management account that links to your Betterment investment account and your Betterment checking account. Betterment offers automated investing with portfolio rebalancing and a selection of hand-picked portfolios to choose from. The Cash Reserve account offers an easy way to manage your money and shuttle it from investments to your spending account.  
Why It Stands Out
Betterment offers a high APY on all balances in the Cash Reserve account. There are no monthly fees. Funds are FDIC-insured up to $2 million per account holder through a network of partner banks that include top names in banking like Citi®, Truist, HSBC and Barclays.
Betterment also offers a checking account with a linked Visa debit card. You can transfer funds instantly between your checking and Cash Reserve accounts with no limit on the number of monthly transfers. This makes it easy to manage your money. Plus, earn up to 5% cash back when you use your debit card at many popular stores and e-commerce sites, including Costco, Sam's Club and Aeropostale.
Pros
No monthly fees
Easy access to your cash
APY on all balances in Cash Reserve
Rewards debit card
Cons
$10 minimum opening deposit
What To Look For
With a Betterment checking account, you even have access to paper checks, which is a feature that many neobanks don't offer.
4. Fidelity Cash Management Account
The Fidelity Cash Management account makes it easy to keep your money safe while having it available for investing through your Fidelity Investment account.
Why It Stands Out
A Fidelity Cash Management account is best for consumers who already invest with Fidelity and want a way to easily store their spending money with FDIC insurance coverage up to $5 million per account through partner banks. The account has no monthly fees and a APY. Gain access to online bill pay, mobile check deposit and even check-writing capabilities with your Fidelity account.
Pros
No monthly fees
Links to your Fidelity Investments
APY
Up to $5 million in FDIC insurance
ATM fee reimbursement
Cons
Other cash management accounts offer higher APYs
What To Look For
Those just getting started in establishing their financial future may consider a Fidelity Bloom account, a financial app that helps establish good savings habits. You can earn $50 as a new customer after you deposit $25 or more into the account.
FAQ
What is a cash management account?

A cash management account is an online account that typically offers a debit card for spending and a high-yield savings account. It may also connect with investment accounts, making cash management easy. Examples include Fidelity, TD Ameritrade, Wealthfront and Aspiration.

What is the difference between a cash management account and a bank account?

A cash management account and a bank account are both places to store your money where it is protected from physical theft, loss or fire. Having a cash management account or bank account makes it possible to complete digital transactions, such as with a debit card, or to transfer money through peer-to-peer payment platforms like Venmo, Zelle or PayPal. You can also receive electronic payments and direct deposit ACH transfers through your cash management account.

The differences between a cash management account and a bank account relate to potentially higher interest rates on cash management accounts, connectivity to affiliated investment apps, and potentially lower fees.

A cash management account, unlike a traditional bank account, usually does not come with paper checks or check-writing capabilities. Cash management accounts also do not have brick-and-mortar locations and may only have online or chat-based customer service, although some do offer customer support by phone.

What are the benefits of a cash management account?

Compared to traditional banks, cash management accounts often have higher interest rates for savings and may even offer interest on funds in the spending portion of your account. Typically backed by U.S. banks, they are FDIC insured. They have low or no monthly fees, and they usually connect to your investment account under the same company for easy, no-fee transfers.

Is a cash management account a real account?

A cash management account is a real online account that offers many of the same features as a traditional bank account, with the exception of paper checks.
Rates are subject to change; unless otherwise noted, rates are updated periodically. All other information on accounts is accurate as of June 14, 2023.