Ally Bank Savings Account Interest Rates for May 2023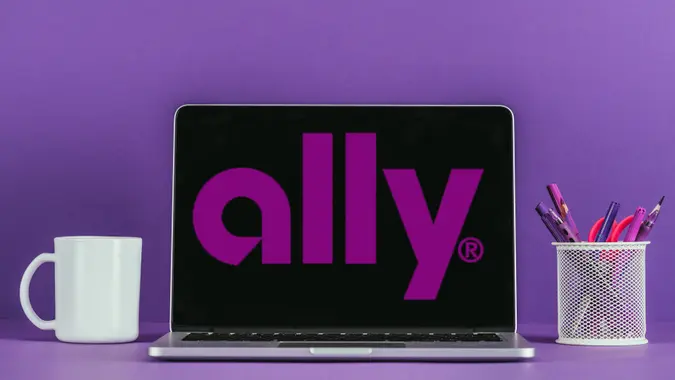 LightField Studios / Shutterstock.com
Ally Bank's savings account has an above-average interest rate as well as no monthly maintenance fees or minimum balance requirements.
This account was ranked among GOBankingRates' picks for the Best Online and Neobank Savings Accounts of 2023. It earned a rating of 4.9 out of 5 stars. 
See: How To Guard Your Wealth From a Potential Banking Crisis With Gold
Ally Savings Account Interest Rate
Ally Bank's savings account is considered a high-yield account as the competitive annual percentage yield is above average.
| Savings Account Type | APY |
| --- | --- |
| Ally Bank Savings Account | |
Key Takeaways on Ally Bank's High-Yield Savings Account
Here are some key details on Ally Bank's savings account:
There are no monthly fees or overdraft fees.
The account has no minimum balance or opening deposit requirements.
The Surprise Savings feature is a useful tool for finding savings opportunities.
There are no physical branch locations, so all of your banking activities are done online.
This online savings account does not accept cash deposits.
Maximize Your Savings Potential
At APY, Ally Bank's savings rate is competitive. This means that over a short period of time, you can accrue more interest than you would with many other banks' savings options.
How To Open an Online Savings Account at Ally 
If you think Ally Bank's online savings account is the right fit for you, here are the steps to take to open your account:
Go to the Ally website and select the "Checking & Savings" tab from the top menu, then click "Open Account." 
Choose "Savings" from the deposit account options, then click "Open Account."
Create your account and fill out your personal information.
Indicate how much you would like to make as an initial deposit; there is no minimum requirement.
Submit your application.
Once your application is accepted, fund your account. 
Alternative Savings Options at Ally Bank
If you want your savings to have a bit more impact aside from a traditional savings account, you may want to think about some of the other savings options Ally offers. It has a variety of certificate of deposit options as well as an IRA savings account, which offers an APY of . Though the APY will be higher with many of the CD options, you have to be comfortable with not touching that money for the term length, which can range from three months to five years. Otherwise, you could incur early withdrawal fees.
Maximize Your Savings Potential
Final Take To GO 
If you are shifting toward the trend of online banks, Ally Bank should rank highly on your list of options to consider. Because it is an online bank, it can offer better rates as it does not have to worry about the overhead of physical branch locations. If you are someone who deals with a lot of cash, this may not be the move for you, but for traditional needs, this online savings account's interest rate makes it a top contender. 
FAQ
Is Ally Bank's savings account a high-yield account?

Yes, Ally Bank's savings account is considered a high-yield savings account as the APY is above average. This account is only available online.

Which bank gives 7% interest on a savings account?

Ally Bank does offer both a high-yield savings account and high-yield CDs; however, it does not offer 7% interest on any account. This rate is not something banks in the United States currently offer, so if you do want to find a bank that offers 7% interest, you would have to go outside of the country.

Where can I get 5% interest on my money?

Though no Ally Bank account offers 5% interest, the bank's 18-month high-yield CD offers an APY of

4.80%

.

Does Ally Bank offer CDs?

Yes, Ally Bank offers an array of CDs that vary in term length and APY. The CD options it currently has available include three-month, six-month, nine-month, 12-month, 18-month, two-year, three-year, four-year and five-year CDs. It also offers an 11-month No Penalty CD as well as IRA CD options.
Maximize Your Savings Potential
Rates are subject to change; unless otherwise noted, rates are updated periodically. All other information on accounts is accurate as of May 2, 2023.
Editorial Note: This content is not provided by any entity covered in this article. Any opinions, analyses, reviews, ratings or recommendations expressed in this article are those of the author alone and have not been reviewed, approved or otherwise endorsed by any entity named in this article.
Maximize Your Savings Potential